ELCAF FORTNIGHT!
With an accessible clarity, gorgeous use of colour and clever sense of graphic design Shanti Rai's comics practice was always destined for a wider audience. I first covered her at Broken Frontier last year (after a recommendation from SelfMadeHero artist JAKe) when I reviewed her self-published comic KO here, describing it as "a perfect intoductory entry point to the style and work of a newer creator who I suspect we will be hearing a lot more about in the coming months."
Shanti is another of our 2018 'Six Small Press Creators to Watch' and we're delighted that she's chosen this interview to announce some very exciting publishing news (you'll need to scroll down to the very bottom for that!). But before that I chat with her about the mythological themes of her work, her influences and her creative process…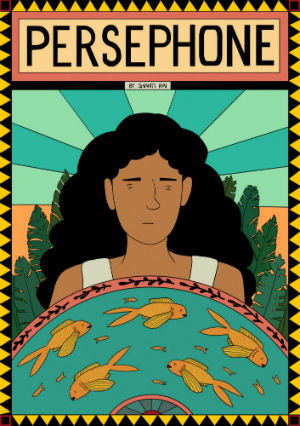 ANDY OLIVER: To begin with, Shanti, can you fill us in on your artistic background and your route into comics?
SHANTI RAI: I never planned on being an illustrator, but I've always had a desire to tell stories. I grew up reading The Beano and Tintin, so comics were a part of my life, but I mostly read books. I wanted to be a writer, and then a filmmaker.  It wasn't until I found myself stuck inside, ill, for a while that I started learning to draw. As a teenager, I had a Twitter account (long since deleted!) where I would post stick figure drawings I'd made in MS paint. The reaction I had to these drawings was so good, and I so enjoyed making them, that I started looking into illustration online.
I was inspired by people like Jack Teagle and Luke Pearson, whose bright colours and fantastic stories drew me to the comics scene. For me, this was a whole new way to tell stories and express myself. I spent a lot of time trying to build up my basic drawing skills, but it wasn't until I went to ELCAF for the first time and was suddenly surrounded by all these amazing comics and artists, that I realised this was what I wanted to do. I'm exhibiting at ELCAF this year, so it feels as though I've come full-circle!
AO: The motifs of myth and legend have been a signature part of your comics to date. What appeals to you about exploring those worlds in your work?
RAI: I've always been interested in myths and legends – from Viking stories, to Greek mythology. As a child, the Hindu creation stories my dad introduced me to captivated me.
I'm really fascinated by the fact that human beings end up telling the same stories no matter where they are on Earth, or the time. Mythology is like the perfect example of the human condition. In essence, we're all the same. Once you strip back the names and the context, it's the same basic stories being told over and over again and I love that.
(There's a wonderful database online – the Aarne-Thompson-Uther classification of folk tales – that groups stories from all over the world according to their particular tropes and themes. I would recommend a visit!)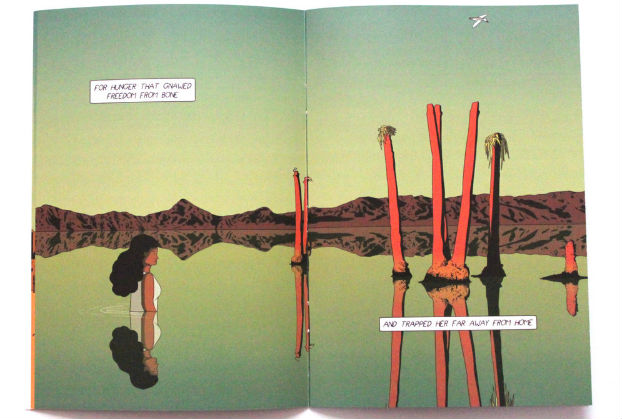 AO: You adapted the myth of Persephone (above) in a comic that I described at Broken Frontier earlier this year as a "solitary and affecting vignette with an emotional rawness that a traditional and drawn-out retelling of the myth would struggle to capture". What were the creative reasons for concentrating on such a specific element of Persephone's tale in its pages?
RAI: The truth is, we were given an assignment at uni where we were handed a copy of the National Geographic and a phrase that had been picked from one of the articles inside. Mine was 'Passage to the Netherworld'. I think the article itself was about Mayan pyramids, but I immediately thought of Persephone.
Persephone's story concentrates on how she was abducted and tricked into living half of the year in the underworld with Hades. I wondered what it might be like for Persephone now, thousands of years on, having to return to the underworld after spending her time with the gods. Does she travel alone? Does she still think about the mistake she made all those years ago? I think one of the best things about myths is that underneath all the magic and symbolism, at the heart of the stories are just people.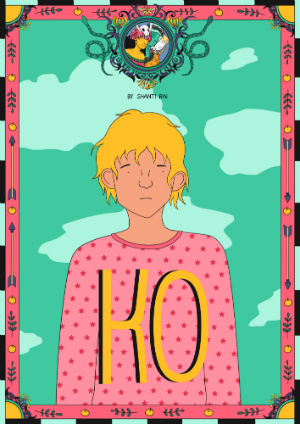 AO: In KO, your longest-form comic to date, you revisited the theological in an offering that combined the mystical and the contemporary. What was the premise and the genesis of that project?
RAI: I began this project knowing that I wanted to create a story that contained the essence of all the myths and legends I'd read but wasn't tied to culture or place. I'd done a lot of research on story tropes and character archetypes, so tried to create something that felt familiar but new. I loved the idea that the story of KO might be one told around a campfire in some alternate civilisation on some alternate world.
Myths, religious narratives, and folk stories are born from people trying to provide explanations for things they don't understand, and to pass down knowledge. I wanted to tell a new folk story; an alternate beginning.
AO: One obvious note that struck me about Persephone and KO is that both books contain themes of fate and sacrifice that are presented in allegorical ways. Were those ideas that you deliberately wanted to re-examine in more depth in KO?
RAI: I think it's quite difficult to tell stories about gods without a little fate and sacrifice. They are intrinsically linked. I studied story tropes and character archetypes before writing both Persephone and KO, so I did consciously choose to include those themes, but I think I also just like making my characters suffer a little!  I wanted to look at how they would each deal with events out of their control. It's reflective of real life in a way.
Interior pages from KO
AO: It would seem remiss not to discuss all of your print comics work so could we turn to your minicomic Daydreams. What was the inspiration for that project?
RAI: Daydreams is the most personal of my comics, and the first I attempted. I was drawing it at a time when I was struggling with anxiety and spending most of my days alone. I began having lucid dreams, and dreams and reality seemed to blend together for a while. I wanted to express all these things I was feeling and thinking, and a comic was the perfect medium for that!
AO: Your use of colour to evoke an emotional response in your readers and accentuate the themes of your comics is a very powerful part of your storytelling. Can you tell us about your creative process and the mediums in which you work?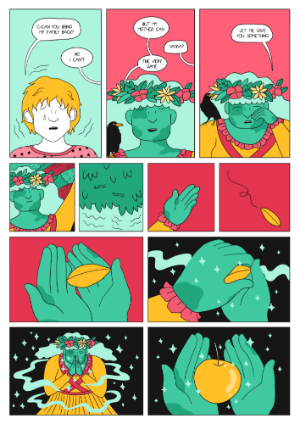 RAI: I work digitally; that's where I'm comfortable. One reason is that I have access to such a wide range of colours and can experiment with hundreds in a couple of minutes.  I can change my mind over and over again, which isn't as easy when working in traditional mediums. Colour is really, really important to me, and is often the first thing I think about when I start a new drawing. It sets the whole tone and mood of a piece of work. I tend to experiment with lots of different colour palettes before I'm happy with the finished product.
In KO, specifically, I only used 6 colours and black throughout, with each chapter using a main colour that helps to tell the story. In the first chapter, I mostly used black and white. I wanted to reflect the coldness of the environment and of KO waking up to find her parents and brother missing. In the second chapter, I used mainly green to signify both the lushness of Mama's world and also the burgeoning hope that KO feels as she may be able to save her family. In the last chapter, I used mainly yellow to feel hot like the desert world it's set in and also a little desolate.
AO: One of the elements of your comics that really caught my attention was the way in which you embrace the form's unique narrative properties to tell your stories. I'm thinking of things like the additional tactile fold-outs in Persephone or your sophisticated page structures in KO. Is that sense of experimentation with the form and exploration of its boundaries a conscious part of your practice at this stage?
RAI: Yes, definitely! A huge influence of mine has been Chris Ware. Especially his use of frames to capture tiny details, mundane things that you wouldn't necessarily focus on. I used that as a starting point to experiment with my frame structure, and also what I put into those frames. I want to draw attention to things that maybe the character is focusing on. In this way you can guide the reader to the things you want them to focus on in the story. I'd like to be more experimental but ultimately my goal is to tell the story I want to tell in the best way that I can.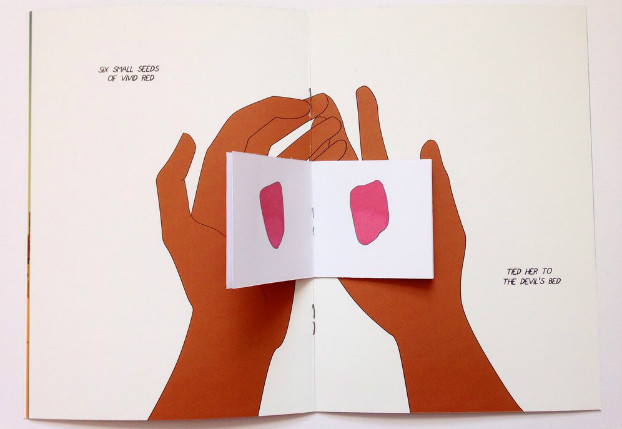 With Persephone, I wanted the pomegranate seeds to be separate from Persephone's story because they were the outside force that trapped her. I thought the idea of a booklet within a booklet would be the perfect way to convey the otherness of the seeds.
I will say that experimenting with form for a one-off project or art book can be really fantastic, enabling you to tell stories in new and exciting ways. However, as a self-publisher who now has to mass produce these, it's quite difficult to consistently put a book together with complicated form. In reprints I've had to compromise and draw the seeds into the main image so it's easier to produce. So, for the lucky people with an original copy of Persephone with the fold-out in the centre – treasure it!
You're exhibiting at ELCAF this year. What will we be able to pick up from your table there this month?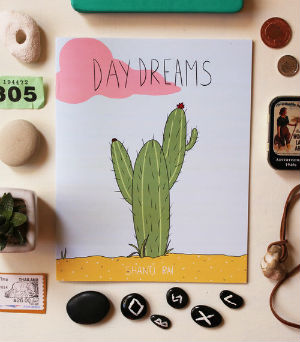 You'll be able to pick up all the comics mentioned in this interview, (KO, Persephone, and Daydreams). I'll also be selling a few prints and postcards!
My standard question for our 2018 'Six to Watch' creators this year now. What advice would you give to newer artists just starting out in self-publishing? What has helped you in getting your comics to a wider audience?
I feel like I've also only just started and am still finding my way! I've had many trials and errors in terms of getting my stuff made and printed, but one thing I would say is just to create. Make all the stories you've been thinking about making, get them printed, and try to find somewhere to sell them! Go to fairs. Have an online shop. Use all your contacts.
And what's next for Shanti Rai? What can we expect to see from you in comics and in your wider practice in the next few months?
I'm incredibly lucky to be making a book for Avery Hill at the moment, so I'll be fastidiously working on that for the next seven months. At the moment it's a bit all-consuming as, once I have an idea, I have to live in that world until I'm finished with it. Hopefully you'll see a sneak peek soon!
Shanti Rai will be exhibiting at ELCAF on Sunday. For more on her work visit her site here. You can find her online store here. 
For regular updates on all things small press follow Andy Oliver on Twitter here.
Catch up on all our ELCAF Fortnight articles to date here. ELCAF runs from June 22nd-24th. Full details on the ELCAF site here and you can also follow the festival on Twitter here.