Press Release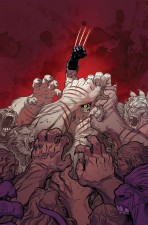 This June, fan-favorite X-writers Craig Kyle and Chris Yost join blockbuster artist Ed McGuinness for an all-new arc of Marvel mutant mayhem in AMAZING X-MEN #8!
Though Nightcrawler has returned to them, there is no rest for the X-Men. A return trip to Canada leads Wolverine to a hairy situation as the search for a missing friend brings him face to face with a horde of bloodthirsty Wendigo! One Wendigo is enough to stop even the strongest heroes dead in their tracks. What hope to the X-Men have against an entire army? Even the combined strength of  the X-Men and guest stars Alpha Flight may still not be enough to stop the coming assault!
Don't miss both teams prepare for battle as the pulse-pounding new 'World War Wendigo' arc kicks off this June in AMAZING X-MEN #8!
AMAZING X-MEN #8 (APR140722)
Written by CRAIG KYLE & CHRIS YOST
Art & Cover by ED MCGUINNESS
FOC – 05/12/2014, On-Sale – 06/04/2014