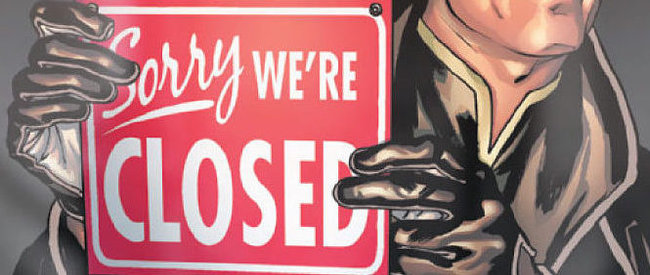 Peter David's excellent run ends not with a bang or a whimper, but a tear. Unfortunately, it takes a long sigh and an eye-roll to get there.
Did you know that Peter David has written over 110 issues of X-Factor since the series relaunched in 2005? That is incredible for a Marvel series with no big Wolverine or Deadpool level stars, and that has only sold moderately well for a majority of its run.
The little-series-that-could comes to an end this week, not due to cancellation, but simply because Peter David felt that he had reached the end of this cast's story. This information comes from Peter's goodbye letter at the end of the issue. In that same letter he talks about how he won't be able to read these characters written by another writer. Their voices are so ingrained in his brain now.
The same will likely be the case for many readers of this title. Peter has defined the voice of many of these characters, perhaps none more than Jamie Madrox. It's appropriate then that this final issue focuses on both Jamie, and his wife Layla Miller.
Unfortunately, the issue itself isn't as effective as the letter that caps off the story.
My major criticism of Brian Bendis' final Avengers stories was that he spent most of those issues cleaning up everything he did to the universe in his run on those books. Putting the toys back in the toy box for the next writer. Peter David has taken the opposite approach with these final X-Factor issues, giving characters an ending, or advancing their lives. That's why it's such a disappointment that this final issue focuses so much on cleaning up continuity.
A majority of this story is spent cleaning up the mess that Jamie Madrox became in the "Hell on Earth" story. The problem is that the change Jamie went through in that story is so drastic that it always felt both unnecessary and temporary. There was never really any fear that Jamie would be stuck in that demon form, negating any tension in the issue.
Perhaps in an effort to add tension, some nameless goons with guns attack Layla and Jamie in the latter half of the issue, but the action scene felt completely unnecessary. The reason they're there is too convoluted to explain here, but it comes because of a completely inorganic appearance of Damian Tryp, an X-Factor villain who has always bordered on the line of convoluted. The action isn't even viscerally exciting. Neil Edwards does a great job with drawing characters and emotion but the art in the action scenes are stiff.
The real strengths of both Peter David and Neil Edwards comes in their character work. That's why it's such a welcome relief that the last several pages are all devoted to Jamie and Layla. There is great work done ending their story in this issue and those last pages are wonderfully done. It's an emotional and cheer worthy moment that bucks the trend of many superhero endings.
It's good to see that these characters get the warm sendoff they deserve, but it takes over 3/4 of the issue to finally get there.
Peter David (W), Neil Edwards (A) • Marvel Comics, $2.99, Sept. 4, 2013.