Superhero sequels will always undergo scrutiny, and especially this franchise, after the rise of Robert Downey Jr, and the Marvel Cinematic Universe, expectations were always going to be high. Thankfully, for the most part Iron Man 3 fulfills its potential.
The film starts in 1999 where Tony is enjoying the company of botanist Maya Hansen, before ignoring the requests of Aldritch Killian who wants his help with his company, Advanced Idea Mechanics. Tony being Tony, the way he treats these two characters comes back to haunt him in a major way in the present. It's somewhat of an odd way to start the film, and with Tony's voice-over it makes for some awkward pacing with which to begin a blockbuster. It soon finds its feet though, and halfway through the film we are offered some genuinely unexpected story twists.
The pleasant surprises primarily involve names that fans of the comics will be aware of. The three new characters in this franchise, Mandarin (Ben Kingsley), Maya Hansen (Rebecca Hall), and Aldritch Killian (Guy Pearce) all bring something unique to their roles and although they differ from their printed origins, from a story perspective it all makes sense, with Kingsley especially relishing in the opportunities he's given. Using the highly regarded 2005-06 Extremis story arc from the comics, by Warren Ellis and Adi Granov was a wise choice, as it brings the concept of a man/machine interface to the forefront, but the screenplay makes some smart deviations from its inspiration.
Don Cheadle is back as War Machine, now rebranded as the more demographically friendly Iron Patriot, as a high-tech asset of the U.S military, and although his time in the suit is limited, (although two others briefly fill it in his absence), like Tony his time out of the suit is just as interesting as his time in one.
Tony himself goes through the biggest change here, suffering from anxiety attacks after the events of The Avengers. Sleepless nights and stress has led him to distract himself with what he knows, and that means building Iron Man suits, and a lot of them, as we see in the action packed climax. Unfortunately we don't see many of them close up, so we don't get to drool over all the Iron varieties on the big screen, but I'm assuming on the Blu-Ray and DVD extras, we'll be able to examine all the 40-plus armours.
Pepper Potts (Gwyneth Paltrow) is given a chance for action here too, and her relationship with Tony, and their physical separation throughout most of the film anchors Tony's motivations beyond the standard revenge cliché.
Yes there is a Stan Lee cameo, but it's probably his briefest yet, and yes there is a banter filled post-credits scene with one of his Avengers pals.
Co-writer/director Shane Black has worked with Downey Jr previously, on the underrated 2006 action/comedy Kiss Kiss Bang Bang, and fans of the Lethal Weapon, and The Long Kiss Goodnight screenwriter will be pleased to know that this film also takes place during Christmas; a common trope in his films. Along with Drew Pearce, Black has crafted a screenplay that takes Tony Stark away from his comfortable action hero lifestyle, and shakes him to the core. It's a bold move for a character who is loved for his smarmy remarks and confidence, and although those traits are still in abundance, we get to see a new side of Tony, one in which he's unsure and afraid. As a man of science Tony doesn't know what to make of the alien invaders and gods with hammers he has now interacted with, and the film does well to scatter Avengers references throughout, while still making sure that this is Tony's show.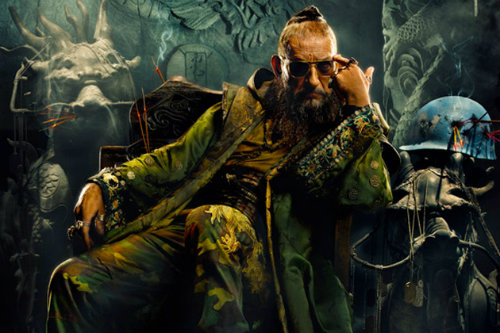 Witnessing him as a man on the run, who must use his smarts for some detective work adds unseen layers to the character, and a trip to hardware store to make some improvised weapons is a treat. A sequence in a small country town is also like a Die Hard film, and reminds us that even outside of the suit, Tony is an interesting hero. There are plot holes however, that culminate in some conveniently timed rescues, but they pale in comparison to the inconsistencies seen in The Dark Knight Rises.
This is also the funniest film Marvel has made so far thanks to Downey Jr's zingers, most notably with a boy, Harley (Ty Simpkins) who helps him after his latest armour, Mark 42, goes haywire, but Black does well to balance the film with laughs as well as gasps, so amongst the chuckles there is also an ever-present menace. A few of the rapid fire lines are hard to hear however, but this is a fim that will be enjoyable with repeat viewings anyway.
It's doubtful that this is Tony's farewell in his solo films, (even though Tony's choice at the end is illogical and a tad frustrating) but at least we'll see him again in The Avengers sequel in 2015.
With a large cast, Black and Pearce have done well to ensure that each character gets a chance in the spotlight, and their interactions with one another are filled with great character moments and dialogue. The writers understand these characters and show them for the extended family which they have become, while adding something fresh.