BROKEN FRONTIER AWARDS – BEST ONE-SHOT WINNER! 
In a 2017 Broken Frontier Awards category full of incredibly strong work, Ben Passmore's Your Black Friend emerged as the overwhelming favourite among voters in our Best One-Shot section this year. The short comic, described as "a letter from your black friend to you about race, racism, friendship and alienation", is absolutely essential reading and those yet to grab a copy are advised to pre-order the expanded edition of Passmore's work in Your Black Friend and Other Strangers. That hardcover edition will be released in March via indie micropublisher Silver Sprocket.
Prior to that, however, Silver Sprocket have announced an animated version of the comic – narrated by Ben Passmore and produced by Silver Sprocket and Doggo Studios – which we're running below today at BF, alongside the press release details they've provided for both the three-minute film and the new Passmore collection.
Hit Indie Comic Your Black Friend Now an Animated Short Film
Adaptation of Ben Passmore's award winning comic markes publisher Silver Sprocket's first foray into animation.
"Beneath its sardonic tone lies a truth that is urgent, sincere and deeply affecting." – NPR
"It's entertaining and comical and heartbreaking, everything an eye-opening experience should be." – Comics Bulletin
"Required reading for white people, especially if we hope to be useful allies and decent friends." – Women Write About Comics
Ben Passmore's critically acclaimed Your Black Friend indie comic book premieres today as a 3-minute animation courtesy of Silver Sprocket and Doggo Studios, with narration by Passmore himself. Addressing topics of racism, identity, and alienation, the comic is a necessary contribution to the dialogue around race in the United States. The print version of the comic won numerous awards in 2017 including the Ignatz, Dinky, and Broken Frontier, as well as an Eisner Award nomination, and coveted spot on NPR's 100 Favorite Graphic Novels list.
The video precedes the release of Your Black Friend and Other Strangers, a 120 page hardcover collection of Passmore's comics previously published by VICE, The Nib, and a variety of independent outlets, to be released in March of 2018 by politically charged indie comics publisher and art-crew Silver Sprocket.
Your Black Friend animated short film is on YouTube here.
ABOUT THE COMIC: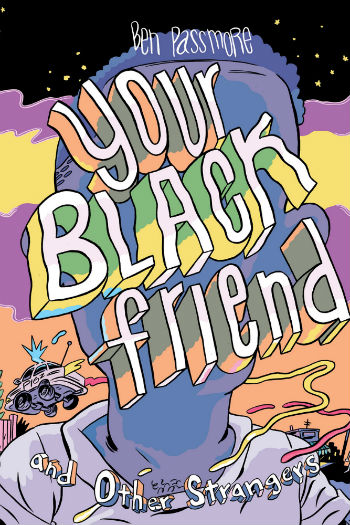 In Your Black Friend and Other Strangers, Ben Passmore masterfully tackles comics about race, gentrification, the prison system, online dating, gross punks, bad street art, kung fu movie references, beating up God, and lots of other grown-up stuff with refreshing doses of humor and lived relatability. The title comic earned Passmore a much deserved Eisner nomination, Ignatz Award for "Outstanding Comic", and a coveted spot on NPR's 100 Favorite Graphic Novels list.
The comics in this 120-page collection include works previously published by The Nib, VICE, and the As You Were anthology, along with brand new and unreleased material.
These comics are essential, humorous, and accessible, told through Passmore's surreal lens in the vibrant full-color hues of New Orleans.
ISBN: 978-1-945509-20-9 | Diamond: STL070802
For more on Ben Passmore visit his site here, follow him on Twitter here and on Instagram here. 
You can find out more about Silver Sprocket from their site here, Facebook here, Twitter here and Instagram here.