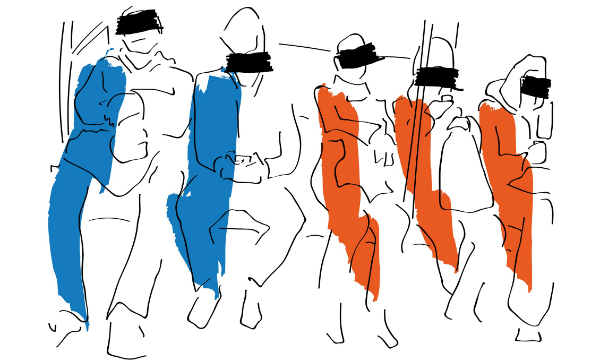 A seat for him and a seat for his bag. People watching films on their tablets at full volume with no headphones on. The person sitting opposite who never once covers their mouth as they persist in their journey-long mission to infect you with whatever they are coughing all over your person. Those who shove their way onto trains before anyone can get off. The non-existent etiquette of the (anything but) "quiet carriage". Feet on the seats…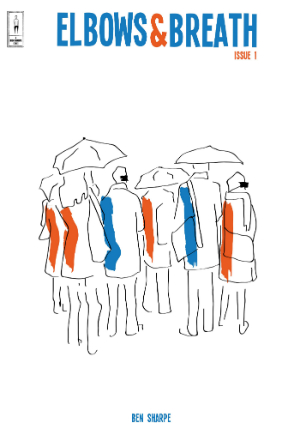 Those are some of my pet hates on my weekday mornings but most of us go through these experiences (and many similar) every day on our trips to and from the workplace. It's the particular hellishness of the morning commute where both total trivialities and acts of selfishness alike take on an equal magnitude in terms of irritation levels. A sullen, non-communicative stationary trek where even the mildest annoyance can drive us to the point of desperation.
Ben Sharpe has collected a number of these experiences in his self-published comic Elbows & Breath #1 (the numbering intriguingly underlining a sequential run). In around 30 or so pages he takes us on a tour of terrible travelling protocol: the monstrousness of the man-spreaders, the tedium of the tinny shared iPod output or the impending terror of the last person you would ever want sitting next to you getting on the train and doing just that.
Elbows & Breath isn't merely a catalogue of simple social foibles, though. It's essentially a visual essay on how we let the time we spend getting to our places of employment dehumanise us. One pertinent scene, for example, depicts a passenger loudly complaining about how delays resulting from a suicide on the line have inconvenienced them. In another sequence the objectification of a railway employee as a soulless figure of hatred is underlined in a brilliant piece of panel-to-panel reductionism, stealing every last vestige of his humanity from him in just a few brief images.
Clever uses of distinctive comics storytelling abound. One section, for eaxmple, neatly simulates both the passage of time and geographical progress as the windows of a carriage slowly slide across our point of view from image to image giving our fleeting glimpses of its inhabitants an eerily impersonal perspective.
Sharpe further accentuates his theme by using a near-Simon Moreton level of minimalism to strip back the commuters to the barest shells of recognisable people, emphasising a now teeming mass united only in their shared disdain of their method of travel and of those around them. Lives that interweave and cross but never positively impact upon each other, all punctuated by Sharpe's almost despairing lyrical text.
Elbows & Breath is a frustrated monologue on self-inflicted solitude, a visual soliloquy on how we demean ourselves when we demean others, and a quietly despondent discourse on the seemingly unbreakable cycle of this daily ritual. Far more nuanced and layered than a simple whinge about our fellow passengers, this is a strong self-publishing debut that will, no doubt, make an instantly recognisable connection with many readers.
You can buy Elbows & Breath here priced £4.00 and follow Ben Sharpe on Twitter here. 
For regular updates on all things small press follow Andy Oliver on Twitter here.