Described as "a fast-paced 21st century espionage tale, influenced by TV's The Prisoner and the mind-bending science fiction stories of Philip K Dick" Borderliners: True Realities is the brainchild of writer and artist Brian Gorman. Today at BF in our semi-regular series of 'Inside Looks' Brian talks openly about the project, its long gestation and its pop cultural influences…
You can read more 'Inside Look' creator commentaries at Broken Frontier here.
This graphic novel has been over 20 years in the making. Literally. In the mid-1990s, a friend and I wanted to write a TV series, inspired by our love of 1960s UK action-adventure shows like The Saint and The Avengers. We didn't get far, but we did get a 12-page, A4, photocopied comic out. We were dirt poor, with zero idea about producing comics. I had to sneak into the marketing department of the theatre where I worked, and cut and paste stuff together. It took forever, and I think we managed to photocopy 3 issues, and sell one!
As a big film/TV fan, and admirer of the work of Arthur Ranson, Bryan Talbot, and Richard Piers Rayner, I tried to draw as realistically as possible. To this end, I took hundreds of photos of friends acting out scenes (as the great Frank Hampson used to do). Back then, you had to pay around a fiver to get 24 photos developed at the local Boots, and waited up to several days for them. You kids have it easy nowadays!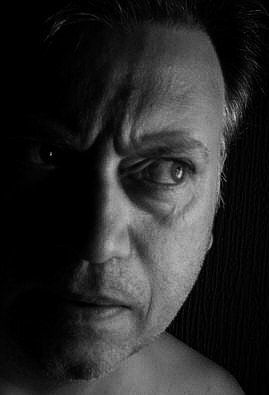 Nearly 10 years after our first effort, I decided to try and do it properly. I drew more pages, and we published a 22-page comic with Newcastle's Unico Comics. I loved how it looked, with its glossy colour cover. A proper comic! We managed to get some great reviews from top names, but we hadn't given a thought to actually trying to sell it. I think it probably sold about 10 copies. Again, I used lots of photos of friends for reference, and had myself in there as the main character – not really an ego trip; more the fact that I was always available for more photos, whenever and wherever. There was also a biographical feel to the story and a nod to my favourite TV series The Prisoner (which was also an intensely personal creation of its star, Patrick McGoohan).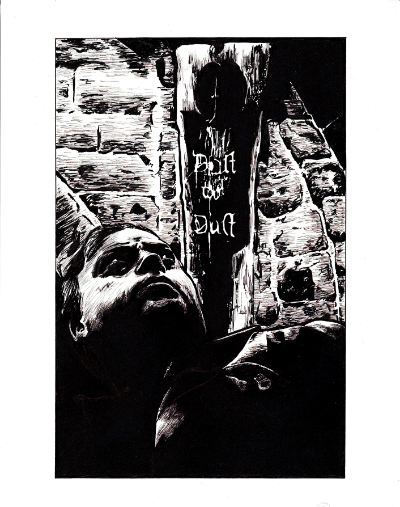 Almost another decade flies by, and I think about giving this comics lark another try. I'd been side-tracked by acting and writing for the theatre, but my first love was comics. And Borderliners was still nagging away at me. This time I wanted to do it properly. Really properly! An actual graphic novel. I did a crowdfunder, and to my amazement raised around £1200. Luckily, I'd had some success in theatre with a very popular play I'd written and produced, and a lot of the people who enjoyed it also backed the crowdfunder.
I was on the verge of self-publishing when a chance meeting got me a real publisher: Invisible Six Ltd. They'd wanted to do graphic novels, and they loved my style! I'm a big believer in synchronicity, and things happening when one sets one's mind in a certain direction. I rewrote, and redrew several pages, and added more surreal elements. I wanted to mix the fiction with real events in my life and show how Borderliners actually came to be a reality. I was taking a chance with it. I could have gone for a more straightforward, action adventure (as we'd originally intended 20 years ago), but I thought 'what would McGoohan do?'. So I went for it. This was going to be very surreal indeed.
So, here we are. I appear in the book as myself, as does my little mate Jonathan (a stuffed bear). We discuss the 1999 version of Borderliners, and  we introduce knights of the realm Roger Moore and Ian McKellen as major characters (the actors gave me their permission to use their likenesses). Inspired by Bryan Talbot's Luther Arkwright, I go for a multi-verse spanning, psychedelic, mega adventure. I mix in The Prisoner, and away we go. Technology has been a massive help, as I can scan photos into my laptop from my mobile. I can Google for photo reference on almost anything I need. And Invisible Six have a several hundred print run. Maybe Borderliners was actually waiting for me to catch up with it. Life is stranger than fiction!
You can order Borderliners online here priced £10.50. For more on Brian Gorman follow him on Twitter here and visit the Invisible Six site here.