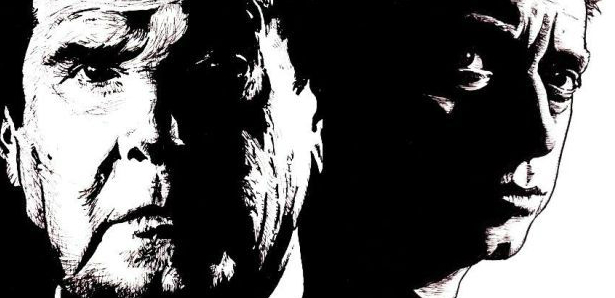 Borderliners: True Realities is a book that is unashamed to wear its fannish influences on its sleeves. Brian Gorman's two-decades-in-the-making graphic novel (see his creator's commentary here at Broken Frontier a few months back) has elements of homage to cult TV show The Prisoner, central characters with the likenesses of Roger Moore and Ian McKellen (both of whom gave their permission for their use) and has an Arthur Ranson-esque visual style with echoes of the artist's TV tie-in Look-In style work.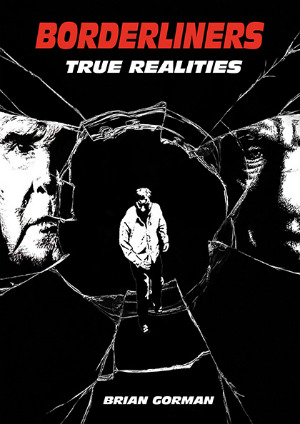 Borderliners follows the story of intelligence agent John Marley, a man who finds himself on the wrong side of his superiors and frozen out from his old life when he rebels against them. Some years later he is pulled back into their world but it's now a radically different one. As his existence flows back and forth through the strangest dreamscapes, and hints of parallel worlds abound, Marley's new role as a time and space manipulating Borderliner begins to slowly reveal itself…
This is a very meta comic indeed as Gorman incorporates the long saga to see a full-length version of Borderliners in print as part of the opening segment of the book, blurring the lines between reality and fiction as a result. Jumps in the timeline of the story also reflect the real world development of the project and Marley is clearly based visually on Gorman himself. It's obviously a very personal enterprise for the creator and that does, indeed, give it an idiosyncratic character and tone all of its own.
While these flourishes do have a certain intriguing – if perhaps occasionally indulgent – appeal they also underline one of the challenges that Borderliners has in connecting with a wide audience: its accessibility. To a degree, that is actually very much the point of Gorman's often mystifying first issue. We're meant to be unsettled, supposed to feel as disorientated as his protagonist, and in that regard the sense of confusion and helplessness that oozes out of these pages is a very deliberate one.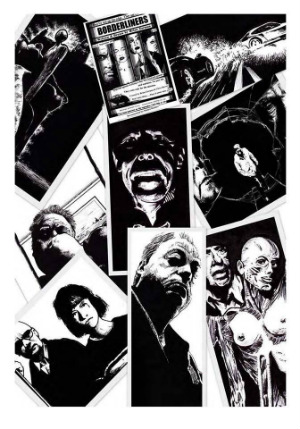 Oblique narratives that make the reader work in their interaction with the page can, of course, be a rewarding experience, fostering an intimate relationship between artist and audience. But some will, no doubt, feel that Borderliners makes too little concession to its audience in terms of storytelling lucidity – particularly in its latter stages – and those unwilling to invest in the requisite re-reading time may find it a difficult book to penetrate in one sitting.
Gorman's art certainly complements the dark undercurrents of his story though. It's shadowy, brooding and atmospheric with a photo-realistic style that gives it both a gritty gravitas and, as contradictory as it sounds, also an almost unearthly quality at the same time. Most fitting for a tale that is set in a world that is both recognisably ours and yet one step detached from it as well. His evocation of a McGoohan-esque confluence of events is also well-realised with a feeling of the fatalistically inescapable to Marley's plight; of a man whose life has always essentially been in the ownership of others.
Backing up Borderliners: True Realities is a significant amount of fascinating behind-the-scenes "extras" material including a lengthy interview with Gorman. This elaborates on the history of the book and adds some clarity to events within its twisting, labyrinthine plotlines but again it's difficult to shake the feeling that this is information that the reader should have been able to pick up more intuitively within the story pages of the book.
This 70-page graphic novella is more set-up for the premise of Borderliners going forward than it is an adventure in and of itself. From that perspective it remains to be seen as to where Gorman takes Marley in the future and the degree to which he fleshes out his character. If you're a fan of a certain mould of retro anti-hero and surreal Lynch-ian storytelling, though, the world of Borderliners will have undoubted appeal to you.
You can order Borderliners online here priced £10.50. For more on Brian Gorman follow him on Twitter here and visit the Invisible Six site here.