Press release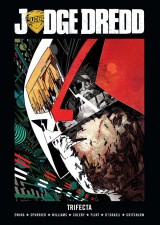 "Ground-breaking" and "mind-blowing" – this is Trifecta, the comic book crossover that broke the mould.
Last year, 2000 AD readers suddenly realised that three seemingly unconnected stories by three of the legendary title's top writers were actually part of the massive multi-part crossover set in the world of Judge Dredd.
Now all three series by Al Ewing, Simon Spurrier, and Rob Williams are being collected into a special hardback edition for the UK and Ireland with a unique lenticular cover by Henry Flint.
There will also be a simultaneous worldwide digital release through the 2000 AD webshop, Amazon, Kindle Fire and Nook.
In the terrible aftermath of The Day of Chaos, Judge Dredd faces a threat from within the very heart of Justice Department that could see Mega-City One change forever, and undercover Judge and 'simp' Jack Point finds himself on the run from not just his side, but every side. Meanwhile, the undercover Judge known as Dirty Frank finds himself on the moon … for no apparent reason.
Culminating with a huge issue-long episode, Trifecta  is one of the most criticallyacclaimed Judge Dredd stories ever – a unique collaboration only possible within the pages of 2000 AD!
Judge Dredd: Trifecta
Written by: Al Ewing, Simon Spurrier, Rob Williams
Art by: Simon Coleby, Henry Flint, D'Israeli, Carl Critchlow
ISBN: 978-1-78108-145-7
Price: £19.99 Pages: 176
Published: 15 August 2013
Market: UK and Ireland, worldwide digital