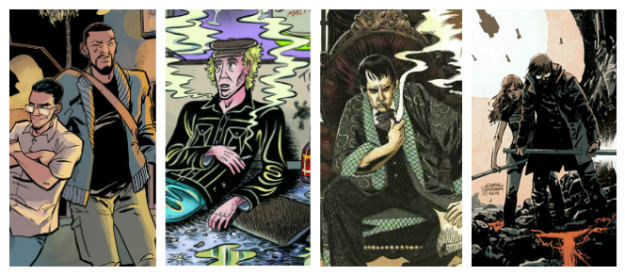 It's nearly Wednesday, and you know what that means: a fresh load of comics and graphic novels! With so many publications hitting your local comics store or digital storefront, the BF staff is here to lead you through the woods with our weekly staff picks. Satisfaction guaranteed!
Comic of the Week
24 by 7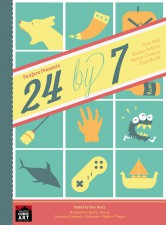 At the Lakes International Comic Art Festival (LICAF) on October 16th 2014, seven UK-based artists – Dan Berry, Sarah McIntyre, Joe Decie, Kristyna Baczynski, Fumio Obata, Jack Teagle and Warwick Johnson-Cadwell – turned their back on some of Britain's most spectacular scenery and shut themselves in a room. Their mission: to draw a 24-page comic story each within 24 hours. By the evening of the following day, copies of those seven comics were being collected from the printers.
Those limited-edition comics soon flew out the proverbial window, but now they're back in print in a lovely hardback edition, complete with a gallery of photos from the day by Katie White. It's published by Fanfare/Ponent Mon – an Anglo-Spanish "working liaison between two people with one aim – to bring quality storytelling in the comic medium from wherever it is found to everywhere it should be." They might not have as high a profile as some publishers, but with a passle of Eisner and Ignatz nominations in recent years, their reputation for quality is well established. This is a great opportunity to pick up a neat collection of new work by a number of leading small-press talents.
(LICAF will be holding another 24-Hour Comic Day from noon on Saturday October 4th. For details of this and other similar events around the world, check out www.24hourcomicsday.com or @24hcd on Twitter.)
Various (W/A) • Ponent Mon/Fanfare £14.99/$25
– Tom Murphy
Stringers #1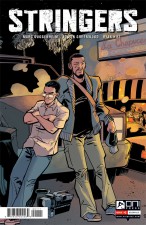 Arrow executive producer Marc Guggenheim (Resurrection) returns to Oni Press and creator-owned comics with a hair-raising tour through the mean streets of the City of Angels, riding shotgun with a pair of "stringers" – freelance news-chasers and adrenaline junkies on the lookout for the next big scoop. When Paul and Nick stumble upon a shootout between police and local gangsters, they find themselves in over their heads, chasing the biggest story of their careers.
This first issue reads like the pilot episode of a new action-comedy TV series, with its snappy dialogue, bombastic action, and driving, breakneck pace. Guggenheim and collaborator Justin Greenwood (Stumptown) drop the hammer on this fascinating glimpse behind the scenes of digital-age parachute journalism, providing a refreshing, unabashedly energetic look at crime fiction.
So strap yourselves in and put the pedal to the metal or this smart, funny thrill ride will leave you choking in the dust.
Marc Guggenheim (W), Justin Greenwood (A) • Oni Press, $3.99
– Jason Wilkins
Chicago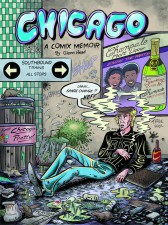 Comics containing elements of autobiography aren't new in the medium. But when done well, the combination can illuminate and lend understanding to the uncomfortable bits about our younger days that we don't discuss in polite company – or ever admit to possessing. However, these are the essential elements that eventually transform us into the adults we become, and stories with these components offer a unique perspective on a life courageously laid bare before us.
Harvey- and Eisner-nominated writer/artist Glenn Head delves headlong into this coming-of-age story as his protagonist, Glen, abandons the comfort of suburban New Jersey for the gritty urban decay of Chicago and deals with bouts of depression while trying to survive awash in a sea of predators.
As Phoebe Gloeckner writes in the book's introduction, "What follows is Glen's harrowing journey toward self-discovery as the boy struggles to become a man. Glen stumbles in and out of art school, then disappears for months, living on the seediest streets of Chicago with barely enough to eat, drawn to a life that offers challenges and dangers unknown to him. Later, we are propelled years ahead, meeting Glen again as he grapples with adulthood."
With an unabashed underground comix feel, Chicago is the counterculture hit of the year and a courageous bit of well-crafted storytelling.
Glenn Head (W/A), Fantagraphics Books • $24.99
– Karen O'Brien
Gigant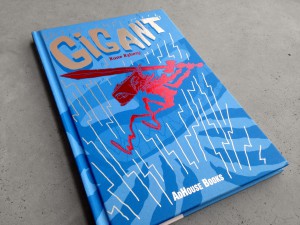 AdHouse Books, Chris Pitzer's "boutique publishing juggernaut", has landed another coup with this English translation of Gigant, a colour-saturated, action-packed fantasy-comedy from Danish creator Rune Ryberg. The reluctant hero – a self-proclaimed "little shit" – is thrown into a bizarre trans-dimensional journey when his girlfriend is swallowed by a thousand-eyed monster.
Gigant has a bit of pedigree, having won a 2015 Ping Award at the Copenhagen Comic Festival as Best Children's/Youth Comic Book. Google Translate certainly couldn't put it any better when it says that Gigant's "infectious narrative joy and sparkling energy brings the suit back in the comic cheeks". (A PDF preview of the book is available here, and there's even an animated teaser film, produced by the book's original Danish publisher, Forlæns.)
Rune Ryberg (W/A) • AdHouse Books, $14.95
– Tom Murphy
Sherlock Holmes: The Seven-Per-Cent Solution #1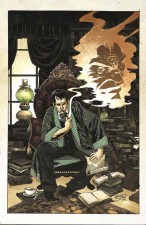 Writer/Director Nicholas Meyers (Star Trek II: The Wrath of Khan, Houdini) published The Seven-Per-Cent Solution in 1974 as a pastiche of Arthur Conan Doyle's beloved gentleman detective Sherlock Holmes. Presented as a lost manuscript of the great detective's faithful companion John Watson, the novel delved into the detective's unique persona, suggesting far more personal motivations for his obsessive hatred of his nemesis Dr Moriarty and the Great Hiatus, which most canon police agree took place between 1891 and 1894.
Having already been adapted by Meyers in a 1976 movie of the same name, the intriguing premise is translated by Scott and David Tipton (The City on the Edge of Forever: The Original Teleplay) into a chilling graphic narrative, lushly illustrated by Ron Joseph, with a gorgeous cover by the legendary Kelley Jones. A refreshing, unique take on one of the most popular fictional characters ever to grace the printed page, this series is a must for fans of Holmes and anyone who perks up at the whiff of a rousing whodunit.
Nicholas Meyers, David Tipton, Scott Tipton (W), Ron Joseph (A) • IDW Publishing, $3.99
– Jason Wilkins
Invisible Republic Vol. 1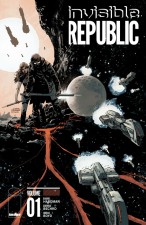 Follow the rise and fall of revolutionary leader turned dictator Arthur McBride, as his Malory Regime takes power over the remote moon of Avalon and is then eventually brought to justice. For disgraced reporter Croger Babb, finding the discarded journal written by McBride's cousin (and the forgotten woman of the revolution), Maia Reveron, is just the break he needs to piece together this dark mystery. How could a man who once led the uprising of his enslaved people suddenly turn against everything he ever stood for?
For those who enjoy cautionary tales of revolution mixed in with a sprawling, space-age epic, Invisible Republic delivers. This first arc provides a satisfying chunk of the story, delivered via some beautifully bleak and atmospheric artwork, while still leaving you asking just enough questions to make sure you come back for more. Image's very inviting $9.99 price point offers the perfect invitation to jump on board before the political adventure picks up again in September. (We reviewed the first issue back in March.)
Gabriel Hardman & Corinna Bechko (W), Gabriel Hardman & Jordan Boyd (A) • Image Comics, $9.99.
– Tyler Chin-Tanner

Out on the Wire: The Storytelling Secrets of the New Masters of Radio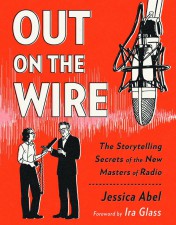 In 1999, Jessica Abel (La Perdida, Drawing Words and Writing Pictures) created a rough pamphlet guide to radio storytelling for a This American Life pledge drive. Over a decade later, narrative radio and podcasting are in the midst of a phenomenal resurgence thanks to shows like Radiolab and Serial. In other words, it's the perfect time for Abel to take another (more satisfying) look at the subject.
Out on the Wire uses the comics form to take readers "behind the scenes" of five popular radio shows, dissecting the intricacies of engaging readers over the airwaves. Abel is obviously a fan of radio and all its possibilities, but she also knows how to use the comics medium to its fullest. Here she intersperses metaphorical sequences with adaptations of actual stories from the programs.
If you've already been caught up in the radio zeitgeist, Out on the Wire will offer a fascinating closer look. If not, you may just find yourself reaching for that dial (or opening up your web browser) before turning the last page.
Jessica Abel (W/A) • Broadway Books, $17
– Paul Mirek