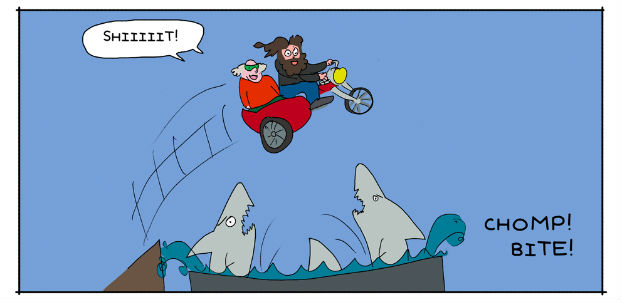 Coming this September, Kyle Gass and Jack Black's comedy rock duo Tenacious D come to comics via Fantagraphics with the graphic novel Post-Apocalypto. We have a preview courtesy of Fantagraphics which runs with the press release below. Don't miss out on the pre-order link at the end of this piece!
SEATTLE, WASH., FEBRUARY 10, 2020 — The last two years marked a very memorable period for Tenacious D, releasing Tenacious D in Post-Apocalypto (the YouTube film) and Post-Apocalypto (the album), not to mention playing some of the biggest shows of the duo's 20+ year career. Carrying that momentum into the new decade, the Greatest Band in the World™ — comprised of comedians-musicians-actors Jack Black and Kyle Gass — are thrilled to partner with Fantagraphics to introduce the newest piece to its creative universe: Post-Apocalypto, the graphic novel, due to release September 2020.
Hand-drawn entirely by Black, and co-written by Black and Gass, Post-Apocalypto, the graphic novel, is THE must-have book of 2020!
True to the title, Post-Apocalypto finds Tenacious D thrust into a world of utter destruction following the detonation of an atomic bomb. Surviving the attack in classic cinematic fashion (a good old impenetrable 1950s refrigerator), the duo soon learns that new forms of evil have spawned from the blast. It quickly becomes apparent that for humanity to prevail, Tenacious D must save the world.
"When we finished this book there was only one publisher we ever really considered," explains Tenacious D. "Fantagraphics has been the shining beacon of creativity in comic books for decades. We are thrilled to release our magnum opus with the undisputed greatest and best comic book publisher in the world. Fantagraphics 4 life."
With twists and turns including an insane (and timely, given the election-year) visit to the White House, a time machine, a space adventure, and some tried and true daddy issues, Post-Apocalypto is as hilarious as it is political, and as brilliant and multi-faceted as its incredible creators.
"I've been a fan of Tenacious D for years and am absolutely excited to publish Post-Apocalypto!" exclaims Associate Publisher Eric Reynolds. "It's about time these guys conquered yet another artistic medium."
Fans will also be able to stream a read-along audiobook version, voiced entirely by Black andGass, to fully immerse themselves in the sights and sounds of Post-Apocalypto – characters, music and everything in between!
Post-Apocalypto
by Tenacious D
September 2020
$29.99 • ISBN 978-1-68396-377-6
Hardcover • 9 x 12" • 180 pages • full color