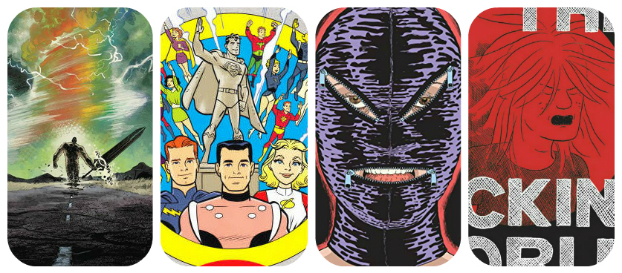 It's nearly Wednesday, and you know what that means: a fresh load of comics and graphic novels! With so many publications hitting your local comics store, comics events or digital storefront, the BF team are here to lead you through the woods with our weekly staff picks. Satisfaction guaranteed!
Comic of the Week
The End of the F***ing World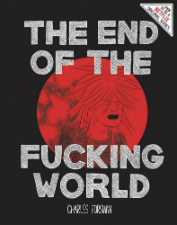 As a courtesy to those sharing links and reading in public spaces we'll very reluctantly use the masked version of the book's title in this week's Staff Picks. Such a compromise seems all the more inappropriate, though, when considering the totally uncompromising nature of Charles Forsman's acclaimed graphic novel (first published in minicomics format via his equally highly regarded Oily Comics a few years ago).
Now being adapted into a major television series, Forsman's dark drama follows the doomed journey of James and Alyssa, two very disturbed teenagers on the run and poses interesting questions about nature and nurture in regards to their reckless behaviour.
Without a doubt it's Forsman's breakout work. I said of the book when I reviewed its original collected release here "one of the greatest strengths of TEOTFW [is that] Forsman has the ability to make protagonists who are capable of committing quite monstrous acts sympathetic, and even tragic, throughout."
Make up your own minds this week when Fantagraphics re-release this indie classic in a hardcover collection.
Charles Forsman (W/A) • Fantagraphics, $19.99
– Andy Oliver
God Country TPB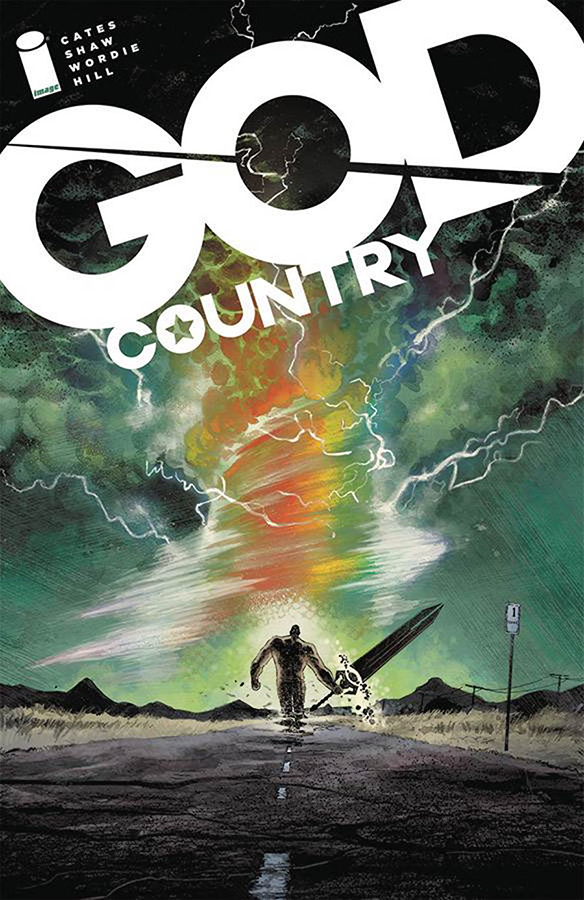 Deep in the heart of Texas, an old widower, Emmett Quinlan, is cured of his dementia when he takes hold of the enchanted sword, Valofax, that came to him during a supernatural storm that leveled his home.
Emmett may not know why the sword chose him, but one thing is clear – the cosmic beings that forged the sword in the fires of a dying world want it back, setting up a showdown of epic proportions between man and God.
The success of this series lead to big things for the creators, including a shot on an upcoming Thanos series for Marvel. But it would be a mistake to dismiss God Country as nothing more than a "tryout" book. This is a story that sticks with you, resonating inside your gut and revealing so much about life, sacrifice and humanity.
Donny Cates (W), Geoff Shaw (A), Jason Wordie (C) •  Image Comics $16.99
– Tyler Chin-Tanner
Love and Rockets #3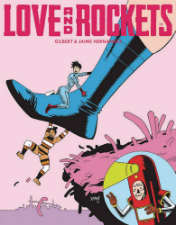 After a spate of New Stories in their respective Palomar and Locas settings were released in big, self-contained graphic novels, the newly-launched fourth volume of Love and Rockets returns to the floppy 32-page format and serialised storytelling that made Los Bros Hernandez.
The third issue of the new Love and Rockets drops in on Jaime Hernandez's aging circle of California punks, and appropriately considers the cultural trope of the band reunion. Gilbert, meanwhile, continues the family saga of Luba, half-sisters Fritz and Petra, and a mysterious grandchild — with diversions into telenovelas, pornography and Bergman-esque doubling, natch.
Gilbert Hernandez & Jaime Hernandez (W/A) • Fantagraphics, $4.99
– Tom Baker
Education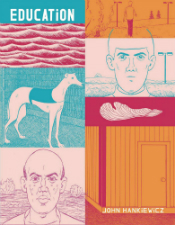 When the publicity blurb for a new release makes comparisons to Richard McGuire's Here any self-respecting comics aficionado knows to take heed. John Hankiewicz's experimental graphic novel gets a Fantagraphics release this week and promises a narrative that could only be presented in comics.
Interlinked flights of fancy, streams-of-consciousness and playful manipulation of the form are at the heart of a book that juxtaposes elements like professorial practice, a father and son road trip and an odd penpal relationship. Another book to look out for from the ever boundary-pushing Fantagraphics.
John Hankiewicz (W/A) • Fantagraphics, $30.00
– Andy Oliver
Giant Days #29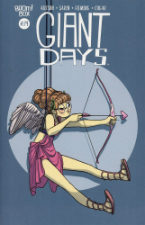 Spinning out of writer John Allison's West Yorkshire webcomic metaseries, Giant Days fills in the missing years of goth queen Esther de Groot, along with new campus pals Susan Ptolemy and Daisy Wooton, as she leaves the paranormal sitcom of Bobbins et al for the bright lights of, uh, the University of Sheffield.
The series has survived the loss of original artist, Disney veteran Lissa Treiman, and is fast approaching its third year with the now firmly-entrenched Allison along with new art team of Max Sarin, Liz Fleming and Whitney Cogar, whose colourful loose-limbed style perfectly complement the writer's idiosyncratic gags.
John Allison (W), Liz Fleming and Max Sarin (A), Whitney Cogar (C), Jim Campbell (L) • Boom! Studios, $3.99
– Tom Baker
Slasher #3
Charles Forsman's bleak character study continues with the third instalment of his Slasher series from Floating World Comics. Despite her online friendship with teenager Joshua, office worker Christine has been giving in to the deeper, darker urges that are threatening to take her over in increasingly violent ways. Joshua meanwhile has problems enough of his own, trapped in a maternal prison by a disturbingly "devoted" mother.
Forsman's disquieting psychosexual thriller has proved all the more captivating for its serial comics delivery. It's not too late to get caught up with some of the indie star's most gripping work to date.
You can read a review of the first two issues here at BF.
Charles Forsman (W/A) •  Floating World Comics, $4.99
– Andy Oliver
Legion of Super-Heroes Silver Age Omnibus Vol. 1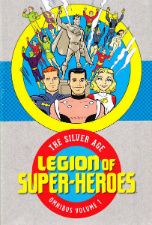 It was a fan-favourite title before we even knew what that terminology meant. The original teen super-heroes from the far-flung 30th century are back as the young Superboy-influenced adventurers get their own bumper hardcover collection this week.
Collecting those early tales from Adventure Comics, Action Comics and from across the Superman family of titles this doorstep of a book includes the Legion's first appearance from 1958 and introduces us to Lightning Lad, Cosmic Boy, Saturn Girl and company.
It's difficult to over-emphasise just how influential these stories would become and, while constant rebooting in subsequent decades has left the Legion's continuity beyond repair, this is an opportunity to revisit a less complicated, more innocent, and ultimately far more pleasurable era of DC's history.
Otto Binder et al (W), Al Plastino and Curt Swan (A) • DC Comics, $75.00
– Andy Oliver