In December 1881 Georgina Moore disappeared from outside her school in London. Some hours later the child's body would be discovered in a river near Yalding. Numerous eyewitnesses saw her in the company of a woman in an Ulster coat during a circuitous journey that took her from her metropolitan home to her tragic end in remoter country environs. In A Long Walk, artist Abbey Massey recreates those last fateful hours of Georgina's life in a series of haunting, lingering images based on this historical event.
At the tail end of last year I covered Massey's bustling, evocative, and oddly poignant One Day Only here, a graphic narrative that focused on the excitement and sense of speactacle surrounding a circus coming to a small rural town. A Long Walk has an altogether different approach to its storytelling; a quieter, pensive sense of inescapable dread over thirteen stark illustrations. Here, Massey adopts a bleak minimalism to subtly convey, with an oddly contradictory sense of calm, the impending horror as the small girl is taken on that fateful journey to her death.
That the abductor is never fully seen – always remaining an enigmatic figure viewed only from the perspective of a child or in long distance profile – only accentuates that sense of betrayal of innocence that is at the core of this offering. It's in the little details – the apparent normalcy of events – that Massey so effectively brings the underlying awfulness to the fore. A stop at an inn where the child tucks into cake on her way to her end is the perfect example of this juxtaposition of the mundane and the pedestrian with the sinister and forbidding.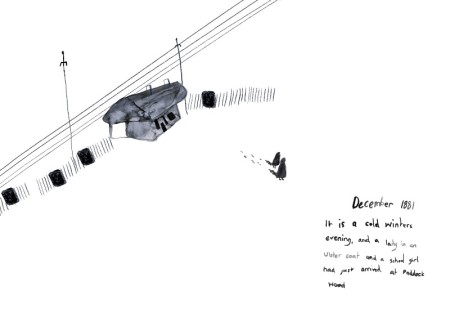 Massey wisely lets her pared back visuals do the bulk of the recounting with the accompanying text describing events without elaboration or flourish. It's a technique – a kind of narrative austerity – that adds to the feeling of helplessness that threatens to smother the reader, making them feel complicit in the inevitable horrific denouement and their inability to influence what's unfolding before them; the aforementioned minimalism and her use of vast expanses of white emphasising that air of desolation and helplessness.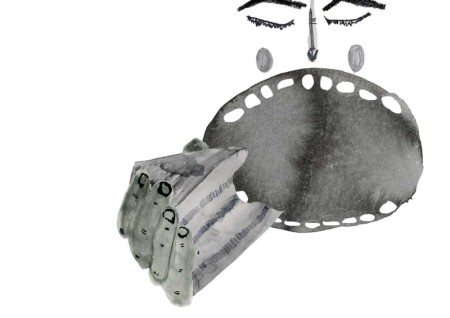 Give this book an initial read before researching the murder of Georgina Moore and then come back to it after doing so. While the murder was never solved the possible reality behind what happened that day adds an extra layer to the violation of trust inherent in this appalling crime. Atmospheric and unsettling, A Long Walk furthers underlines Abbey Massey's talent as a truly evocative storyteller.
For more on Abbey Massey's work visit her website here. A Long Walk is available from her online store here priced £7.50.