Whatever else can be said of Garth Ennis, you've got to admire the man's convictions. He's a writer that's not shy about where he stands, and has notoriously avoided the cape-and-tights-filled golden halls of the industry to concentrate on his own passion projects.
It doesn't hurt that he has a healthy knack for dialogue, can write situations that induce guffaws and cringes in equal measure, and generally does an impressive job of walking the fine line between the profane and the humane. But when you're a writer accustomed to reaping such big ideas, there's bound to be some chaff discarded along the way. Unfortunately, A Train Called Love #1 – due to hit the shelves next week – often feels more like the latter.
Perhaps on a related note, ATAL seems curiously neutered in comparison to his other work. From the scatologically unimaginative phone call on page 2 to the off-page assassination shortly after, this first issue hits everything you'd expect from an Ennis script without any of the impact. This wouldn't necessarily be a bad thing (after all, there's always Crossed if you really need to see the limits of his twisted imagination) were it not for the fact that the characters themselves feel similarly soulless.
There's no question that Ennis can write relationships that'll tear the guts out of you. "People kept asking me if I'd ever do a romance comic, some joking, some not," he told Comic Book Resources at SDCC. "I'd usually say I already had and it was called Preacher." Anyone familiar with the saga of Jesse Custer and Tulip O'Hare (or John Constantine and Kit Ryan from Ennis's Hellblazer run, for that matter) would be hard-pressed to disagree.
So it's a shame that this self-professed pastiche of the genre is largely devoid of Ennis's more emotional side. Although, granted, there's not much of a chance for any of these characters to truly shine in this first issue.
With no less than seven protagonists introduced over the course of its 22 pages, ATAL #1 has more heavy lifting to do than most opening chapters. The wide cast of characters brings to mind the heavily populated, intricately plotted works of Elmore Leonard and the Coen Brothers. However, the speedy introductions mean that too many of the players are still unknowns by the end of the issue.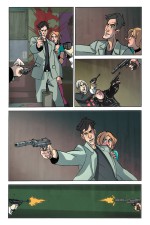 Collectively, the highest number of pages are dedicated to short-tempered Valerie and dapper assassin Myles. Their "meet-cute" is the closest the issue comes to vintage Ennis (for better or worse).
Readers who pick up the book based on the kitschy album-art-inspired cover by Russ Braun will probably be surprised by the actual interiors. The art team of Mark Dos Santos and Andrew Elder have a streamlined, animated style that seems like it would lend itself more to motion and big-screen theatrics rather than Ennis's deliberately paced character comedy.
This results in an unfortunate number of panels that look like they could be storyboards for Fox's latest edgy primetime animated hit. There's an uncomfortable disjuncture between this style and the attempts at social commentary, such as the gathering that unsuspecting tutor Mike finds behind his employer's white picket fence. Then again, Ennis has never been worried about staying on the right side of the politically correct.
Still, it's enough to make you wonder what a different project A Train Called Love would be if Russ Braun (or another frequent Ennis collaborator like Steve Dillon or John McCrea) were contributing. It certainly feels like a story Ennis wants to tell. Only future issues will tell if it's one you'll want to read.
Garth Ennis (W), Marc Dos Santos (A), Andrew Elder (C), Russ Braun (Cover) • Dynamite Entertainment, $3.99, October 7