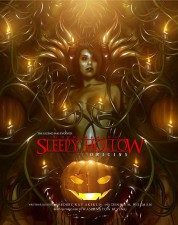 Press Release
Fans of "The Legend of Sleepy Hollow" get a double treat this fall. While TV viewers watch the new Fox series "Sleepy Hollow," St. Louis writer and artist Bobby Ray Akers Jr. releases his version of the tale in the graphic novel "The Vengeance of Sleepy Hollow: Origins."
In this new multimedia re-imagining of the classic tale, the secret history of the headless horseman is revealed and the stage is set for his return to exact final justice and vengeance. "The Vengeance of Sleepy Hollow: Origins" explores the tragic tale of a hero and his fall into darkness through the eyes of the dead and the mind of a brilliant yet disturbed woman. Kat Crane, a decorated war hero, discovers through strange visions that her ties to the past run deeper than she ever imagined. And as she will soon discover, those ties were forged from the blood of the innocent and the murder of a legendary Civil War officer. "Origins" is told through the eyes of the horseman and as the title suggests, this is just the beginning, setting the stage for more to come in 2014.
Akers partnered with graphic artist Dennis Willman to achieve the unique look of his project. By utilizing the likeness of actual people through graphite and digital painting, they bring a fresh style to the world of graphic novels. Using models and actresses from TV and film, the art modeling cast includes actresses Monique Dupree ("Lean on Me," "Skeleton Key 2"), Ashley Salazar ("Playboy Miss Social of the Year"), Tiffany Shepis ("Frankenstein Syndrome"), Belinda Balaski ("The Howling"), Eileen Dietz ("The Exorcist") and Leslie Easterbrook ("Police Academy"). (Full cast available on website.)
"Sleepy Hollow" is a story just about everyone grew up with and it was one of my favorites as a kid," explains Akers. An avid comic book collector, he has made his dream of working in this genre a reality. His background in horror film special effects has been a logical progression towards bringing this story to life. As a lover of all things Halloween, "Sleepy Hollow" was a natural fit for his first project of this type. "My re-imagining of the legend stays faithful but explores a much darker storyline…while infusing supernatural and monster elements." Originally planned as a comic book series, this type of art lent itself better to graphic novel form. "One of the inspirations for the layout was Bernie Wrightson's "Frankenstein," which is brilliantly done."
"The Vengeance of Sleepy Hollow: Origins" is available online now through CreateSpace.com and through Amazon.com world-wide by the end of September for $9.99. Examples of the hyper-realistic artwork featured throughout this book can be found on Akers website. Trading cards and collectible figures to promote the series will also be available to purchase online as well as at upcoming book signings and convention appearances.
Akers' company Dead of Night Entertainment is currently working on the first installment in his FROSTY anthology, "Twas the Night Before the Apocalypse." Drawing heavy inspiration from the B-films of the 50's and the classics of the 80's, FROSTY follows four hapless humans caught in the middle of an intergalactic war between two alien armies on Earth. Akers is also in production on their upcoming science fiction/horror/thriller "Pureform."