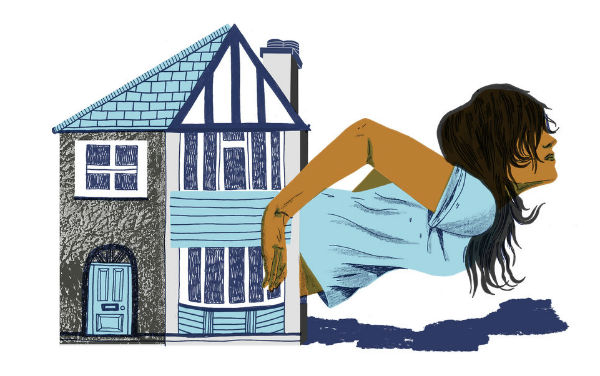 Continuing our new feature for Fridays today at Broken Frontier!
At the end of each week we run an extensive spotlight profile on an artist we believe deserves far more attention, alongside links to their social media accounts so you can follow their practice further. This time it's the turn of our 2019 Broken Frontier 'Six Small Press Creators to Watch' artist Aleesha Nandhra. And it's perfect timing given that Aleesha was longlisted this week for the Myriad First Graphic Novel Competition. Today we take a look at some of the deeply affecting comics and illustration work to come from this emerging voice in UK comics.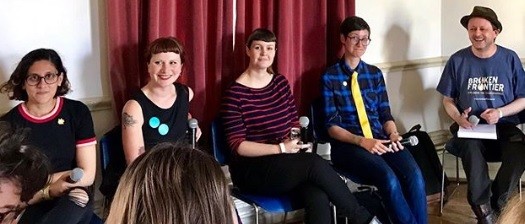 Aleesha (far left) on the Broken Frontier Panel at ELCAF last year with Jayde Perkin, Katriona Chapman, Hannah Berry and Andy Oliver
Comics are just one part of Nandhra's output (and her website is replete with examples of her wider illustration commissions) but, unsurprisingly, they're what we are largely going to focus on here. I first discovered her work a few years back in the pages of the free street press anthology Off Life #13, where I marked out her strip alongside that of two other Broken Frontier favourites, Matthew Dooley and Till Lukat, as being among the highlights of the issue.
'Grief' (below) foreshadowed her later work in graphic medicine exploring loss and themes of mental health awareness. I said of that short in 2016 that it had "an immediate impact, with the transition of its melting panel-to-panel imagery proving instantly resonant in communicating its narrator's feelings of loss. It's two pages that are both deeply personal and yet, through the ever obscured features of its central character, strangely impersonal as well. A contradiction that actually serves to emphasise the familiarity and everyperson nature of the events it depicts."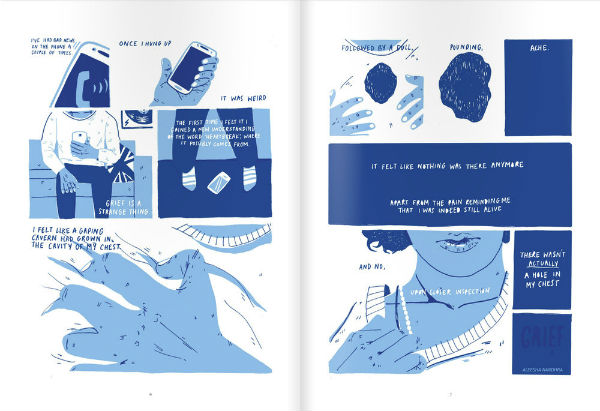 It was a perfect example of something I would go on to remark on in subsequent years regarding Nandhra's work. She has an ability to communicate experiences that are intensely personal and specific in nature and yet, due to the intimacy of the connection she immediately makes with her audience, our profound empathy with events on the page is always ensured.
This was again in evidence in her Thinking in the Dark minicomics (below). Presented in an accessible DIY culture-style zine format this series was described by Nandhra as embodying "the thoughts and feelings that come to mind when you can't sleep at night." I described the first two editions here at Broken Frontier as exploring "ideas of loss, dislocation, disconnection and insecurity with visual metaphor  and starkly affecting illustration that is, ironically, all the more familiar and relatable for its (largely) lack of a clear on-page protagonist. Fractured thoughts and worries exist as their own discrete mini-narratives but also build up into something much larger; a visual essay that echoes the niggling concerns that disturb us, too, in the small hours of the night."
Nandhra returned to the series with a third issue last year (below) that again touched on motifs of mental health awareness. It was reviewed here at BF: "[there's] a startling level of contemplative depth to its 8 pages. There are reflections that are cyclical in their nature – becoming agitated that your worries aren't being taken seriously for example – and recriminations about self-worth. Some are plaintive in their ruminations – who supports those who support others when they need it? The ways in which depression can have no logic or warning to it or the way in which anxiety can make the start of each new day a challenge are also so deeply realised by Nandhra's observational and subtle visuals. The lack of human figures and the use of artefacts and everyday objects to embody her points ironically bringing a very human quality to her superficially detached narratives."
In Dark Masks (below) Nandhra again explored mental health issues but from a very different perspective, examining them from the viewpoint of those whose lives orbit the affected person. When I covered this one last year at BF I spoke of how it encapsulated "a feeling of helplessness that one senses may have been cathartic in bringing to life on the page, Dark Masks is nevertheless not unhopeful in its message. It also underlines that regardless of the breadth of coverage in this area of graphic medicine over the last couple of years the experiences communicated remind us that the conversations around raising awareness of the subject are ongoing. Nandhra's work, with its immediate and almost tangible impact, is a welcome and important addition to the discussion.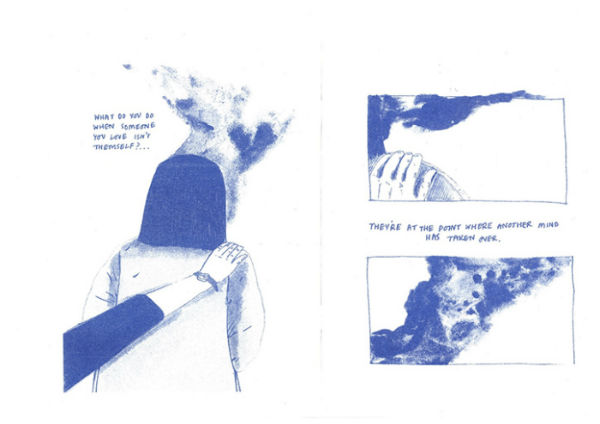 When I interviewed her last year at Broken Frontier, Aleesha elaborated on her graphic medicine comics practice saying " I think putting text and image in sequence can communicate ideas very succinctly. All elements tie together to give the reader a clear representation of a subject matter or narrative, no matter how subtle all of the elements are. Particularly in the case of mental health (in my experience) everyone's encounter with it is very different. I think by using a comic, and creating characters that have no clear resemblance to anyone in particular allows for readers to have a greater connection with the often complex themes."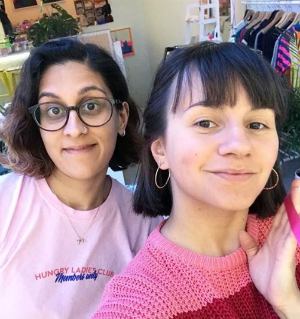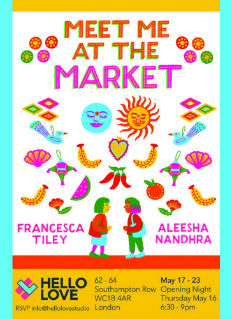 Nandhra's illustration work has been for clients including Google, the Los Angeles Times and the Barbican, and we've covered some of the other projects she's been involved in at Broken Frontier including her joint exhibition Meet Me at the Market with Francesca Tiley (above), her contributions to the Association of Illustrators Inspired to Innovate exhibition, and her participation in the Creating Heroines event in Nepal with the British Council (both below).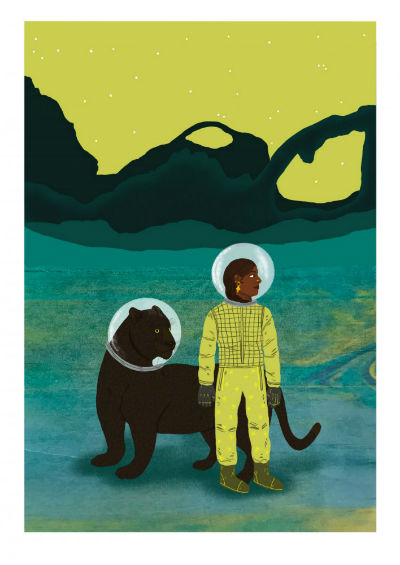 It's Nandhra's most recent comic Local Angrej (below), though, that has arguably gained her the greatest critical acclaim to date, including that longlisting in the Myriad First Graphic Novel Competition this week. She told me about its origins here at BF last year: "After my trip to India in February, the theme of duality has definitely been something that I have been revisiting in current work, and would like to continue to explore. Local Angrej looks at my thoughts and feelings as I travelled alone for the first time in India. It was a fresh experience for me, having only visited India once before with family. Travelling alone allowed for some very introspective moments and I kept a written/visual diary while I was there. I wanted Local Angrej to not look at my experience with rose-tinted glasses, but for it to encapsulate those  few weeks in an honest way. I left all of my written thoughts unedited to (hopefully) convey this honesty."
Local Angrej debuted in shortform at ELCAF last year. I named it as one of my 'Ten UK Small Press Comics You Need to Own' for 2019, and said when I reviewed it last year: There's something almost scrapbook-like in how her constantly changing presentational style here reflects the motifs of confusion and detachment that are so intrinsic to the story; as does the way in which we never see her face on in any panel. By portraying herself only from the back, or as a fleeting presence moving through panels, Nandhra becomes, paradoxically, almost a supporting character in her own narrative; something which cleverly echoes the comic's theme. From pure sequential art to travelogue-style illustration; to intuitive use of lettering and speech balloons to enhance her observational points, through to abstract symbolism; Local Angrej is a quietly sophisticated piece of comics storytelling.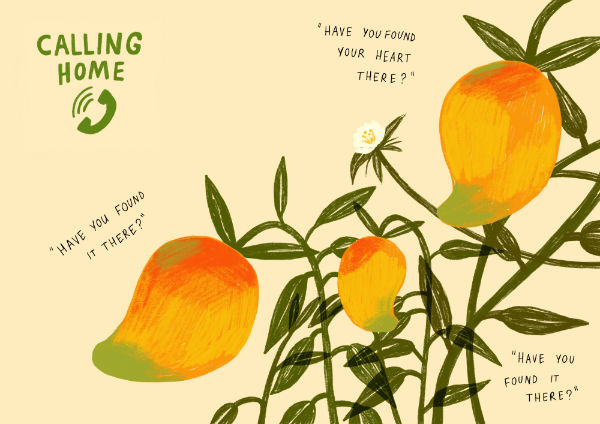 It's always incredibly pleasing to see our 'Six to Watch' creators getting due recognition and, despite a sizeable body of work behind her, it feels like Aleesha Nandhra's comics journey has only just begun. She has a remarkable ability to bring the reader directly into her own experiences, not just inviting us to share them but, briefly, to live them as well. If you're not following her already on social media make sure to rectify that via the links below.
Make sure to follow Aleesha Nandhra on Twitter and Instagram. You can find out more about her work on her site here and visit her online store here.