Given his extensive comics CV when it comes to small press anthology contributions – The Comix Reader, Wu Wei, A Bit of Undigested Potato, To Arms!, Off Life, Dirty Rotten Comics and our own Broken Frontier Small Press Yearbook 2016 – it may surprise some that such a bastion of the scene as Alex Potts has yet to produce a longer-form comics narrative.
There have been a number of self-published collections like Underpants (reviewed here last year at Broken Frontier when I described it as "a comic about existential angst for people who can't summon up the energy for existential angst") and, of course, his bleakly brilliant A Quiet Disaster from Avery Hill Publishing a couple of years back. But his new offering It's Cold in the River at Night marks his first graphic novella-length book.
Alex is one of the UK small press world's hidden treasures and also one of its most under-rated stars. We couldn't be happier, then, to be able present this preview of It's Cold in the River at Night which will be published by Avery Hill this November. This one is going to be well worth waiting for.
The full press release and sample pages are below…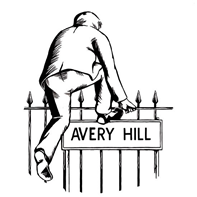 Avery Hill are proud to announce the upcoming title:
It's Cold in the River at Night by Alex Potts
84 pages, full colour. Release date: 13th November 2017
Somewhere, in an isolated corner of Western Europe, Carl and Rita rent a house on stilts. Due to the pressures of spending so much time only in each other's company, cracks in their relationship start to appear. To relieve the pressure and secretly hoping to meet someone he can look up to who will take him on as an apprentice, Carl embarks on a search for the last remaining practitioner of an ancient local tradition. His quest brings him to a craftsman who is very different to the type of man he was hoping to find.
Animator and illustrator Alex Potts' first long-form graphic novel is a psychological drama and a coming-of-age tale, where the protagonist is too old to come of age, doesn't experience any personal growth and is instead pushed to the brink of his sanity…
• Eagerly-anticipated debut long-form work from cult London comics scene creator and animator
• Creator was shortlisted for the 2016 Observer/Cape/Comica Graphic Short Story Prize
Praise for A Quiet Disaster by Alex Potts:
"A beguilingly nihilistic piece of idiosyncratic storytelling… Potts is a cartoonist with an expressive and impressive emotional range." – Andy Oliver, Broken Frontier
"A great depiction of life… poetic and layered." – Tom Mortimer, Dirty Rotten Comics
For more on Alex Potts check out his website here and follow him on Twitter here. His online store is here.
Visit Avery Hill Publishing's online store here and follow them on Twitter here.