In late 1926, following an argument with her husband Archie, celebrated crime novelist Agatha Christie's sudden disappearance caused a media sensation. Having abandoned her car at a quarry she would not be seen again for a week and half. After a national search, an apparently disoriented Christie was found booked into a hotel in Harrogate under an alias that used the surname of her spouse's mistress. Whether this was a breakdown, a plot to discredit her husband or even a publicity stunt has long been speculated on. Christie's own autobiography ignored it (though some would argue there are hints to be found within some of her later novels) and it remains a tantalising mystery that has been explored in everything from a film starring Vanessa Redgrave and Timothy Dalton to an episode of Doctor Who back in May 2008…
That disappearance is used as both the pivotal plot focus and the entry point into Christie's life in writers Anne Martinetti and Guillaume Lebeau and artist Alexandre Franc's SelfMadeHero graphic biography Agatha: The Real Life of Agatha Christie. Martinetti and Lebeau depict Christie's world from a number of pertinent angles, looking at the forces that shaped her including her early love of literature and privileged, if isolated, upbringing. Her family ties and both the loss of her beloved father at an early age and her complex relationship with her mother are a running theme throughout, as is her multi-vocational existence – not just novelist and playwright but nurse, archaeologist and trailblazer.
It's that much publicised vanishing act, though, that feels like a constant motif throughout Agatha: The Real Life of Agatha Christie with the reader nitially invited to look back on the decades before and the catalyst for those fateful ten days, and then to observe their aftermath in the years after. Martinetti and Lebeau merge speculative reality with meta commentary as Christie's constant conversations with her own characters pepper these pages; her sparring with Belgian detective Hercule Poirot being perhaps the most telling in its near bitterness. It's a clever narrative device that adds insight into her creative practice on a more immediate level; giving the audience an inkling of her own relationship with her creations but also allowing the interactions between Christie, Poirot, Miss Marple and the like to act as reflection on the passing years without need for dry narration.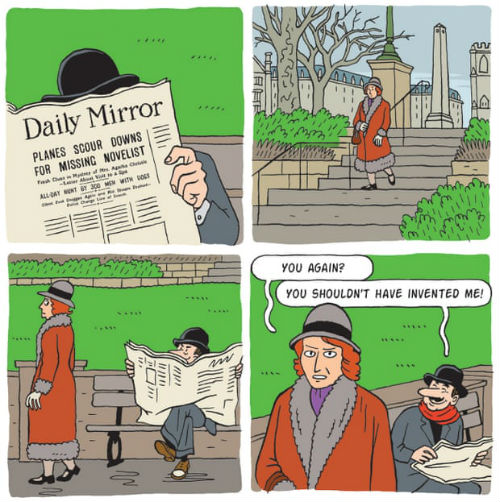 Where the book works less well is that it tries to make note of so many smaller details of Christie's life that the account feels full of references that seem fleeting and unresolved. That may of course inspire the casual reader to investigate further but it does create a sense of narrative loose ends in the context of a graphic biography. What is not in doubt though is the clarity of Alexandre Franc's visual storytelling. His stripped back but expressive characters on otherwise detailed backgrounds ensure the readers' instant connection with the cast and his characterisation in is subtle but pronounced. His Poirot is an especial delight throughout, frequently commenting on his own adventures with a scathing wit that is fully realised in his body language. Full page images are also used by Franc to great effect for dramatic emphasis and use of colour is vital here in building mood and atmosphere.
An appealing introduction to the remarkable life of a remarkable woman, Agatha: The Real Life of Agatha Christie is a fine addition to SelfMadeHero's graphic biography range. If you're in London on Tuesday November 20th you can also meet artist Alexandre Franc at the next Gosh! Comics and Broken Frontier Drink and Draw.
Anne Martinetti & Guillaume Lebeau (W), Alexandre Franc (A) • SelfMadeHero, £12.99
Alexandre Franc is the guest artist at this week's Gosh! and Broken Frontier Dink and Draw on Tuesday November 20th in conjunction with the Institut Francais.