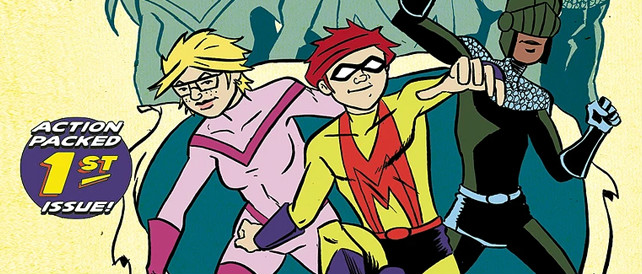 Alterna Comics goes retro with their new line of comics by printing on newsprint, distributing to newsstands and rolling back cover prices to $1.50.
These days there seems to be endless sources of entertainment options than ever, and even for dedicated comic readers the sheer number of titles on the shelf each month can make it intimidating to try new material.
So what are independent creators to do in order to attract new readers? Well, one publisher thinks they may have the solution. Beginning May 3rd, Alterna Comics will launch a new line of that will not only have a lower price point ($1, $1.50 or $1.99), but they'll hearken back to a bygone age when comics had a much larger following by printing on newsprint and distributing through newstands.
With the first issues of this line launching in just a few short weeks, Peter Simeti, publisher at Alterna Comics, joins us to discuss how he got into indie publishing, his strategy for increasing readership, and plans moving forward.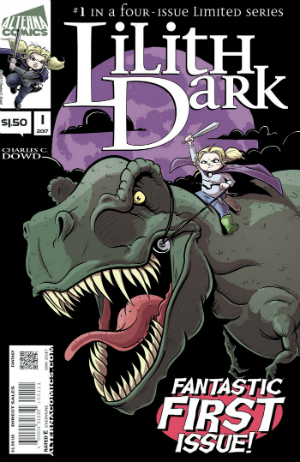 BROKEN FRONTIER: Why don't we begin with you telling us a little about Alterna Comics. Why did you decide to start the company and what separates it from other publishers out there?
I started Alterna back in 2006, mostly as a way to just get my own work out there. It was a self-publishing alias that eventually attracted the attention of other creators. Fast forward to 2017 and Alterna has published over 100 different titles in print and digital formats worldwide in the past eleven years. Our books are distributed to comic shops via Diamond, the book trade via IPG, and coming to newsstands this summer with PDG. We pride ourselves on the variety and quality of stories that are published here and we're always looking for new ways to get our comics in front of readers all over the world.
What was the appeal of going back to newsprint for this new line of comics? Was it substantially cheaper or did it have more to do with nostalgic reasons?
A little bit of both. I've been searching on and off for an affordable newsprint printer since I started Alterna, which is largely why we've mostly just published graphic novels for the past eleven years. If it's not on newsprint/mando paper/etc. — if it can't be rolled or laid completely flat — it just doesn't feel like a comic to me.  
Aside from the premium paper stock that's prevalent in so many comics now (especially the higher priced ones) I've found that print-on-demand paper qualities have seeped into the comic industry as the norm. You know the type… the comic bulges out near the spine, the cover is either too flimsy or too thick (same for the interior sometimes)… and while it's absolutely understandable for short runs on the indie small press level (heck, I even used this back when I first started!), there's something that just doesn't feel right to see mass-distributed larger level publishers putting books out like that.  
Obviously I'm not expecting everyone to feel the same way I do and some will probably stay away from these comics solely based on the newsprint interior, but based on the reactions to the news about these comics, the prices, and what the stories are about — it's been overwhelmingly positive and I'm happy to see that it struck a nerve with so many.
How about the $1.50 cover price? Was there a reason you picked this price point specifically? Do you feel it was low enough to tempt new readers to "try it out" as opposed to just buying what they're used to?
The cover price was mostly about passing on the savings from the print runs, on to the readers and retailers. I hope readers do give these books a shot though and that they feel comfortable with spending $1 to $1.50 on an issue. It's tough when you go into a shop and see 10 comics you'd like to try but you know the price tag will be $40 to $50 at the register. Hopefully the $15 spent on 10 Alterna newsprint comics won't seem so painful. And if you planned on spending $50 or more at the shop that day anyway, trying out an Alterna title will add more to your stack and not as much to your bill.
People have a multitude of ways to spend their entertainment dollars nowadays. It's important that the comic industry realizes this and stay competitive not only with each other, but with everything else as well.
I noticed this new line of titles consists of limited series, either 4 or 5 issues? Do you plan on collecting them afterwards? If so, what format will they be? Will this be our chance to see them on glossy paper?
Yes, these titles will eventually be collected as well, with premium cover stocks and interior stocks. We've partnered with a new printer this year for graphic novels too and the quality and pricing has been absolutely fantastic. It's an exciting year for Alterna!
Will there be another line-up of new titles after these are finished? Will any of these titles be returning for a second story arc?
Yes, we've got 4 titles coming out in April Previews to be in stores this June. Scrimshaw (an ongoing series), Mother Russia (3-issue mini), The Chair (4-issue mini, which will be $1.00 an issue), and Trespasser (4-issue mini).  Every series is bi-monthly (released every other month) and August will see the debut of The Wicked Righteous (6-issue mini) and we have new titles coming out in September, October, and November. We even have most of 2018 mapped out already as well.
Are you planning on sticking with the $1.50 cover price on newsprint in the future or are you going to see how it goes with this launch first?
Yes, we'll be sticking with the $1.50 cover price for all of these titles. With some mega-sized issues planned here and there, which will be at $1.99. Some titles, like The Chair, will priced at $1.00 an issue. Given the fact that the print runs are a third of the cost of a premium paper stock run and the fact that we're selling advertising, our overhead on print cost is extremely low and sometimes completely paid for by advertising.  
We've got May, June, and now July advertising spots sold out with most of August sold out as well and about 40% of September to December sold out. If other comic publishers, creators, etc. are interested in placing ads in our books — I hope they visit alternacomics.com/advertising for more information.  Ads range in price from $20 to $200 so there's a lot of value there considering that we're looking at print runs between 6K to 15K.
For more on Alterna's new range of newsprint titles check out their site here and follow them on Twitter here.