Press Release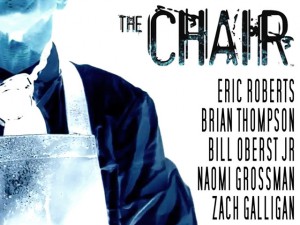 The Alterna Comics psychological horror title, THE CHAIR, is currently being adapted as a feature film and has taken to Kickstarter to raise awareness and a budget. Hoping to reach a target goal of $300K on Kickstarter, THE CHAIR features a fan favorite cast and crew from films and television shows like Nightmare on Elm Street, Gremlins, The NeverEnding Story, The Dark Knight, American Horror Story, Justice League Unlimited, and Buffy the Vampire Slayer – just to name a few.
THE CHAIR, at its heart, is a dark character study on the choices people make in life. This isn't just a film about a prison where people get tortured, many themes are explored upon in the film, including familial relationships, child abuse, mental health care, and capital punishment. A battle of nature vs. nurture, THE CHAIR is a thought-provoking film without monsters, zombies, or vampires – a film that shows the capacity for good and evil that exists within the human soul.
Richard Sullivan (played by Brian Thompson) is an innocent man struggling to escape execution on death row. Witnessing the torture and murder of his fellow inmates at the hands of the prison's sadistic and psychotic Warden (played by Bill Oberst Jr.), Sullivan decides that the only way to survive is to fight back. But as he matches the savagery and brutality occurring in the prison, Sullivan is forced to come face to face with his own sanity.
Directed by Chad Ferrin with Tim Eckel, Paul Lacovara, Jill Maxcy, Charles Bernstein, David DeFino, Anthony Ragonse, Lisa Meyers
Starring: Brian Thompson, Bill Oberst Jr., Eric Roberts, Naomi Grossman, Zach Galligan, Noah Hathaway, Derrick Damions, Ezra Buzzington, Susan Eisenberg, Kyle Hester, Tim Muskatell, Tomas Boykin, Kin Shriner, Travis Love, Chalet Lizette Brannan, and Paul Lacovara