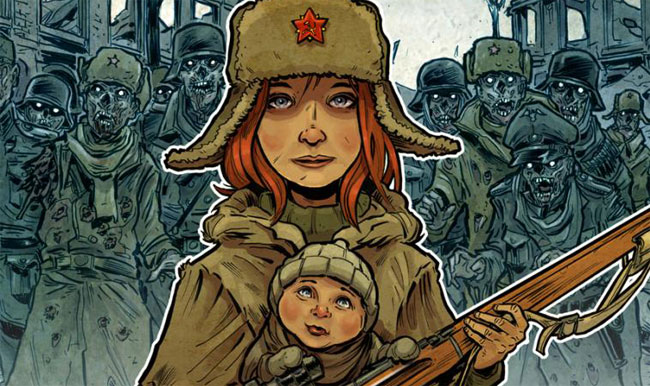 Most Kickstarter campaigners would happily donate their kidney to see that fundraising bar turn completely green. All green means their project has been 100% funded and that they can bring their creative idea into the world. For Jeff McComsey's Mother Russia Kickstarter, the ticker currently says a whopping 2500%.
Mother Russia is the latest story set in McComsey's FUBAR universe, a zombie-ridden world that already has been brought to life in three anthologies, a Free Comic Book Day 2013 special  and the current two-issue FUBAR: By The Sword mini-series and has become popular way beyond your average comics reading circle.
People want FUBAR and they want it now. Even McComsey admits that raising over 25 times his initial goal has exceeded his wildest dreams.
"We were hoping for something close to the $17,000 we got on our previous campaign," he says. "This one has gone full on bonkers. Thankfully, after having done a few campaigns before, I know what to expect from the back end of a campaign and how – hopefully – not to screw it up." [Laughs]
After completing several succesful Kickstarter campaigns, what are some of the things you've learned that can help other indie creatives looking to set one up?
Offer good value on rewards. I look at each reward and ask myself, "If I could afford it, would I back for this tier?" Having something really cool at the $25-30 level is a must. That's where most people pledge.
I've also noticed people like personalized stuff and having their name in the book. I also believe in having an outlandish $500 type reward with everything included. I call it the 'Rich Uncle Reward'. I always include one and have always had at least one pledger for those.
In your Kickstarter video, you mentioned how difficult the back-end of a campaign can be. What are the pitfalls to watch for and what do you do to avoid them?
Once you have over 1000 backers, everything you add in to rewards in terms of stretch goals adds greatly to your packaging and shipping costs. For instance, except for original art rewards, every other reward fits in a letter-sized envelope. Luckily, having done a few smaller campaigns prior to this one, I'm pretty familiar with shipping costs for each type of reward.
The bottom line is you just want to be careful about what you offer and make sure you can deliver without using up all your funds.
About Mother Russia itself, how will you expand on the original 28 pages published in 2009?
This OGN finishes what was hinted at in that story, which is the fight through the zombie hoards to get back to the safety of her tower with her new allies she meets after rescuing the child. I also intend to flesh out the characters a bit more, especially what this woman does with a child she has no idea about how to care for.
You said you've grown a lot as an artist and storyteller. What are the areas in which you feel you've improved the most – not just since starting FUBAR, but going as far back as American Terror: Confession of a Human Smart Bomb?
All aspects of making comics, really. I feel that my drawing has improved greatly as well as my understanding of what makes a story interesting and compelling. I think so far that this is my most successful sequential art in terms of concept and execution.
One of the extra rewards that has been unlocked is the expansion of the Mother Russia world by other creators. Who are you bringing in and what stories will you be telling with them?
I'll be writing the scripts which will tell a bit of backstory for our main cast of characters. 'The Girl' will tell of our sniper and her background prior to the war, illustrated by Jonathan Brandon Sawyer. 'The Child', drawn by Giles Crawford, will show us how the child stumbled into the girl's world. 'The German' will flesh out an as yet introduced character and how he comes across to the other characters. That short will be illustrated by FUBAR art director and Mother Russia cover artist Steve Becker.
What are your plans for the world of FUBAR beyond Mother Russia and By The Sword?
We're already working on our Free Comic Book Day 2014 issue, so we'll have that for mass consumption on May 5th and Steve Becker is working on his own FUBAR OGN that will follow Mother Russia. We also have a new one-shot coming, Guts and Glory, which is available for pre-order from Alterna Comics in this month's Previews. 2014 is going to be pretty intense for FUBAR.
Get in on the FUBAR: Mother Russia Kickstarter campaign while you still can. Fubar: By The Sword #2 goes on sale this Wednesday from Alterna Comics.