It's almost Wednesday, and you know what that means: a fresh load of comics and graphic novels! With so many publications hitting your local comics store or digital storefront, BF is here to lead you through the woods. These are the books that need to be on your pull list this week.
Comic of the Week
MPH #1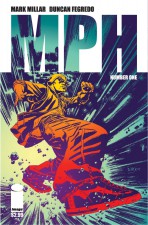 In a city where all hope seems lost, four nineteen-year-old kids take a drug that gives them super-speed for seven days. Will they use their powers for good or for bad? Going into Mark Millar and Duncan Fegredo's five-issue miniseries MPH, you better bet on the second option, because in today's Detroit where police stations are closed and half of the city lies deserted, the door to crime is wide open.
MPH is the third Millarworld title to debut from Image in a year's time behind Jupiter's Legacy and Starlight and promises a never-before seen take on speed-as-a-superpower stories, especially in how the power's being portrayed on the page.
This is likely the most kinetic comic you've seen in a while, and it's all because of Fegredo who gets to show off a completely different facet of his game after having spent the past eight years at Mike Mignola's side on Hellboy.
Will MPH be a runaway hit? Pick it up and find out.
Mark Millar (W), Duncan Fegredo (A) • Image Comics, $2.99
– Frederik Hautain
The Last Broadcast #1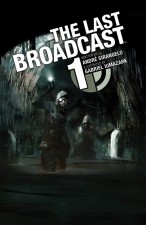 Archaia might be better known for their beautifully produced hardbacks, but it looks like the positive reception for the company's recent Hacktivist mini-series has whetted their appetite for floppies. André Sirangelo and Gabriel Iumazark are two new creators to me, but this seven-parter promises a stylish contemporary mash-up of urban exploration (urbEx) and occult conspiracy.
The Last Broadcast weaves together a pair of related mysteries, as a San Francisco urbEx group stumbles across the secret bunker of a long-vanished stage magician, Blackhall, and a modern illusionist learns of a possible conspiracy surrounding Blackhall's disappearance. The blurb offers a "Brazilian/Japanese-fusion indie art style"; if you're having difficulty picturing what that might look like, just think Ashley Wood (in a good way). With their measured slate of projects, Archaia (and their partners BOOM! Studios) continue to offer the promise of quality over quantity, and this series definitely looks like a breath of fresh air.
André Sirangelo (W), Gabriel Iumazark (A) • BOOM! Studios/Archaia, $3.99
– Tom Murphy
FUBAR: Better Red Than Dead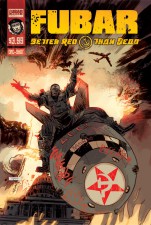 The FUBAR franchise continues its take on splicing historical war stories with zombie-filled action in this latest one shot. This collection of four short stories focuses on "the red threat" of communism initiated by The Soviet Union after World War II. But these tales of the Bay of Pigs, Che Guevara and the Berlin Wall become even more complicated when you add in the threat of the living dead!
And if that's still not enough, the KGB and CIA go head to head competing for a new weapon that makes three-dimensional nuclear war look like a sensible alternative.
Jeff McClelland, Jeff McComsey (W), Jeff McComsey, Various (A) • Alterna Comics, $3.99
– Tyler Chin-Tanner
X-O Manowar #25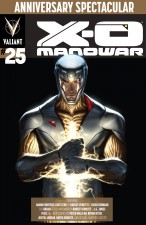 Valiant is leading into Armor Hunters – its major summer crossover – with this special 48-page anniversary issue. The creative team on this issue is positively bursting at the seams; Robert Venditti, Bryan Hitch, J.G Jones, Tom Fowler, and many more all contribute to this massive celebration of one of the most interesting characters in Valiant's universe.
The issue includes several stories featuring the sentient armour, including a retelling of the X-O's origin as well as a prelude to Armor Hunters itself. A highly-trained strike team sets out to destroy the X-O Manowar armor once and for all, even if it means the destruction of the entire Earth. Hailed as a jumping on point for new and lapsed readers, X-O Manowar #25 promises to be an exciting tribute to both the character's past and its future.
Robert Venditti, Tom Fowler, Justin Jordan (W), Diego Bernard, Sean Chen, Tom Fowler, Brian Hitch, J.G. Jones, Barry Kitson, Cary Nord, Rafer Roberts, Andy Runton (A) • Valiant Entertainment, $4.99
– Reid Vanier
Amerika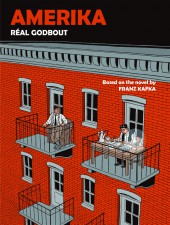 Réal Godbout has been a legendary figure on the Quebecois comics scene since the 1970s, but – incredibly – this 184-page adaptation of Franz Kafka's novel, seven years in the making, is the first work of his to be translated into English (by Helge Dascher). This is one of five titles launched at TCAF earlier this month by Canadian publisher Conundrum Press, who, under publisher Andy Brown, are emerging as a force to be reckoned with.
Rather than going for the standard darkness that generally goes with the author's name, Godbout uses his trademark ligne clair style to express the energy and absurdist humour of Kafka's novel. This is the tale of Karl Rossmann, a young man who is sent to America by his parents after an embarrassing sexual misadventure. However, it's not until he gets to the "land of opportunity" that his problems really begin – in a way that can only be described as 'Kafkaesque'.
Réal Godbout (W/A), Helge Dascher (Translator) • Conundrum Press, $20
– Tom Murphy
Invincible #111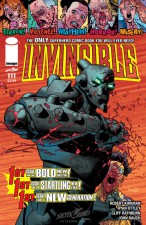 It's the month for bold new beginnings for Robert Kirkman's longest-running titles. After shaking up the status quo during All Out War in the pages of The Walking Dead and twisting the steering wheel, Kirkman's doing the same on Invincible.
The cover pretty much gives it away: Rex/Robot has gone into true despot mode looking to reshape the earth in his image for what he believes to be the betterment of mankind. Poor Mark stands in his way and gets his teeth knocked out. Though (spoiler alert!) his pearly whites aren't the only body parts being detached in this issue.
Kirkman and Ryan Ottley have been going at this together for over a decade and show no signs of letting up. That's the definition of an invincible creative team.
Robert Kirkman (W), Ryan Ottley (A) • Image Comics, $2.99
– Frederik Hautain
Forever Evil #7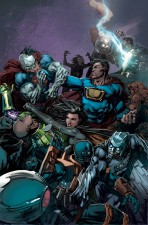 After two months of delays, the final issue of Forever Evil is finally being released; the capstone of an event that has alternately exciting and frustrating. Some of the most interesting components of the event have been the tie-in series, but the last two issues of the main title have certainly picked up the pace and the intrigue.
While future solicitations have revealed details such as Dick Grayson's survival and Lex Luthor joining the Justice League, there are still a number of questions to be answered: What destroyed Earth 3? How are the make-shift heroes going to defeat the remaining Crime Syndicate? More importantly, how do they stop a Mazahs-powered Alexander Luthor?
All paths converge in this issue, and despite some of the events shortcomings, there are few issues I have been anticipating as heavily as I have this one. Expect lots of action, incredible visuals, and the establishment of the New 52's new world order.
Geoff Johns (W), David Finch, Richard Friend (A) • DC Comics, $3.99
– Reid Vanier