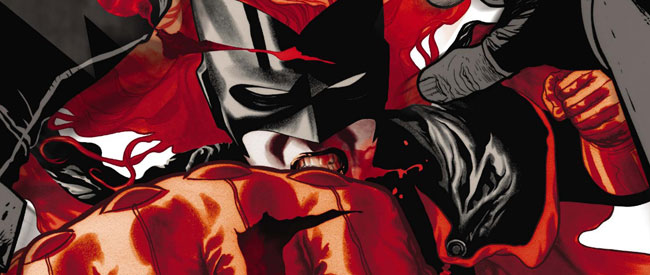 Due to a computerless vacation (it was much needed and I had a wonderful time, thanks for asking), I missed the recent hubbub surrounding comments supposedly made by Mark Millar and Todd McFarlane that comics aren't for women. My post-vacation introduction to the fray was this Observation Deck blog post on io9.
After reading the post and comments supporting it, I was more than ready to hit my keyboard and make an elegant case that comics certainly are for women. Intelligent, articulate, female comics fans are out there, gentlemen. But before I did that, I followed the original sources. Context is everything. When incendiary quotes appear from an article or interview, it's best to go back to the original source and digest those quotes in their proper contexts.
I learned plenty from those original sources—enough to suggest that we all take a step back and see what's actually there.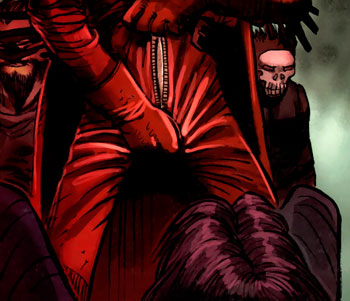 In this New Republic article on Mark Millar, writer Abraham Riesman discusses Millar's use of sexual violence as a plot device to motivate the male protagonist to action. Millar told Riesman, "The ultimate [act] that would be the taboo, to show how bad some villain is, was to have somebody being raped, you know? I don't really think it matters. It's the same as, like, a decapitation. It's just a horrible act to show that somebody's a bad guy." (The scene on your right is from Millar and John Romita, Jr.'s Kick-Ass 2 #4 – ed.)
The article never discusses whether or not comics, Millar's or those of other creators, are for women, however. It does bring to light Millar's intent on pushing the boundaries for his characters and willingness to engage them in heinous behaviors.
We should really be discussing the treatment of women in these modern comics, because Millar's attitude toward rape as a plot devise is cavalier at best and deliberately ignorant at worst. Another discussion on the contribution Millar's work makes toward the desensitization of the population regarding sexual violence is also in order.
The marginalization of women appears to be the hot topic surrounding Todd McFarlane's participation in a panel of comics experts, including Len Wein and Gerry Conway, who contributed to the upcoming PBS three-part series, Superheroes: The Never Ending Battle. During a recent press panel appearance executive producer Michael Kantor commented on the lack of women and minorities in the series. "Our series reflects the evolution of American culture," said Kantor, "and I think minorities and women were marginalized throughout much of the 20th century. Comic books reflect that marginalization."
Is Kantor's observation inaccurate? I don't think so. You don't have to be happy about it, but I think we would all agree that through the early decades of comics, women in superhero titles were rarely portrayed as being of equal capability as their male counterparts.
What did Todd McFarlane say? According to the Observation Deck post, McFarlane said, "I've got two daughters, and if I wanted to do something that I thought was emboldened to a female, I probably wouldn't choose superhero comic books to get that message across." It's his opinion, and he's entitled to it.
He didn't say that comics aren't for girls. If you were going to introduce a young girl to comics today, what one title currently available on the shelf would you give her? I'd pick Peanuts. Or Herobear. (Dear Mike Kunkel, Please get your rear in the chair and crank out more Herobear books!) My top two picks for young girls aren't superhero titles, but that doesn't mean I wouldn't introduce those at a later date depending on interest.
According to the write-up of the press panel by David Hinckley of the New York Daily News McFarlane said, "The vast majority of people doing this high-testosterone storytelling put our fantasy on the pages. But as much as we stereotype the women, we also do it with the guys.
"The guys are all good looking, not too many ugly superheroes. They've all got their hair gelled back. They have perfect pecs. They have no hair on their chest. I mean, they are Ryan Gosling on steroids.
"They are all beautiful. So we actually stereotype both sexes. We just happen to show a little more skin when we get to the ladies."
No kidding, Todd. Not sure I'd agree that men are stereotyped as much as women in comics, but I appreciate the acknowledgment that men are idealized to virtually unattainable levels. (Dear Ryan Gosling, Your pecs are just fine. Really.)
Whether or not comics are for ladies isn't an issue these interviews bring up. Read the originals and watch the PBS series when it airs on October 5. The greater issues at hand are the cavalier acceptance of sexual violence as a plot device and the marginalization of women.
At its very best, art provokes discussion. It certainly has here. Of course comics are for women. Can we get on to those greater issues now?