It's nearly Wednesday, and you know what that means: a fresh load of comics and graphic novels! With so many publications hitting your local comics store or digital storefront, the BF staff is here to lead you through the woods with our weekly staff picks. Satisfaction guaranteed!
Comic of the Week
Red Thorn #1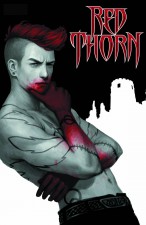 Vertigo is hoping that comparisons to Fables and The Sandman will encourage readers to check out its newest dark fantasy series. However, we're betting that the sharp writing chops of David Baillie (2000 AD, Judge Dredd Magazine) and lush interior art by Meghan Hetrick (Fairest) and Steve Oliff will also be a powerful incentive.
Baillie promises "nudity, swearing, tartan, blood, monsters, girls, guys, perfect abs and lots of heartbreak" within the first year of the title. Given that one of the core characters is a resurrected pagan demigod, it's not hard to imagine some culture clash when he awakens in modern-day Glasgow.
We see this impending chaos through the eyes of Isla, a young American woman searching for the answers to a decades-old family tragedy. Add in some burgeoning magical abilities, and the stage is set for one of the most promising new debuts of the season.
David Baillie (W), Meghan Hetrick (A), Steve Oliff (C) • Vertigo, $3.99
– Paul Mirek
Pretty Deadly #6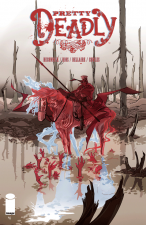 It might have been eight months since the last issue of Pretty Deadly, but that absence has done nothing to blunt readers' appetite for this rich, dense and poetic horror series by Kelly Sue DeConnick and Emma Rios (who was a very welcome guest at the Gosh Comics/Broken Frontier Drink and Draw event in London on Monday night).
You'd think that the battle with Death that concluded the first volume of Pretty Deadly might be a hard act to follow, but DeConnick and Rios (with back-up from regular collaborators Jordie Bellaire and Clayton Cowles) take the story forward a few years to the 20th century and an environment rich in its own bloody mythology – the horrors of the first world war.
As a dying old woman strikes a bargain with Fox, now the messenger of death, Deathface Ginny is sent to the blighted battlegrounds of Europe to find her son and return him to her for one last meeting. However, amid the carnage, she soon finds herself facing a formidable foe.
(I wonder if Bunny and Butterfly have gone along for the ride…)
Kelly Sue DeConnick (W), Emma Rios (A), Jordie Bellaire (C) • Image Comics, $3.50
– Tom Murphy
Huck #1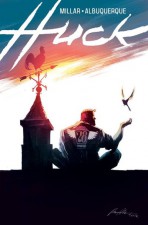 Anyone who's ever lived in a small town knows that they hide big secrets. In the case of the tiny seaside setting in Mark Millar (Jupiter's Legacy) and Rafael Albuquerque's (8ight) latest creator-owned series, it's a secret that will change the world.
When considering much of his recent work, Huck is something of a departure for Millar. Tonally, it couldn't be more different from books like Nemesis or The Secret Service. In Huck, a story about a superman who uses his incredible powers to perform good deeds for his community, Millar's characteristic cynicism and penchant for over-the-top violence take a back seat to a more light-hearted, introspective exploration of the myth of the superhero.
With Albuquerque's gorgeous, almost Rockwellian visuals (and beautiful textured colours by Dave McCaig), this first issue has a refreshing, folksy feel that dovetails wonderfully with Millar's elegantly pared-down script (the opening sequence is honestly quite magical).
And here I was, just about ready to give up on the superhero…
Mark Millar (W), Rafael Albuquerque (A), Dave McCaig (C) • Image Comics, $3.50
– Jason Wilkins
Junction True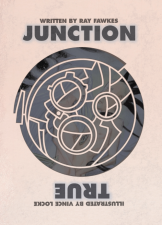 Both in the mainstream (Gotham by Midnight, Constantine) and in his more personal work (Intersect, One Soul, The People Inside), Ray Fawkes is a prolific creator of unique vision who always retains the capacity to surprise his readers.
A collaboration with artist Vince Locke (A History of Violence), Junction True is a near-future ribofunk story of love, sex and servitude in a world where biology is open-source and body modification has evolved to shocking extremes.
It follows Dirk, a body-mod experimentalist who wants to demonstrate his devotion to the mysterious and alluring Teralyn by undergoing the radical and illegal 'Junction True' procedure of the title, which turns the subject into a submissive and dependent 'puppet'.
With Fawkes' uncompromising examination of what we're prepared to give away in our relationships and Locke's electric watercolours, Junction True promises to be an intense and provocative piece of work.
Ray Fawkes (W), Vince Locke (A) • Top Shelf Comics, $29.99
– Tom Murphy
Seconds Helping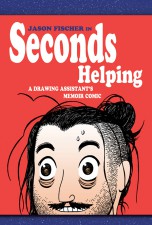 You've probably heard of Bryan Lee O'Malley, the creator of Scott Pilgrim, and his recent graphic novel Seconds, but it's a lot less likely you know much about his art assistant, Jason Fischer, who helped Bryan along the way and was even by his side during the final push leading up to the deadline.
Now, in his new memoir comic, Jason pulls back the lid on what it's like to be an art assistant for a high-profile cartoonist. Things might start out simple enough, but wait until that deadline looms closer. And for Jason, he soon found himself packing up his stuff, saying goodbye to his fiancée, and flying down to LA to live with Bryan as they attempted to ink the final 200 pages in five weeks!
Don't miss this personal and funny tale about what it's like to work in the "sausage factory" of comics.
Jason Fischer (W/A) • Alternative Comics, $6.00
– Tyler Chin-Tanner

Lumberjanes: 'To the Max' Edition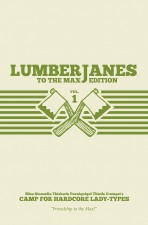 If you've missed out on Lumberjanes thus far, or you're looking for a fantastic present for a young reader for the holiday season, you could do a lot worse than check out this lush new presentation of the first eight issues of the series, which picked up the Eisners for Best New Series and Best Publication for Teens earlier in the year.
At Miss Qiunzella Thiskwin Penniquiqul Thistle Crumpet's Camp for Hardcore Lady-Types, things are not what they seem. Three-eyed foxes. Secret caves. Anagrams! Luckily, Jo, April, Mal, Molly and Ripley are five rad, butt-kicking best pals determined to have an awesome summer together… and they're not gonna let a magical quest or an array of supernatural critters get in their way!
The creative team of Shannon Watters, Grace Ellis, Noelle Stevenson and Brooke Allen has conjured up an all-ages comic that has leapt off the shelf and into readers' hearts with its celebration of the power of friendship. This prestige collection, given a characteristically polished design by Scott Newman and including a foreword by Raina Telgemeier, is no more than it deserves.
Noelle Stevenson & Grace Ellis (W), Brooke Allen (A), Maarta Laiho (C), Shannon Watters (Co-creator) • BOOM! Box, $39.99
– Tom Murphy
The Mighty Thor #1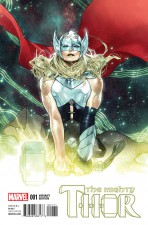 Perhaps lost amid this year's Secret Wars upheaval in the Marvel Universe, the hoopla of record-setting sales numbers, and the complete reimagining of every Marvel character, was a comic that ran for eight stellar issues—Thor. Bear with me indie fans, you're known to be champions of independent-minded storylines that break from tradition to forge their own paths, and that's why you're going to like Marvel's surprising and terrific direction with one of its A-list heroes.
Marvel has done a fine job of pissing off longtime comics fans these last couple of years. Transforming comic book storylines and reshaping characters to be more in line with the characters in its films has generated oodles of well-deserved ire. Was it done in an attempt to bring movie fans into comic shops? That might be an explanation, but I rather doubt it. Here's the thing comics fans understand—the characters in comics don't have to conform across mediums, and they probably shouldn't. Characters have to grow, for sure, but Iron Man in the comics doesn't suddenly need to display the same speech patterns and mannerisms of Robert Downey Jr. I think attempting to do so diminishes the character on paper as well as Downey Jr.'s incredible interpretation and performance.
This brings me back to the God of Thunder.
As Marvel impetuously retooled its character line-ups to be more in line with the movie plots, it quietly allowed a few to escape the homogenization, and Thor made the most of its independence. Writer Jason Aaron and artist Russell Dauterman launched a storyline where the Thor we knew (his name is Odinson) was deemed unworthy and stripped of his title. In his place, a mysterious woman wielded Mjolnir with bold determination despite her obvious lack of experience at being a god. Unworthy Thor lost his arm (and his shirt), gained an artificial replacement, picked up a battle axe, and vowed to help Mystery Thor. (Odinson also made quite a nice showing for himself in the Thors four-issue spin-off.) Not even Odin can see her true identity, and that brought him to such an all-powerful snit that he tried to have her killed in battle.
The mystery of her identity is only one facet of the multiple layers at work—the balance of gain and loss is a constant consideration. Beyond the mystery, this story arc asks an interesting question—what does it take to be worthy? Jason Aaron's plot has forced longtime fans to reconsider worthiness, consequences, and purpose from a different perspective. It's fascinating to consider that even among Asgardians, birthright isn't the sole determiner of one's fate. And yes, worthiness was a central component of the first Thor film, but the two mediums handled the issue and its resolution in quite different fashions, illustrating beautifully the whole point that conformity isn't required for entertaining storytelling.
That brings me to The Mighty Thor #1.
[Spoiler alert: I'm going to discuss Thor #8, the issue that revealed Mystery Thor's identity.]
Unbeknownst to those attempting to root out her identity as Mystery Thor, Dr. Jane Foster has a genuine problem. She's dying from cancer, and being Thor is taking a huge physical toll on her already failing form. This is where we start the new storyline. In The Mighty Thor #1, eight months have passed since the end of Secret Wars and Aaron and Dauterman throw Thor into the chaos of a divided Asgard on the brink of war while she copes with the cancer's relentless pace. Jane Foster is a human struggling with the responsibilities of being a god as she fights a losing battle with cancer. We've all grown up with a Thor who was quite comfortable with godhood and not quite so good at relating to humans. The role change has been an education for both characters, and it has added new life to the title.
Jason Aaron (W), Russell Dauterman (A), Marvel Comics, $3.99
-Karen O'Brien