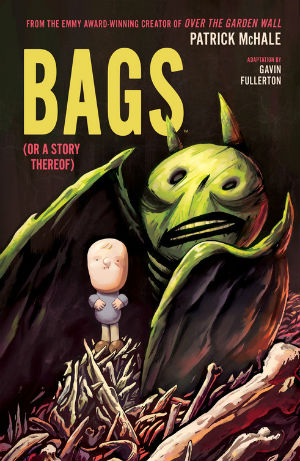 Bags (Or a Story Thereof) has been adapted by Gavin Fullerton from a projected novel that eventually became an experimental short story by animator Patrick McHale (creator of Over the Garden Wall). It tells the tale of the unfortunate John Motts, a man with a strange doughy head, whose life in smalltown America takes a poignant turn when his dog Beth disappears. We follow John as he begins a search for his missing canine friend through a suburban landscape that is both dingy and mundane and yet also surreal and eerily fantastic.
On the way he encounters a number of strange neighbours and unlikely characters who populate an environment that is simultaneously recognisable and utterly bizarre. These include a bag-loving walrus whose existence is defined by his collection, the devil himself in a ramshackle house in the woods, and a wolf whose companionship will lead to a resolution of a sort. It's a story where incongruities and familiarities come crashing into one another, and one that has an unavoidable and universal rite of passage sitting at the very heart of its narrative.
Bags (Or a Story Thereof) is a particularly difficult comic to analyse without ruining discoveries thar are the readers to make in the first instance. Fullerton's adaptation gives us an immediately sympathetic central character, one whose stripped back, deliberately crude and disproportionate physicality makes him seem all the more human, empathetic and innocent when contrasted with the characters around him. Although this unlikely hero's journey is an often oblique and seemingly disjointed one, its destination is one that reveals a truth that is beautiful in its shattering poignancy. It's a quiet brilliant moment of clarity; a revelation from constantly shifting perspectives that so perfectly adapts the story's key sequence through the unique dialect of comics.
There is much here that, on a surface level at least, feels unexplained and random and yet so invested are we in John's search that we become immersed in that greater goal instead. Fullerton's visuals give us a creepy town environment with Whitney Cogar's colours being an integral part in expressing the dark comedy of the story. Marie Enger's lettering also plays a vital role in the visual characterisation of the cast.
In Bags (Or a Story Thereof) we have a tale where the weird and the freakish seem to be at the forefront of events but, in reality, this is a very human tale of friendship, loneliness, contentment, companionship and loss. It defies expectations and amongst all the oddness of its outlandish narrative trappings undoubtedly provides one of the most touching graphic narratives you will read in 2019.
Patrick McHale and Gavin Fullerton (W), Gavin Fullerton (A), Whitney Cogar (C), Marie Enger (L) • Archaia/BOOM! Studios, $12.99
Review by Andy Oliver