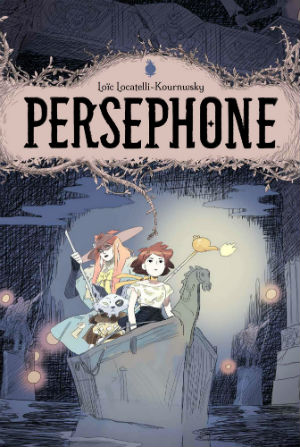 Based on the Greek myth, creator Loïc Locatelli-Kournwsky utilises the out of this world aspects of the original and reforms them into a self-contained story with a glorious, more contemporary setting.
Persephone begins with a small history lesson to bring the reader up to speed with some of the fantastical elements of the world and the conflict between Eleusis – where Persephone lives – and Hades. All of the names in the comic are Greek reflecting its origins and makes this version appear as a more complete and authentic retelling. Through the characters' interactions the story focuses on themes of identity and relationships. The opening scene involves Demeter, Persephone's mother, and showcases her magical powers. Set ten years before the main narrative, the true meaning of the scene is revealed later. However, its importance is that it immerses us in the magical features of the legend.
Before being introduced to the title character, we discover the gorgeous setting of Persephone – Locatelli-Kournwsky's colour and lines creating a soft yet dense feel when combined. All of the locations have an outlandish feeling to them with the architecture appearing to portray a European-style city. Locatelli-Kournwsky's retelling follows the same plot somewhat from the Persephone myth although the main thrust is centred around Persephone being taken to Hades not for marriage but rather for an individual to get into Hades to gain power. Persephone's passion is for growing plants, although at times her desire to have magical skill like her mother makes her feel inadequate. Eventually she learns that despite not sharing her mother's skills she has her own ones which are extraordinary; the whole work having a similar feeling to watching a Ghibli film.
Overall, the comic creates a sense of adventure and vibrancy through the story arc as well as the way in which the setting is depicted. Each page is filled to the brim with texture, enhancing the storybook feel of the comic, with Locatelli-Kournwsky's choice of colour and the use of generally complex backgrounds engulfing the reader in the world of Persephone.
Loïc Locatelli-Kournwsky (W/A) • BOOM! Studios/Archaia, $19.99
Review by Holly Raidl