It's almost Wednesday, and you know what that means: a fresh load of comics and graphic novels! With so many publications hitting your local comics store or digital storefront, BF is here to lead you through the woods. If you want to know which books should be on your pull list, look no further…
Comic of the Week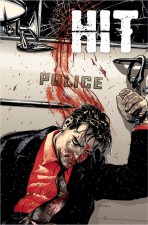 Hit #1
BOOM! Studios Managing Editor Bryce Carlson takes a seat in the writing chair for a new ongoing series, Hit, a crime noir comic in every sense of the word.
Set in 1955 Los Angeles, the series centers around a police squad allowed to go a step further than their colleagues to put the City of Angels' untouchable crime lords, violent murderers and drug lords behind bars. Carlson and newcomer artist Vanesa R. Del Rey researched the hell out of Los Angeles life 60 years ago to bring you a book oozing with gunshots, liquor, cigarettes, no-good damsels and screeching old-timer tires. All served with a James Ellroy twist.
Bryce Carlson (W), Vanesa R. Del Rey (A) • BOOM! Studios, $3.99
– Frederik Hautain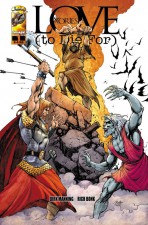 Love Stories (To Die For) #1
Life, death, love, and hope cross interesting paths in Love Stories (To Die For) #1, a 48-page flipbook arriving in stores Wednesday. Dirk Manning presents two separate tales of love and its ethical consequences. In "Bloodlust: Deceiver of the Gods," a band of hearty Vikings in 946 A.D. must protect a monastery from the invasion of a bloodthirsty mob of vampires. "Symptom of the Universe" is a race against time in the distant future as a man has to fight his way through a spaceship overrun by hostile aliens to reunite with his wife and escape to safety.
"The best horror stories usually revolve around the premise of morals versus survival, and these two stand-alone tales explore this theme in different settings and genres," Dirk Manning said.
Dirk Manning (W), Rich Bonk and Owen Gieni (A) • Image Comics/Shadowline, $4.99
– Karen O'Brien
X-Factor #262
It's been more than eight years and 100 issues since Peter David started his second run on X-Factor. The critically acclaimed and cult favorite series offers no big final mystery or last big standoff between hero and villain. This issue is a chance for the fans and the writer to say goodbye to Jamie Madrox, the character that has been at the heart of this series from the beginning.
This has been the kind of run that we don't get anymore in the comic book industry. One creator on a book for nearly a decade is a huge achievement at any time, but particularly the modern era. If you've read and enjoyed any of this run, this is your last chance to support the little series that could.
Peter David (W), Neil Edwards (A) • Marvel Comics, $2.99
– Levi Hunt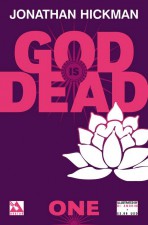 God Is Dead #1
Following in the footsteps of Kieron Gillen and his Über, Jonathan Hickman is the second major Marvel/Image creator to make the leap to Avatar Press this year and do a creator-owned book with the publisher.
Hickman brings us God Is Dead, a six-issue mini-series that explores what happens when the gods of old have had enough of humanity's hubris and decide to reclaim earth. That can't spell anything good, especially not when mankind decides to fight back. Expect world-building in traditional Hickman fashion with a sauce of over-the-top  storytelling Avatar is known for.
Jonathan Hickman (W), Di Amorim (A) • Avatar Press, $3.99
– Frederik Hautain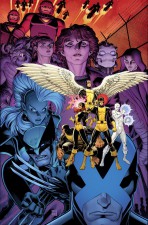 X-Men: Battle of the Atom #1
When Marvel NOW relaunched, the X-Men books took all the best artists and put them to work on their books. This month, these artists and more fly free on one of the craziest crossover events in comics in years.
The X-Group is currently home to arguably the most interesting and well-developed characters in all of Marveldom, and we know from fifty years of history that their time travel stories never ever end without lasting consequences. That said, this is a can't-miss story for all True Believers!
Brian Michael Bendis (W), Frank Cho (A) • Marvel Comics, $3.99
– Jonah Lang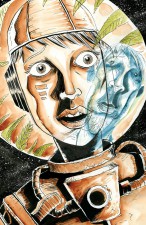 Trillium #2
If there's one creator who can fuse together past, present and future and weave it into a love story that is both eloquently told and magnificently illustrated, that creator's got to be Jeff Lemire, which should be more than sufficient reason for you to pick up the second installment of his hot new DC/Vertigo title Trillium.
Last month, Trillium #1 set the stage in an imaginative way which allowed the story's two main characters –– an explorer from the future and a soldier from the past –– to meet in the centerfold, which left readers with an urge to know what the first words spoken between the two might be. Until now.
Jeff Lemire (W/A) • DC Comics/Vertigo, $2.99
– John Trigonis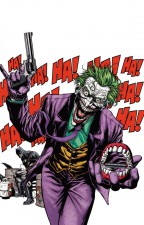 Batman #23.1
With the end of the Trinity War (we lost), and the launching of Forever Evil #1, the DC Universe will be taken over by its villains during September. Enter Batman's most iconic foe, the Joker, for a chilling one-shot penned by Andy Kubert.
This unique issue will tease a possible origin for the Clown Prince of Crime and promises the origin of another classic Bat-baddie who we never suspected as having ties to the Joker. The Dark Knight is about to have a bad day.
Andy Kubert (W), Andy Clarke (A) • DC Comics, $3.99
– Karen O'Brien