Sam Henderson will be celebrating 20 years of his one-man humor anthology Magic Whistle this year with the release of three books and the debut of a new MagicWhistle.com website. Alternative Comics invites you to enjoy an early look at all of them. Sam has also created a video to promote the release of new digital editions of his comics on ComiXology, Kindle and iBooks. Sam will be at SPX – The Small Press Expo – in Bethesda, Maryland September 14-15 with the books at the Alternative Comics and TopShelf Productions booths.
As part of the celebration of 20 years of Magic Whistle, and to promote the new digital editions Sam created this promotional video that is his version of the classic David Lynch rant about watching movies on your phone. You too can now read issues 0, 7, 9, 12, 13 (when it comes out in August) and the Humor Can Be Funny collection on your handheld electronic device. More issues are being released by Alternative Comics every month until they are caught up to the present.. They are available now now from ComiXology, Amazon's Kindle shop and the Apple iBookstore.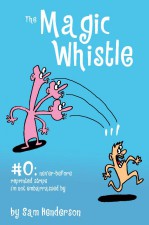 Magic Whistle #0
Enter the world of Sam Henderson's Magic Whistle and it's insane cast of characters in this new digital-only 'zero' issue of Magic Whistle. Collected for the first time here are his funniest comics from a decade of insanity. Learn new uses for your robot duck! Collects comics that originally appeared in Measles, Hotwire Comics and Dirty Stories #3 (Fantagraphics Books); Expo 2001; Magic Whistle #3 (Alternative Comics); and Magic Whistle 11 1⁄2. MagicWhistle #0 is completely free, and completely DRM-free.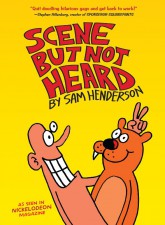 Scene But Not Heard
"If you can read [Sam Henderson] without laughing, you are not human."
—James Sturm, director of the
Center for Cartoon Studies
Sam Henderson: Ignatz-nominated creator of Magic Whistle, Emmy-nominated writer and storyboard artist for SpongeBob SquarePants… and also the nutty mind behind "Scene But Not Heard," the longest-running feature in the history of Nickelodeon Magazine! Now all those strips — the hilarious, wordless adventures of a man and a bear — are collected all in one handsome hardcover. Just try and keep up with Sam's wild imagination! A full-color hardcover, 6″ x 9″, 128 pages, co-published by Top Shelf Productions and Alternative Comics.
In stores September 25, 2013
ISBN 978-1-60309-089-6
$14.95 (US)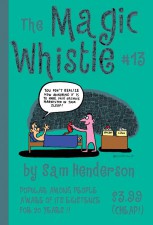 Magic Whistle #13
The latest 32 page installment in the series sees Sam joined by cartoonist Lizz Hickey, the first in a revolving series of guest contributors. Stories this issue include 'Three Little Fishies', 'The Half Plus Seven Rule' and 'The Origin of Dirty Danny!' The series officially returns to a bi-annual publishing schedule with this issue. Acclaimed illustrator David Goldin provides the back cover art.
In Stores August 28, 2013
ISBN: 978-934460-13-9
$3.99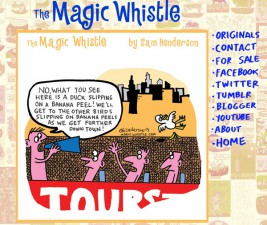 Last, but not least, Sam Henderson's home website – MagicWhistle.com is officially relaunched today. The site features an archive of over four years and 400 Magic Whistle gag strips in full color – as seen in the New York Observer. New comics are posted at least twice a week.