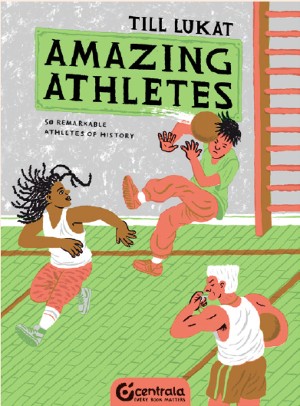 Amazing Athletes: 50 Remarkable Athletes of History is a book that is made for browsing rather than reading from cover to cover. Consisting of a half-century of sports-related profiles, it's one of those publications whose pages you can leisurely riffle through, picking out entries of interest without the pressure of following an overarching narrative.
Its created by Till Lukat, whose autobio and slice-of-life work has an often dry, understated and existential wit, and published by the oft-overlooked Centrala, whose back catalogue of indie and alt European work is always worth your time. Lukat's approach to each short-form spotlight is threefold, consisting of a one-page illustration, a short four-panel comic strip honing in on a key moment in each subject's life that encapsulates their achievements (or their notoriety in some cases), and a brief one-paragraph text biography.
The book's chronological range is a wide one with coverage going back to classical times and Milo of Croton in the 6th century BCE and moving forwards in time through the birth dates of each featured subject, finishing up in our contemporary era with Iranian taekwondo practitioner Kimia Alazadeh. Every few pages the flow is broken up with a double-page spread featuring some form of historical or sociological discussion (football in the trenches at Christmas in the Great War, wheelchair basketball, the rise of performance drugs and so on).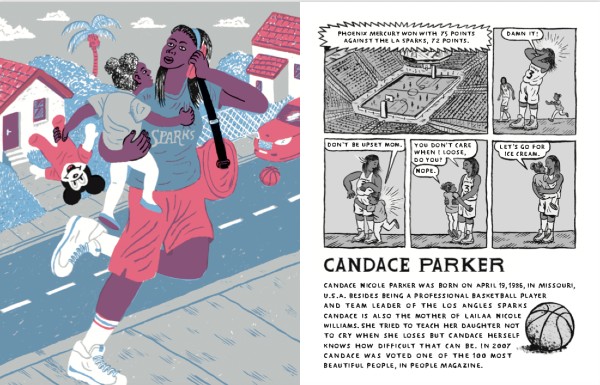 By its very nature Amazing Athletes is a mere taster for the lives of each sportsperson featured but that's very much the point of the exercise. Every bio acts as a springboard for investigating their stories further and while many of the subjects will be obvious ones (Jesse Owens, Muhammed Ali, Pelé, Mo Farah, Nadia Comăneci) the fascinating stories of many others will be new to many readers. Especially if their sports knowledge is of a more limited variety. These include the astonishing story of Dr. P.K. Mahanandia who cycled for thousands of miles to be reunited with his love; Team Hoyt, a father and son competitive duo for whom cerebral palsy is no obstruction to sporting partnership; and Anthony Robles, a wrestler who did not allow a missing leg stop him from progressing in his chosen sport.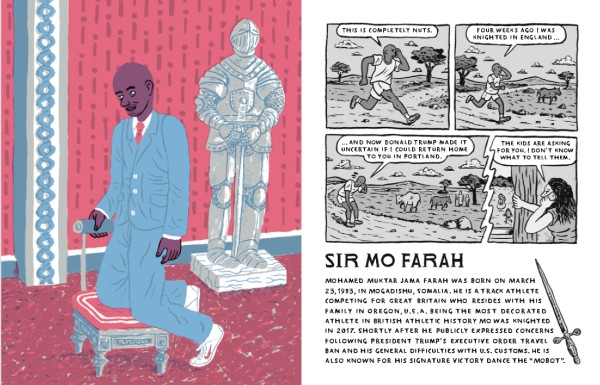 Lukat's single image, limited palette illustrations are striking (Ellen MacArthur looking out to see on her yacht), kinetic (Zinedine Zidane headbutting an opponent in the World Cup finals) and playfully metaphorical (runner Francisco Lázaro surrounded by portents of death on his doomed marathon run at the 1912 Olympics). The comic strip sections capture the essence of each figure surprisingly well given their four-panel structures and, as noted, the text sections will pique audience interest in following up on each athlete.
Some of the choices for coverage are unarguably more notorious/contentious than amazing but Lukat doesn't shy away from the darkest sides of his subjects (and in some cases of the institutionalised prejudice that surrounded them). Eclectic in approach and attractively illustrated in Lukat's faux naïve, accessible style Amazing Athletes will prove a fitting introduction to Till Lukat's approach to comics and illustration for those yet to sample his work.
Till Lukat (W/A) Centrala, 
Review by Andy Oliver