Now fortnightly due to popular demand!
The online version of our monthly Gosh! Comics and Broken Frontier Drink and Draw has been such a success that we're now running it every couple of weeks for the foreseeable future. This Thursday June 11th we're back again at 7.30pm GMT on Twitter (and we'll post the themes on Instagram too). Not only do our digital D&Ds keep all those who meet at The King's Arms in Soho every month in regular contact through the lockdown, they also allow us to expand our reach for the event to a more global audience.
So, once again, here's the "rules"…
We're using our regular pub format, adapted for a digital platform so if you've never attended one of our monthly sessions this is how it will work. Our guest artists will each choose a drawing theme for three sessions across the evening. We'll post each of these prompts with the hashtag #GoshBFDD in three batches at 7.30pm (GMT), 8.15pm and 9.00pm from both the Gosh! Comics Twitter account and the Broken Frontier Twitter account. You have 30 minutes to draw something fitting that theme, after which we'll spend 15 minutes picking a winner before the next round begins. Don't forget to post your drawings with the #GoshBFDD hashtag so everyone can see and join in. And also so we can easily retweet!
This time round we have three fab artists choosing the themes for the night. Amy Gallagher is a Manchester-based illustrator and the creator of the popular slice-of-life webcomic Rent Day (which you can read on Instagram here). She's also self-published the fantasy comic A Change in Time, illustrated kids science book Microbes (Thunderstone Books) and is the comic artist for the Lost & Found project that raises awareness of the rediscovery of animals, birds and plants across five continents.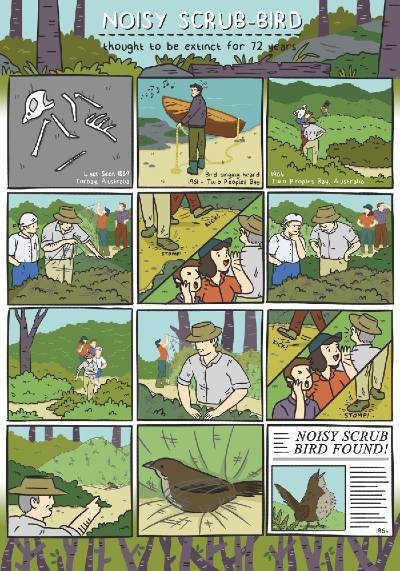 Bex describes her work as "introspective comics about the struggles of being a human being with emotions." You can see plenty of examples of her resonant work, including her diary comics, on her site here. Many of them take the form of profound vignettes into the human condition but readers may find the metaphorical Staying Afloat to be particularly relevant right now.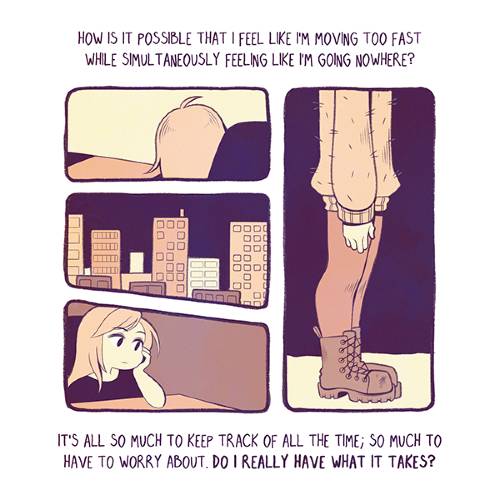 And finally this time round we have 2020 Broken Frontier 'Six to Watch' artist Nic Mac. Nic's mental health awareness zine ØMIT was reviewed here at Broken Frontier last year and I called it "unsettling but not unhopeful, dreamlike but nevertheless rooted in a symbolic reality that many readers will no doubt find familiar." Nic is currently working on a follow-up and you can check out her website for more examples of her stunning illustration work.
We'll see you all again on Thursday! Whether you're a regular or a newbie all are welcome so please do join in and be part of our international Drink and Drew fun! And if you enjoy this event why not check out the Gosh! Comics webstore here?