'Exploring the Comics Universe' is not merely Broken Frontier's tagline. It's our promise and our commitment to you, the greater BF community.
The big news for Broken Frontier doesn't stop. Hot on the heels of our successful Kickstarter campaign for our inaugural Broken Frontier Anthology, we are restructuring the top of our editorial staff, heralding an exciting new era for our journalistic activities.
Effective immediately, Broken Frontier founder Frederik Hautain is passing the torch of Editor in Chief to Andy Oliver, who previously held the position of Managing Editor for the past five years. Frederik had been in the EiC seat since the site's launch in 2002, but after 13 years, it's time for a change.
Frederik will transition to the role of Creative Director, where his primary focus will be on fostering the growth of the Broken Frontier brand, strategy and new projects, of which the aforementioned Kickstarter campaign was a prime example.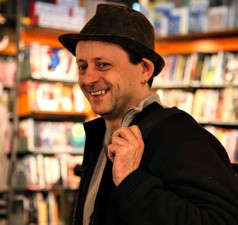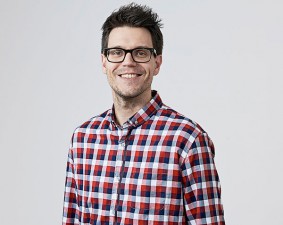 Broken Frontier's new Editor in Chief, Andy Oliver (left) and site founder and Creative Director, Frederik Hautain (right)
"I'm extremely blessed to be able to put the day-to-day governance of our content and staff in Andy's talented hands," Frederik said in our press release. "In just a few years time, he's fast become one of the leading journalists to cover indie, alternative and creator-owned comics. On top of that, Andy's got an amazing eye for new talent, which will continue to be one of the pillars of our coverage."
Andy Oliver joined the Broken Frontier staff in 2006 and became the site's Features Editor the next year, eventually moving up to the role of Managing Editor in 2010. In 2011 he launched his popular and influential 'Small Pressganged' column at Broken Frontier covering the worlds of self-published, micro-published and alt comics. He is a well-known face on the UK indie comics circuit, was a judge for the 2014 Myriad First Graphic Novel Competition, and a contributor to Paul Gravett's book 1001 Comics You Must Read Before You Die.
Says Andy: "It's a true privilege to be trusted with the task of taking Broken Frontier forward as its new Editor in Chief. This is a site that is not afraid to give as much attention to handmade DIY culture comics as it does to the seminal work of the form, and one that has never shied away from actively championing exciting new creative voices in the medium.
"I am incredibly proud to be at the forefront of this new era in our evolution. After all, 'Exploring the Comics Universe' is not merely Broken Frontier's tagline. It's our promise and our commitment to you, the greater BF community."
With a new EiC now in place, we are actively looking for a new Managing Editor to join our ranks. If you're interested in helping to closely shape the future of BF, check the detailed profile description and send your application to joinus@brokenfrontier.com.
Photo of Andy Oliver by Mauricio Molizane De Souza.