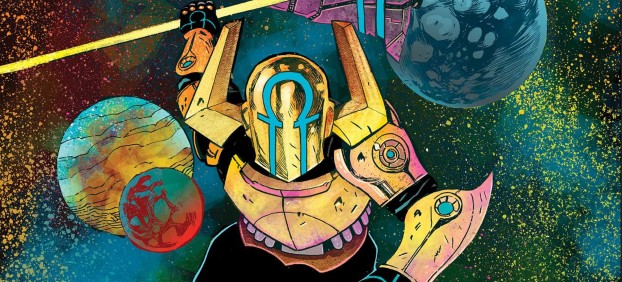 Has there ever been a more dramatic Kickstarter comics campaign? Five years ago this past weekend the Broken Frontier Anthology hit its funding after a last-gasp surge in funding for an ambitious campaign that looked dead in the water with just a handful of days to go. The hardcover showcase of work took 'Broken Frontier' as its starting point for stories from creators. including Greg Pak, Alison Sampson, Box Brown, David Hine, Mark Stafford, EdieOP, Karrie Fransman, Joshua Hale Fialkov, Noel Tuazon, Fred Van Lente, Marguerite Bennett, Cullen Bunn, Steve Orlando, Jamie Coe, Nathan Fox, Phil Hester, Box Brown, Noah Van Sciver, PJ Holden (above) and sooooo many more talented folk. All wrapped up in that memorable Robbi Rodriguez cover.
With the book now available through new distribution channels we took the chance to catch up with the two gents behind the project – Broken Frontier's founder and former Creative Director and owner Frederik Hautain and former long-term BF staffer and A Wave Blue World co-publisher Tyler Chin-Tanner. They talk today about their memories of that turbulent but exciting time in BF history and look back on the book five years on…
https://www.youtube.com/watch?v=6wQsqktCdgA
ANDY OLIVER: Before we talk directly about the Broken Frontier Anthology, it's been a very eventful couple of years for you both in comics. Can you give us some background on your own wider projects during that period?
FREDERIK HAUTAIN: Since the publication of the anthology, I really felt that I needed to make a concerted effort to write fiction. I say concerted effort, because between a busy day job and raising a family, the actual writing sometimes falls through the cracks. But the writing mind is always on and if I haven't written anything in a couple of days, I feel bad and uneasy.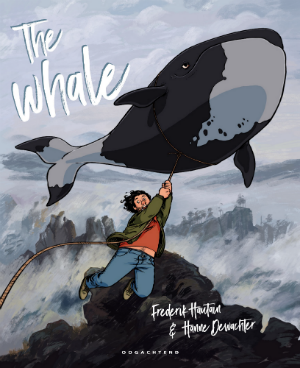 After I left Broken Frontier to you in early 2017, I quickly learned that a writing career isn't a linear thing. I started working on two US comics pitches, but it took a very long time to find good artists that also fit the style that I had in mind for these books.
That same summer, I was venting my frustration about the struggles of getting those projects off the ground to a publisher here in Belgium and she suggested I try my hand at a Dutch graphic novel. Up until that point, I hadn't thought about that simply because 90% of my comics diet had been composed of US material for the past 25 years. But I sent her a pitch, which she was interested in, then wrote 30 pages of script, which again were approved and then we were off recruiting an artist and writing the full script for what became The Whale.
TYLER CHIN-TANNER: That last few years have seen a lot of growth for A Wave Blue World, the publishing company my wife, Wendy, and I founded back in 2005. We've continued to put out a new anthology each year, funded through Kickstarter, such as Loved & Lost, All We Ever Wanted, and Dead Beats.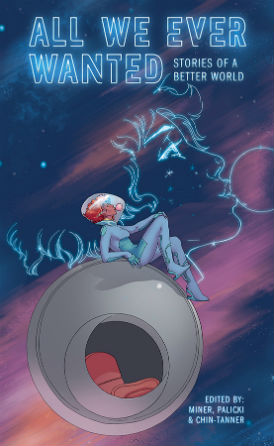 We've also started publishing more creator-owned projects, many of which are by creators who've been in our anthologies. For instance, Kismet was a character reintroduced to the world in the Broken Frontier Anthology (he was a Golden Age Superhero) and we published his first graphic novel adventure in 2018. Then other projects we've published like The 27 Run and Dead Legends were by creative teams who've had stories in the Broken Frontier Anthology as well as All We Ever Wanted.
And of course, we remain committed to producing more "in-house" work. I'm writing a new series called Mezo which saw its first volume come out earlier this year, with its sequel due out in 2021.
AO: Let's cast our minds back to 2015 and the Broken Frontier Anthology Kickstarter. What was the genesis of the project? How did the anthology come into being?
FREDERIK: If I remember correctly, the idea of doing an anthology was something Tyler and I had already discussed a few years before, but the time wasn't right. In late 2014, I again picked up the idea, Tyler agreed to co-edit and publish through A Wave Blue World and we were off to the races.
The reason why I wanted to do an anthology was because I wanted to do something with Broken Frontier that went beyond comics coverage and give creators a platform to do what they do best. And that's telling stories.
TYLER: Kickstarter had really taken off by that time and we were seeing other anthologies find a lot of success on the funding platform. The idea was that if you got enough creators together, they cast a big net in terms of combined audience. Frederik put together an impressive initial list of creators, then I added a few more to the list and we were off to the races.
Cullen Bunn, Nathan Fox and Brad Simpson (left) and Jamie Coe (right)
AO: There are 27 stories in the book featuring around 50 creators. What was their brief in terms of the premise and narrative starting point for their tales?
FREDERIK: The idea behind the book was to have an overall theme that tied all the stories together but still gave creators a considerable amount of leeway. The name 'Broken Frontier' stands for breaking boundaries, exploring, going above and beyond the limits of humanity or ourselves. So we gave that to the creators and told them they could run off in any direction or genre they wanted, as long as their story fit that underlying theme.
AO: Can you give us a brief overview of some of the creators who were involved in the anthology and what they brought to the book?
TYLER: You can find an overview of the book on AWBW.com. We really tried to vary the creators we brought together on this; what kind of comics they work on, where they live, how long they've been in the industry. We wanted as many different perspectives on this as possible.
EdieOP (left) and Karrie Fransman (right)
AO: The collection was notable for mixing up indie and alt creators with mainstream ones, new talents with established names. I loved that we got see folk like Karrie Fransman, Box Brown, Noah Van Sciver and EdieOP (now part of the BF team) next to Marvel, DC and Image creators. Was that blend of all parts of the comics universe always your intention for the book? How did the content of the book reflect the ethos of the site?
FREDERIK: That was exactly the idea. This book had to breathe Broken Frontier's DNA. That means a focus on quality, on diversity and covering the entire comics spectrum. So, we wanted to get creators from the mainstream to the independent and small press scenes and from all over the globe and wrap all of the stories in a beautiful oversized book.
We further underscored that BF DNA by involving creators who at some point or another had written a column for the site, such as Greg Pak, A. David Lewis, Josh Fialkov, Cullen Bunn and David Hine.
Greg Pak, Tom Raney, Gina Going and Simon Bowland (left) and David Hine and Mark Stafford (right)
AO: The Kickstarter campaign was certainly a memorable one. With just a handful of days to go it was barely at the halfway mark and then almost miraculously there was a sudden surge of backers that saw it reach its $58,000 target in the last 2-3 days. What are your memories surrounding the drama of those final crowdfunding hours?
FREDERIK: I have a tattoo on my left calf saying 'Never Forget' because of that. [Laughs] Oh man, it was so stressful. Probably one of the most stressful 30 successive days I've experienced.
TYLER: We didn't actually reach our goal until the last few hours of the campaign (check the progression of the campaign's backing here – ed.). I was on the West Coast of the U.S. at the time and I remember staying up late with some of the creators, messaging back and forth with Greg Pak and Justin Zimmerman, trying to get the campaign as close to the goal as possible.
Then we actually got a huge boost from the people in Europe and the UK waking up to find how close we had gotten. They orchestrated the final rally that pushed us over the top.
Noah Van Sciver and Sean Wang
FREDERIK: As Tyler mentioned already, we felt that if we could get a good mix of well-known creators with an established readership and up-and-coming voices, we would be able to indeed cast a wide net and get a lot of people to check out the campaign. My day job is in digital marketing, and I knew that if we'd able to get just 0.5% of the total social media following of all the creators to back the project, the campaign would be funded in an instant.
Usually, the conversion rates (sorry for the marketing speak) are higher than that, so I had good hopes… and then we got stuck in what seemed like the great unknown. It just goes to show, each and every campaign is a beast in and of itself.
But, it made the joy of actually getting funded all the more exhilarating. I remember going to sleep the final eve before the deadline thinking everything was lost and then all of a sudden we spiked and reached our goal. Crazy! People actually referring to it as a Kickstarter miracle!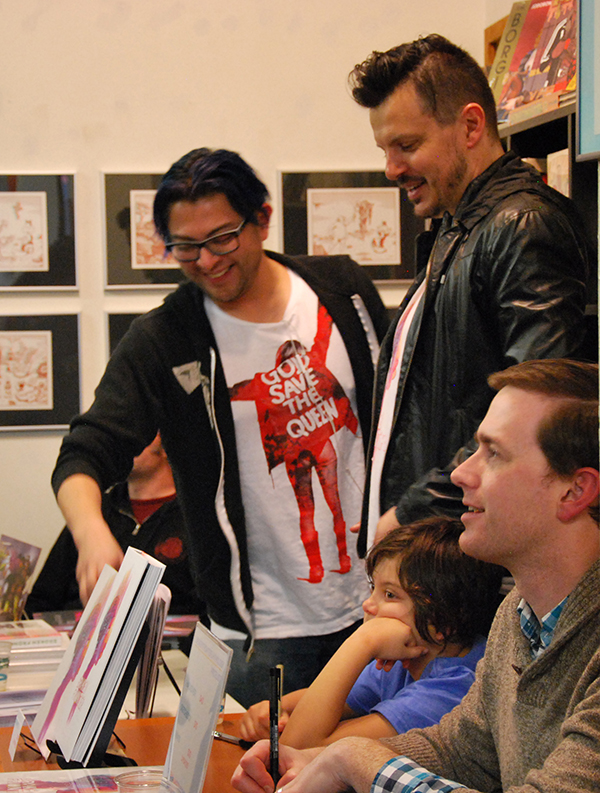 The US Broken Frontier Anthology launch at Floating World Comics featured creators Robbi Rodriguez, Tyler Chin-Tanner, Justin Zimmerman and Mike Lawrence
AO: What was critical reaction to the book like? How was it received in the months after publication?
TYLER: The critical reaction was really positive. Readers loved the combination of mainstream action/adventure stuff combined with the more off-beat and quirky stories from independent creators. I think it really showed that we're one industry working in a variety of different genres and styles. But at the heart of it, we're all creators telling the best stories we can.
AO: The book is still available both digitally and in print. Where can readers get hold of copies?
TYLER: It's consistently been available in print on AWBW.com and Amazon, and digitally on ComiXology (see links at the end of this interview). But just this year, we've finally made a deal with Diamond Book Distributors to make it available through the book market. This means that big-chain booksellers like Barnes & Nobles will be able to carry it, as well as smaller bookshops. Plus, we hope to get a few copies into libraries and schools.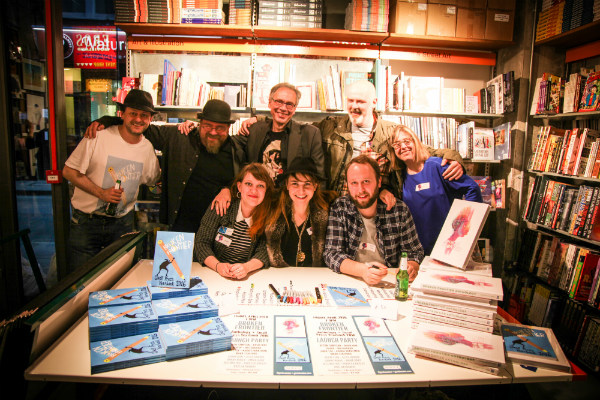 The UK Broken Frontier Anthology (and Broken Frontier Small Press Yearbook!) launch at Gosh! Comics in 2016. Back row left to right – BF Editor-in-Chief Andy Oliver and Anthology creators Mark Stafford, David Hine, INJ Culbard and Alison Sampson. Front, left to right, EdieOP, Karrie Fransman and Jamie Coe
AO: And, finally, away from the anthology what can we expect to see from you guys next both in terms of your solo projects and A Wave Blue World?
TYLER: We'll continue putting out new anthologies each year. There will actually be a sequel to All We Ever Wanted launching on Kickstarter this June. Then we'll be focusing on releasing a consistent slate of books each fall and spring, totally about 8 books a year. As much as we're excited to be expanding our scope, we still want to maintain a manageable release schedule so we can put the time and effort into making each project the best it can be.
FREDERIK: For me, I'm working on a few things both in and outside of comics. Fingers crossed it looks like those two projects I've been waiting to pitch for a few years now are gaining steam, but I don't know yet what the climate for new books will be with the covid crisis hitting the industry so hard. Here in Belgium, I've got a three-part fantasy story and a coming-of-age graphic novel with some weird horror in development. And I'm working on my first novel.
Broken Frontier Anthology on-sale links:
Creators: Robbi Rodriguez, Greg Pak, Tom Raney, Gina Going, Simon Bowland, Aysegul Sinav, Thomas Mauer, Tyler Chin-Tanner, Cullen Bunn, Nathan Fox, Brad Simpson, Phil Hester, Warren Johnson, Doug Garbark, Robert Sammelin, Toby Cypress, Marguerite Bennett, Varga Tomi, Adam Egypt Mortimer, Jeff McComsey, Rob Croonenborghs, Jeff McClelland, Frederik Hautain, Facundo Percio, Paul Little, Taylor Esposito, David Hine, Mark Stafford, Sean Wang, PJ Holden, Scott Ferguson, Dee Cunniffe, Jim Campbell, Steve Orlando, Yaroslav Astapeev, Steve Bryant, Justin Zimmerman, Mike Lawrence, A. David Lewis, Noel Tuazon, Kel Nuttall, Fred Van Lente, Alison Sampson, Jason Wordie, Carla Berrocal, Jamie Coe, EdieOP, Joshua Hale Fialkov, Ryan Kelly, Michael Wiggam, Kurt Belcher, Karrie Fransman, Noah Van Sciver, Box Brown, Salgood Sam, INJ Culbard, Nicola Black. 
Interview by Andy Oliver