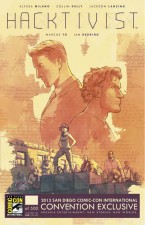 Press release
Award-winning publisher Archaia Entertainment and actress/producer Alyssa Milano (Charmed, Mistresses) are proud to announce Hacktivist, a hardcover, original graphic novel that explores the modern world of hacking and global activism. Inspired by current events from around the world and Milano's own philanthropic endeavors, Hacktivist is a fast-paced cyber-thriller about friendship and freedom in a time of war. The story follows Ed Hiccox and Nate Graft, the young founders of the world's most innovative social media company who moonlight secretly as one of the most notorious black-hat hacker teams on the planet. When the U.S. government discovers their operation, they must face the real world beyond the code and choose between loyalty and what they believe to be is right.
"I'm very involved with in global activism and philanthropy. I like the idea of everyday people doing good," explained Milano. "My inspiration for Hacktivist is actually Jack Dorsey, the creator of Twitter and Square. I picture him leaving the office at night and going home, where he locks himself in his room and starts hacking to change the world.
"I felt Hacktivist was a strong story that I really wanted to tell visually," Milano expressed. "Doing a graphic novel allowed me to dream big and it gave me the freedom to create without boundaries."
Hacktivist features the talents of screen and comic writers Jackson Lanzing and Collin Kelly, artist Marcus To (Cyborg 009, Red Robin), Eisner Award-nominated colorist Ian Herring (Jim Henson's Tale of Sand, Cyborg 009), and Eisner Award-nominated letterer Deron Bennett (Jim Henson's Tale of Sand, Jim Henson's The Dark Crystal: Creation Myths), who bring the underground world of revolution and cyber-warfare to pulse-pounding life.
"Hacktivist is literally ripped from headlines," said Archaia VP of Development Stephen Christy. "It's a story focusing on the benefit and consequences of our increasingly connected world. To be able to bring Alyssa Milano into the world of comics is very exciting for all of us at Archaia, and by teaming her with Marcus To and Ian Herring fresh off of their brilliant work on Cyborg 009, we've built a comic that will hopefully connect with and inspire people all over the world."
Hacktivist will debut digitally in Fall 2013, followed by the hardcover print release in Summer 2014. A Hacktivist Ashcan comic, limited to 500 copies and containing exclusive preview content, original concept art from Marcus To and Ian Herring, and an interview with Milano, will be distributed for free at the Archaia booth (#2229) at Comic-Con International in San Diego, Calif. (July 17-21).