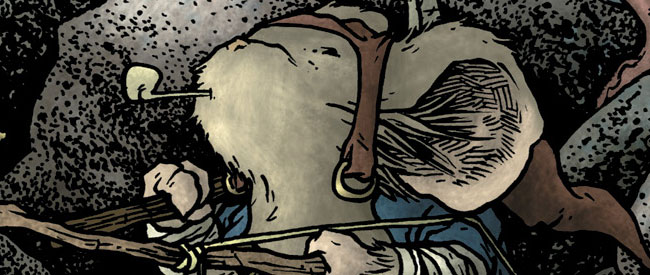 The fantasy anthology series returns, allowing more artists to play in David Petersen's world of noble mouse warriors.
Characters sharing stories in a tavern is a format that has been used to great effect by many authors, most notably Geoffrey Chaucer in his Canterbury Tales. This time-tested set-up is once again utilized in the world of Mouse Guard, David Petersen's medieval fantasy of miniature guardians and vicious predators. The goal is not exactly noble – these revelers hope to erase their debt to the tavern-keep – but the result is truly captivating.
The first of these stories is "Autumn Tale" by Stan Sakai (creator of the critically acclaimed Usagi Yojimbo). Sakai's style is considerably brighter and more cartoon-like than Petersen's in the frame story that sets the scene. This is at first jarring but allowing other creators to put their stamp on this setting is the purpose of the Legends of the Guard series. Regardless of the artistic culture shock, Sakai is always a master storyteller. His tale pits a Guardmouse against two predators, a vixen and a falcon, with surprising results, for one of them has an agenda of his own. Sakai renders an impressive range of facial expressions in his non-human characters and adds several clever details to a mouse couple's home (I particularly liked the pet ladybug playing with a ball of string).
The highlight of the issue, at least for this reviewer, was the second story, "Leviathan." Written by Nick Tapalansky and illustrated by Alex Eckman-Lawn, this tale best captures the mythic feel and sense of wonder in Petersen's Mouse Guard. It details an adventure of Tiernan the Brave, a legendary mouse hero. Thrown from the back of his seagull ally, Tiernan plunges into the sea and faces its perils. He also discovers that the Mouse Guard is not alone in its stewardship and protection of this world. Tapalanksy's script is full of enchanting fairy tale details and Eckman-Lawn's fine linework and rich colors captivate the eye.
The third story in this issue is Ben Caldwell's "A Bone to Pick." Eschewing the seasoned Guardmouse characters, Caldwell instead focuses on Lily and Pearl, a pair of young sisters. When they stumble upon a weasel and a fox preparing to attack a mouse village, the children must find a way to outwit the ruffians. Caldwell employs stylized characters and a slightly psychedelic color scheme in his tale, giving it the look of a dream sequence in a classic Disney or Don Bluth animated film. The result is very charming, though one anachronistic joke breaks the spell of the medieval setting.
Overall, the second volume of Legends of the Guard looks to be as entertaining as the first, giving many varied comics creators a chance to explore this world in their own unique styles.
David Petersen, Stan Sakai, Nick Tapalansky, Ben Caldwell (W), David Petersen, Stan Sakai, Alex Eckman-Lawn, Ben Caldwell  (A), • Archaia Entertainment, $3.50, Released June 26, 2013.