This coming Monday, January 27th, sees the announcement of the winners of the Arts Foundation's Futures Awards at the ICA, with the five sections including Experimental Short Film, Social Innovation, Visual Arts, Experimental Music and, of course, Comics (judged by John Allison, Hannah Berry and Woodrow Phoenix). It's always pleasing to see sequential art getting the respect it deserves as a medium and personally I was delighted to hear that, after an absence of a few years, Comics were once again one of this year's Arts Foundation award categories when I was asked to nominate for the awards last year. You can read more about the awards here at Broken Frontier.
The shortlisted artists represent four very different approaches to the form that underline just how sophisticated and versatile the language of comics is in its storytelling potential. Ahead of Monday's announcement I caught up with artists Esther McManus, original 2015 Broken Frontier 'Six to Watch' creator Danny Noble, Zara Slattery and Jess Taylor to chat about what their nominations mean to them, the themes and process behind their practice, and what we can expect from their upcoming projects…
ANDY OLIVER: Can you tell us about your comics practice to date, its themes and approach, and where readers may have seen your work before?
ESTHER MCMANUS: I'm a self-publisher of comics and zines, and over the years have been as preoccupied with the physical production of the book object as the drawings and stories contained within. My day jobs have involved printing and teaching print and book production, so the relationship between content and form has always been of interest to me. When I first started making zines I was stunned by the communities and events that I was welcomed into around the UK, and have been fascinated by the power of printed matter to bring people together and share ideas ever since.
My work has covered a range of themes over the years, but I've always had an interest in alternative histories and stories told from an unlikely perspective. I think that comics are an excellent medium for presenting histories, and over the last few years my work has experimented with the ways that comics can represent time in non-linear ways. Readers might have seen my work in Decadence #11, or come across my zines and comics at fairs around the UK.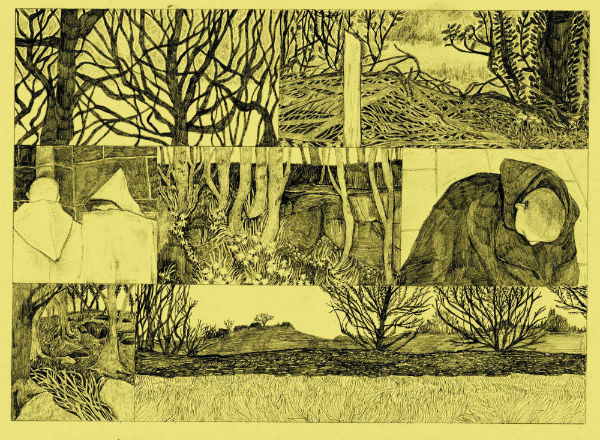 Art by Esther McManus
DANNY NOBLE: I began comics as a way of diary-keeping in picture form, sometimes in traditional panels, often bursting all over the page unbound. At some point various other characters splattered out of my pen, most successfully in the case of Ollie and Alan, my two naked hairy drunk men from an iconic wrestling scene in the film Women In Love, who took on a life of their own and became my comic sitcom, first online and then in two printed collections.  My strips have also been in various anthologies like Dirty Rotten Comics, the Broken Frontier Small Press Yearbook, The Inking Woman and The Strumpet and I regularly post comic work both on my instagram @mundy_morn and my twitter @mundymorn.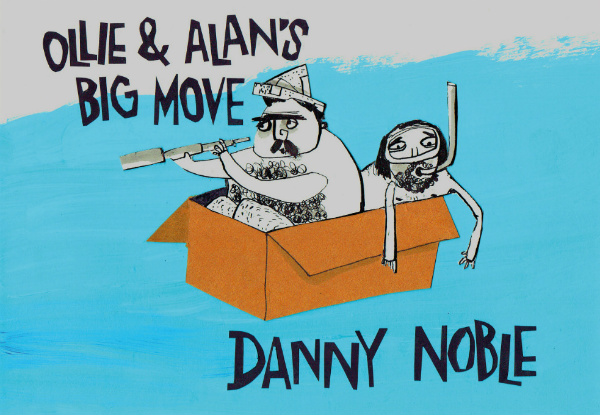 Art by Danny Noble
ZARA SLATTERY: I started as an illustrator who likes to tell stories. I've always experimented with visual storytelling, in the past combining live action and illustration for both live performances and character and story development. I started playing around with comics after joining a writing group and being introduced to some amazing comic books and artists.
I tend to have several projects on the go at any given time; some are short comics that are spontaneous, born out of a simple idea or conversation; others are slow burns, mid-length comics that slowly grow in my sketchbooks. I enjoy working individually, where I'm inclined to meander around themes and metaphors, and with writers, where I'm challenged to be more direct in my visual storytelling.
I love creating silent comics and very much like to process of writing as I draw, and weaving myself along a story. Equally I enjoy the structure of translating text, thumbnailing and researching. My themes vary from silly to serious; and tend to be on subjects of identity, art, culture, and graphic medicine. I share my work online, and my work-in-progress primarily on Instagram. Much of my work can be seen on my website and I have a poorly run Etsy shop.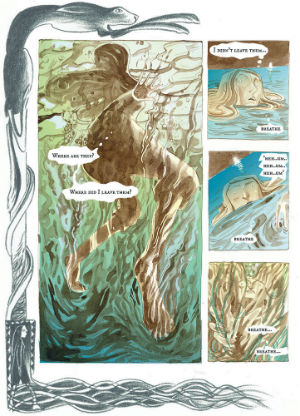 Art by Zara Slattery
JESS TAYLOR: My practice draws from a lot of things. I have a history in animation and am formally trained in 2d animation and storyboarding, but had a career as an illustrator before ever touching comics. I look at panels as beats in a storyboard and try to arrange them on the page in interesting compositions that lead the reader through moments of tension and action, quiet and conversation. It's difficult to do in a static medium – a lot of readers just rush through, so I build it into the composition with negative space and extra panels that are sometimes empty.
A lot of my work revolves around LGBTQ+ issues and mental health, both in my indie work and my freelance – I like to take on stories that mean something to me, and might help other people through difficult times. My comic Chevalier is a poetic metaphor for depression, wrapped in fantasy, and my plans for the series follow the same lines. I'm also very excited to be working with DC on a fantastic coming-of-age story, filled with aliens, high school and figuring out who you are, that includes a wonderful LGBT romance and trans main character.
A lot of my available work right now is indie, but I've done a few bits and pieces here and there – I worked on Adventure Time with BOOM! for a while, I've done work on Catalyst Prime: Summit, with Lion Forge too – most people know me for the kiss cover. Aside from that I've worked on quieter projects, including charity collections, and for a while worked with the feminist magazine Parallel.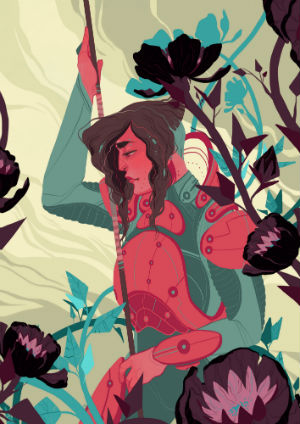 Art by Jess Taylor
AO: What mediums do you work in? Can you describe your creative process?
ESTHER MCMANUS: I have a background in silkscreen and risograph printing, so stencil duplication processes inform much of the work I make – especially if I'm eventually going to print it as a book. With stencil printing you build up images from separate coloured layers, so I tend to work with a variety of limited spot colours. That being said, I almost always draw in graphite or coloured pencils, so occasionally I draw in full colour and then elaborately separate the images digitally into separate coloured layers.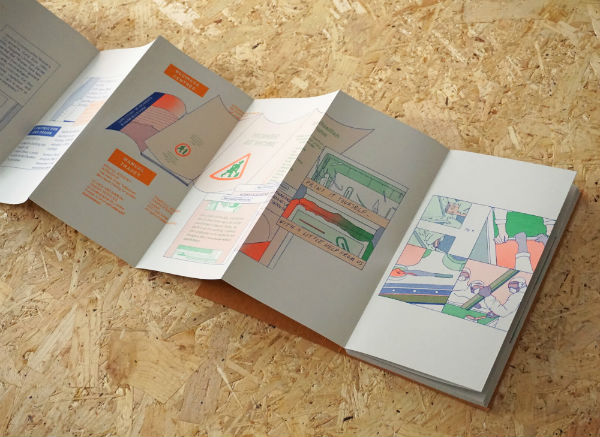 Art by Esther McManus
DANNY NOBLE: I mainly work in ink and pencil, experimenting more with lines, shadows and page layout rather than different mediums, though I do like to use paper cut outs for impact and… I've recently begun playing with colour! I most naturally work episodically, letting stories develop as character reveal themselves to me as I'm propped up in an ink-stained bed with a gallon of coffee, rather than plotting and researching hunched over a desk.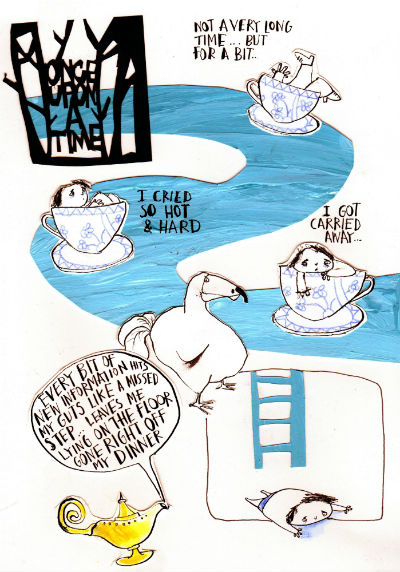 Art by Danny Noble
ZARA SLATTERY: I like to find the voice or character of a comic through different mediums. I use charcoal, ink, pencil, brush, pen, whatever tells the story best. I draw on paper, scan, and colour digitally.
All comics start in my sketchbooks, where I acquaint myself with the characters and main themes. If it's a short comic I'll then decide a page count and a nine panel grid. I loosely thumbnail in words and then repeat in sketches. At this point I push around and play with the grid. Once the general format is decided I move onto pencils and visual researching. The final artwork is drawn out on my light box, after which I colour in Photoshop.
For longer comics, I'll guesstimate the page count and hope to stick to it. I love making small models of my characters, and use these when sketching and pencilling. They are a really useful tool for tricky angles, light and consistency.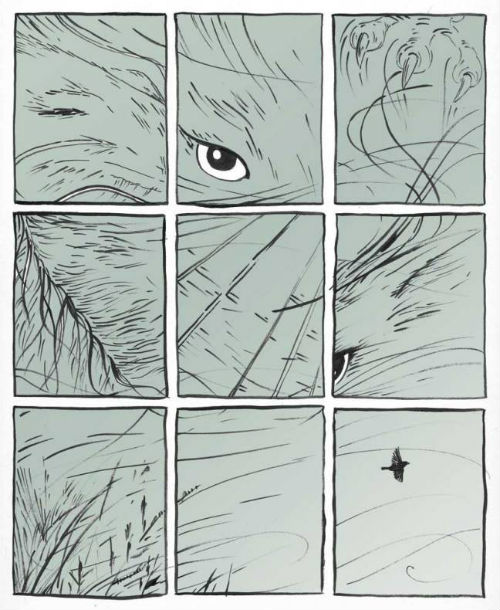 Art by Zara Slattery
JESS TAYLOR: I work digitally mostly, thumbnailing by hand, before jumping straight into painting on the computer or iPad. I like to lay down colour and shapes before I ever start thinking about detail. It really let's me focus my storytelling.
I love colour, and ninety percent of my process is choosing a palette that really works for me, and that I can evoke something with. I draw a lot of my inspiration from Tarot cards and art nouveau. I'm a sucker for Gustav Klimt and Mucha. Their compositions and they way they use shape and pattern – I spend a lot of time poring over their work when I'm planning large pieces or more artist comics.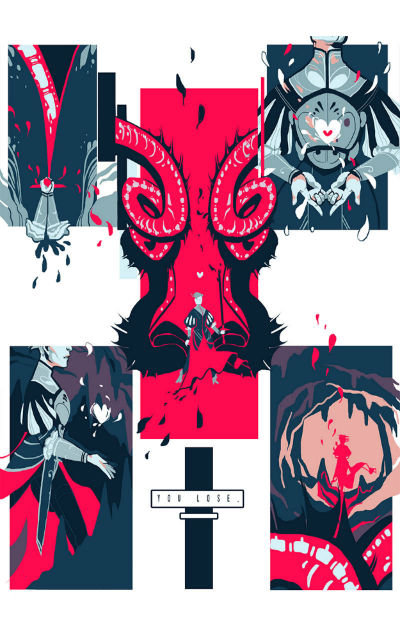 Art by Jess Taylor
AO: What does it mean to you to have been shortlisted for the Arts Foundation Award?
ESTHER MCMANUS: It meant a lot to be nominated by my peers, as the encouragement and feedback I've received from the comics community has helped me develop my work and stay motivated. And I'm constantly inspired by the work being produced in the UK and elsewhere. Comics is consistently the most lively, ambitious, yet simultaneously down to earth art form, so to be recognised by those who I admire is a real honour. Being shortlisted has also offered a transformative boost to my work, providing both confidence and financial support to develop my own stories around my various day jobs. I'm emboldened and excited to embark on something more ambitious than I would have thought possible a year ago, which I'm really grateful for.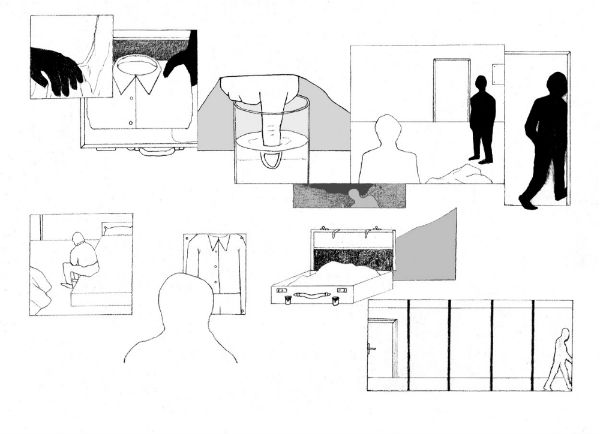 Art by Esther McManus
DANNY NOBLE: It's been a beautiful surprise being shortlisted for the Arts Foundation Awards, and fun getting to know the other three excellent finalists.  After a tricky year healthwise it really helped put some fire back in my belly. Especially being nominated by Karrie Fransman who is one of the most exciting experimental comickers I can think of, and all the judges being creators who I very much admire. And I love the fact that the Arts Foundation has recognised Comics as an art-form worth shouting about.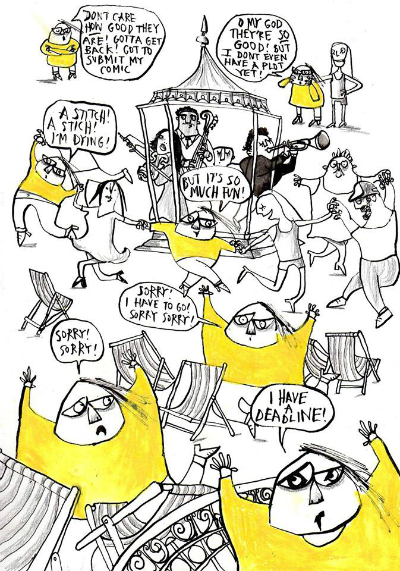 Art by Danny Noble
ZARA SLATTERY: Like every comic artist I've ever met, we work really hard, so it was really nice to be nominated and super nice to be shortlisted. I'm in good company with my fellow finalists. It's an honour to be amongst them, with us all representing different techniques and approaches to our work.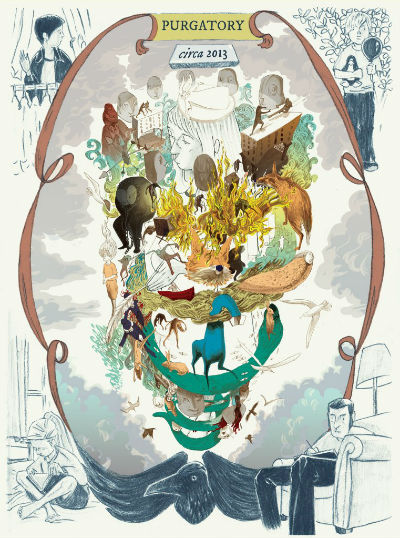 Art by Zara Slattery
JESS TAYLOR: First, it's incredibly flattering. I was floored to be nominated – to have made it this far feels like a dream. It's incredibly validating. Most of the time I'm quite a solitary artist, and I've got a style that's not often seen in mainstream comics. I was rejected and told to change a lot in my early career – I still am. To find acceptance among this group of finalists is amazing. They're all such wonderful people with amazing styles, I'm honoured to be a part of it.
It's also given me the chance to think a bit more seriously about where I want to take my art and my life choices. I've been working freelance a lot these past two years but this has been a breath of fresh air and I'm looking at trying to make myself more independent again. I don't feel like I need to be published by x company to be valid anymore.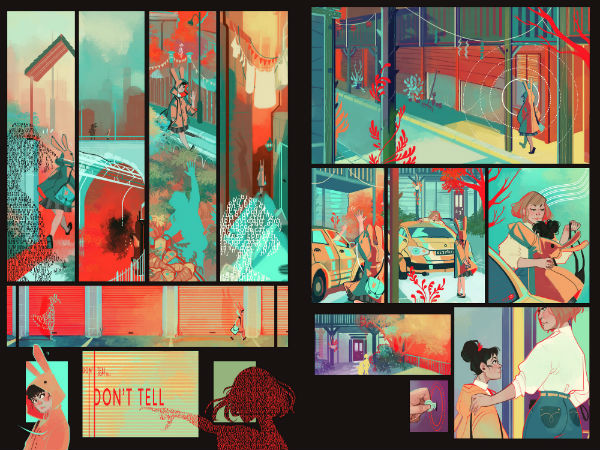 Art by Jess Taylor
AO: What are you currently working on? What can we look forward to seeing from you next?
ESTHER MCMANUS: I'm currently working on a comic, commissioned by MayDay Rooms, drawing on pamphlets from their collection that gave step-by-step guides on how other activists could make their own political pamphlets. In this comic I'm keen to explore the ways that activism is shaped by the forms of production that have been available, across time. Alongside this I'm gearing up to a larger work, on feminist histories and futures. Picking up from my last comic Between Friends, I'll continue exploring how comics can offer an alternative to singular, coherent historical narratives, which often disregard and erase the perspectives of minoritised people.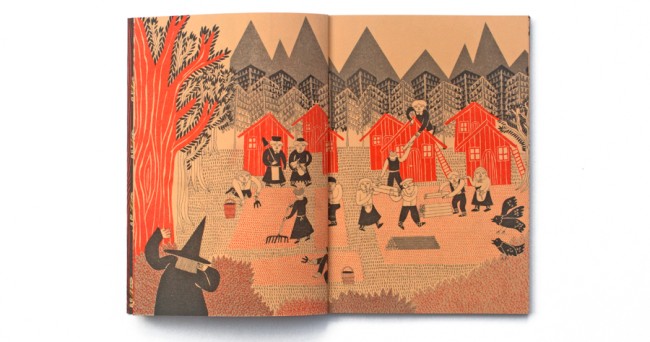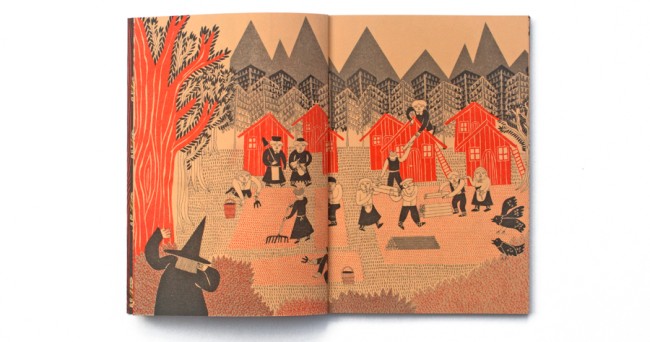 Art by Esther McManus
DANNY NOBLE: At the moment I'm finishing very last minute edits to my graphic memoir Shame Pudding, about me and my crazy big-hearted Jewish grandmas, which will be published in May by a brilliant new Brooklyn based publisher Street Noise books. They specialise in Young Adult Non-Fiction Graphic books and have very exciting work coming out this year. I'm also working on a fiction thing which I'm hoping to make as playful and dynamic as can be, and I have a number of ideas buzzing around my head, so we'll have to see which escapes first!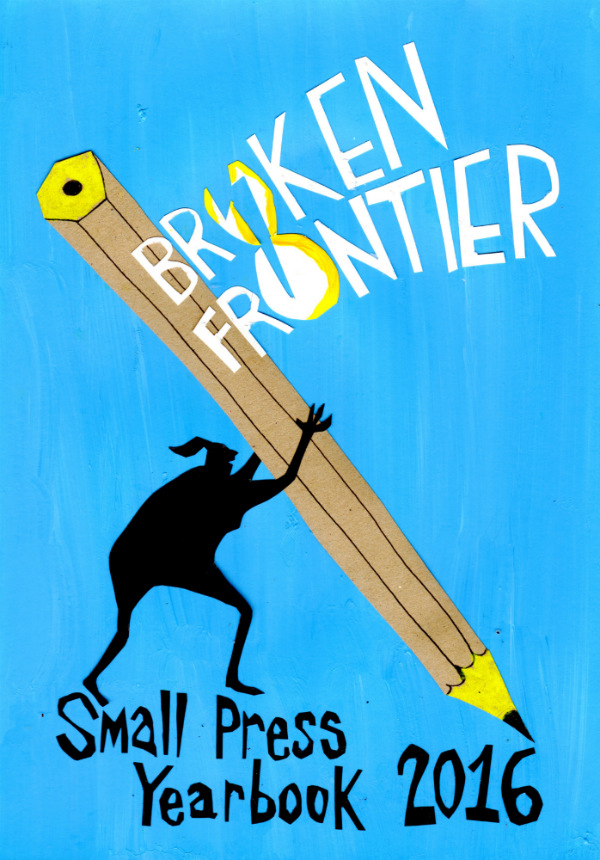 Art by Danny Noble
ZARA SLATTERY: I'm working on a graphic memoir called Coma Comic. Coma Comic was shortlisted for the Myriad First Graphic Novel Competition in 2018 and will be published by Myriad in 2021.
It is story of a family dealing with the fall out of a sudden and life-threatening infection. It's a multi-narrative piece documenting two weeks of a drug-induced coma. We follow Dan's diary, juggling trauma with family life and bedside vigils and from within the coma itself; fight and flight hallucinations drawn from global myths of the Underworld.
Art by Zara Slattery
JESS TAYLOR: As I said before, I'm currently working on some exciting things with DC! I'm also working with the amazing Matthew Erman on a fantasy comics series I can't talk too much about – but I promise you it's grand. The man is a wizard with storytelling and the world we've put together breaks my heart. It'll be coming out in the next year or so.
I'm always working on too much so along side those I'm working on the second part of Chevalier – longer and more in depth. And I'm also in the process of writing a new series I hope to produce in 2021.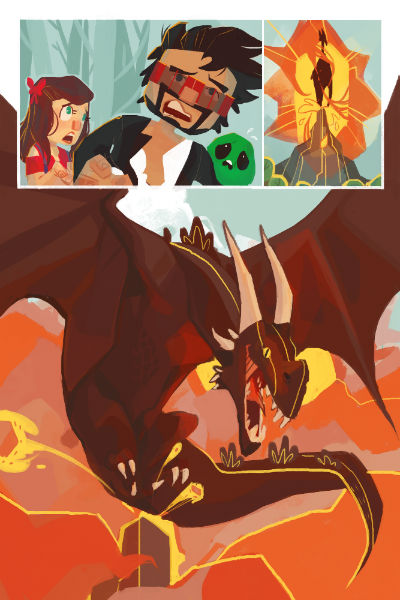 Art by Jess Taylor
The five winners of the categories in this year's Arts Foundation Futures Awards will be announced on Monday January 27th at the ICA. For more on the Arts Foundation visit their site here.