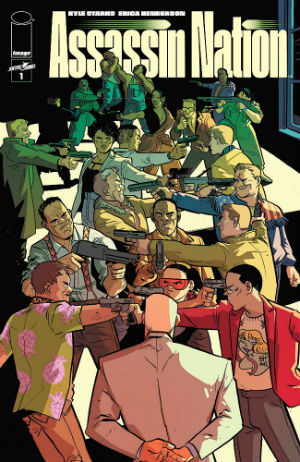 The very first thing that strikes the reader about Assassin Nation #1 is the daunting roll call of hitman characters in its opening pages and the question of just how the creative team is going to ensure the reader keeps track of such a sprawling cast! The premise of the book is an intriguing one – the world's former greatest hitman is now a mob boss targeted for death and has been forced to hire the twenty greatest assassins in the world to protect him from his would-be killers. Not only must this motley crew of ne'er-do-wells protect their new charge, they must also discover who has put the price on his head before it is too late. The logic behind their employment is that there's an obvious sense in hiring assassins to find an assassin…
Writer Kyle Starks has the daunting task of introducing us to the multiple players and, in such a short opening page count, manages what would seem like a narrative impossibility. Starks succinctly and ably defines the personalities and shticks of the assembled guns-for-hire despite the only fleeting on-panel spotlights that are possible in this scene-setting instalment. There's a perhaps obvious but appropriate twist that implies that same on-panel time will be more available as the series progresses but for now the gathered killers range from the rather ineffectual likes of Wistful Stan, whose stats have been bumped up by a career in mercy killings in hospitals, through to the coolly clinical world's number one assassin Fernando.
Of course when juggling a cast as huge as this a pronounced sense of visual identity becomes all the more vital in keeping track of the various players. With Eisner-nominated Erica Henderson providing the artwork that's a given with characters' posture and physical affectation defining them as much as their establishing dialogue and one-liners. Tightly choreographed action sequences are perfectly paced with playful panel structures to accentuate both time's passage and simultaneous events from a variety of perspectives. The near slapstick violence of the action is also ramped up by inventive "sound effect" lettering and the bright, vibrant colouring.
Assassin Nation #1 is pure escapist fun with a darkly comedic undercurrent. It remains to be seen where Starks and Henderson go with the mystery at the book's heart in the next few months but if nihilistic crime capers with a humorous twist is your thing there's plenty of promise in the pages of this first instalment.
Kyle Starks (W), Erica Henderson (A), Deron Bennett (L) • Image Comics/Skybound, $3.99
Review by Andy Oliver