This slim but worthwhile volume from Modesty Comics collects single-page gags and extended sketches by Serbian artist Mladen Oljača. Initially appearing in various underground media, these shorts buzz with the kind of fetid vitality that's often found in the shadows of the mainstream.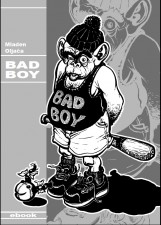 "People from the fertile Pannonia Valley are considered to be peaceful and pleasant, even lenient in difficult situations," translator and editor Živojin Tamburić writes in Bad Boy's introductory essay. Fittingly, it's this sort of too-easy platitude that Oljača satirizes throughout his work.
As you might guess, there's nothing placid about Oljača's darkly comic vision. While it would be obtuse to call these "political cartoons" (with the exception of the biting 'Election Day'), these stories are very much concerned with the political in its broader sense – the ways in which men and women situate themselves within communities and do their best to play by a cohesive set of rules.
The brevity of the segments gives Oljača rein to cover a variety of topics in short order. 'The Degeneration of Man' focuses on the withering effects of mass media consumption, while 'All You Need is Love' is a tongue-in-cheek guide to romance in the modern day. The standout 'Another Brick in the Wall' follows an aging punk's abortive attempts to integrate himself in the professional workforce.

In the latter two stories and several others, Oljača paints a loving portrayal of the classic fall guy. We know that the next panel probably holds a punchline with our "hero" as the butt of the joke, but it's hard not to root for him all the same. Sometimes (as in 'Another Brick'), there's even a touch of hope at the end.
Throughout Bad Boy, a parade of well-known personalities – religious, mythological, musical, and historical – take the stage for the sake of a throwaway joke or an extended meditation. Some of these hit harder than others, but the artist shows a particular knack for transforming popular fables.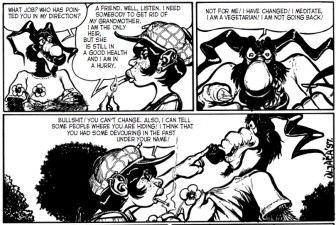 Such is the case in the melodramatic potboiler pastiche 'Double Crossing'. The Big Bad Wolf of yore has supposedly kicked his more obvious vices and is attempting to live out his days in peace, until a cigarette-smoking Little Red Riding Hood blackmails him into a sordid plot of her own.
The tale is more than just postmodern fun (although it is that). There's always a kernel of righteous disgust at the core of Oljača's work – one that lingers after the laughter's gone.
This frustration is especially evident in the collection's multiple "superhero" tales. Oljača's supermen are either withered ineffective creatures or obvious anachronisms unable to cope in the face of turn-of-the-century tragedy (or both, in the case of 'No Time for Heroes').
The DIY nature of the underground doesn't always go hand-in-hand with formal artistic skill, but Oljača's day job as a freelance illustrator is evident in his assured, heavily contrasting style. His characters are boldly lineated and hyperbolic, demanding the reader's attention.

Bad Boy concludes with several examples of poster and album artwork, where Oljača's knack for visual storytelling can be seen even more clearly. A wider selection of his illustrations and caricatures are collected in a separate Modesty Comics publication.
The combination of dynamic art, underdog ethos, and comic timing could make this title a hit with fans of Fantagraphics' early stable. Tamburić's intro effectively situates Oljača's art in terms of the artist's time and place, but the biting satire of Bad Boy is all too universal.
Mladen Oljača (W/A), Živojin Tamburić  (T) • £3.00, Modesty Comics