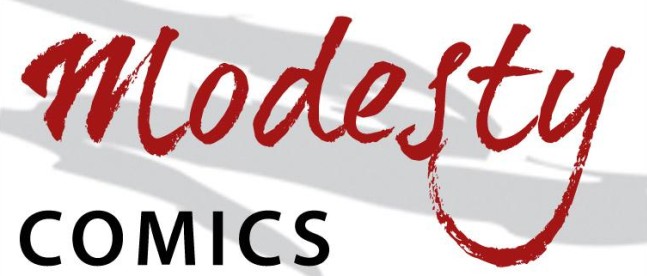 Modesty Comics is a father-daughter operation with a declared intent to promote comics work from the former Yugoslavia to an expanded audience but also with a wider remit to discuss quality comics work from across the globe on their website here. Their site provides the opportunity to both browse work for free and buy from a developing catalogue of translated graphic novels.  Recently at Broken Frontier our own Conori Bell-Bhuiyan reviewed one of their initial batch of GN offerings The Diary of Anna Tank here calling it "an extremely powerful story".
Broken Frontier chatted with Modesty's Zika and Tijana Tamburic (below right) about the Modesty Comics mission statement, the history of comics in the ex-Yugoslavian region and which Serbian graphic novels you should be looking out for…
BROKEN FRONTIER: Can you tell us a little about the origins of Modesty Comics?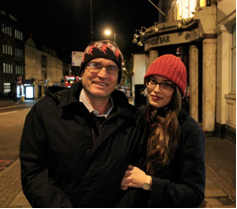 ZIKA: After fifty years of reading and collecting comics in Serbian and English, I decided to make an effort and show to the world that ex-Yugoslavia's comics scene and comics were equal to the rest of the world. After four years of working, with co-authors Zupan and Stefanovic, I published, in 2011, in Serbian and partially in English, The Comics We Loved – A Selection of 20th Century Comics and Creators from the Region of Ex-Yugoslavia.
This book is a lexicon with more than 200 artists, presents over 400 comics, with biographies, critiques and publishing details. The book was warmly accepted in all ex-YU countries and awarded as the best publishing achievement at the Book Fair in Serbia in 2011. Paul Gravett has reviewed the book on his website.
Modesty Comics was started as a continuation of my wish to present ex-YU comics artists to the world. However, very early on, Tijana and I decided to expand and present quality creators from all over the world. We are looking for genuine artistic works, not the works dictated by publishers or markets, in the form of comic strips or graphic novels, for adults and for children.
BF: The father-daughter dynamic behind Modesty Comics is something rather different. Is a love for comics something that's been passed down between you?
TIJANA: As a teenager you generally don't want to do anything your parents tell you to simply because they are telling you to, but I ventured into my father's comics collection myself and never wanted to leave – I still don't. I guess we inherently appreciate comics for the same reasons, their mesmerizing way of storytelling, and came to that conclusion individually.
ZIKA: I am very proud and happy that I am supported in this initiative by my daughter.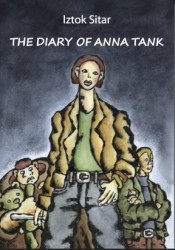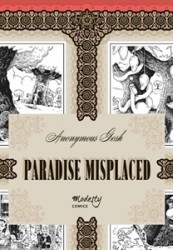 Some of the available books translated into English including Iztok Sitar's The Diary of Anna Tank, Mladen Oljaca's Bad Boy and Izar Lunacek's Paradise Misplaced 
BF: You have two distinct strands for what you're trying to achieve with Modesty. Firstly, describe to us the thoughts behind the "interactive platform for artists and readers" side of the site and the samples of work available for readers there…
TIJANA: It was our initial wish to create an "interactive platform" and a community for artists and readers to be able to discuss works by leaving comments, starting forums, inviting people to contribute to the blog and generally be active on the site. The second aspect is to actually provide high quality works by a variety of scriptwriters and artists so the readers have something to interact over – in this sense it is a prerequisite for the first strand.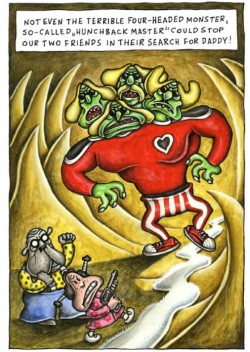 ZIKA: I have to say that responses (comments) on presented works, originals, books and blogs are not as much as we expected. Hopefully, with more artists and works, we might have more interaction.
BF: You're also publishing a whole range of titles created by writers and artists from the former Yugoslavia region. What projects are already available to purchase and what genres do they embody?
ZIKA: I also publish domestic and foreign comics in Serbian (15 books at the moment) under my Serbian publishing company Omnibus. These comics are also on offer on Modesty Comics, for the people who speak the language. But, hopefully, most of domestic comics will be translated and offered as e-books in English soon.
At the moment we offer only five e-books in English (Sitar, Lunacek, Wostok, Nikolic above right  and Oljaca), but there will be many more very soon. The current books cover drama, black humor and innovative fairy tales.
BF: Have there been any particular challenges involved in translating some of these graphic novels into English?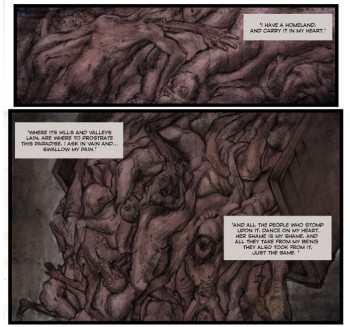 TIJANA: With every translation we face challenges, but of course some are more challenging than others. Djordje Milovic's collection of short stories With Other Eyes was one of the first works I translated and it was a real challenge. His works are based on his interpretations of short stories written by famous novelists or philosophers. This meant I had to read the originals first to have a feel for what the background was and then, with that in mind, try and translated his exquisitely eloquent Serbian.
Another translation challenge was poetry, with the most difficult coming in the form of Marko Djeska's Bloody Patrice (click on image above right) in which the first chapter contains a few Stanzas of a famous Croatian nationalistic poem by Silvije Strahimir Kranjčević written in 1897. I searched high and low for an English translation but to no avail so set about translating the twelve-stanza poem – which I will always consider as my highest achievement in translation.
BF: How are comics perceived as an art form in the ex-Yugoslavia? Are they a niche medium? Has there ever been any comics industry there comparable to the American or UK models?
ZIKA: The comics scenes in Yugoslavia and countries formed after its disintegration were always strong. Modern comics publishing started in 1935 and never stopped. Many artists were equal in quality to their much more famous colleagues from the world, the publishing was strong, reviews were following their works and the comics fans were in abundance. Some of the best artists, seven of them in total, were presented in Paul Gravett's book 1001 Comics You Must Read Before You Die (Kordey, Lavric, Maurovic, Zograf, Radilovic, Zezelj and Guera).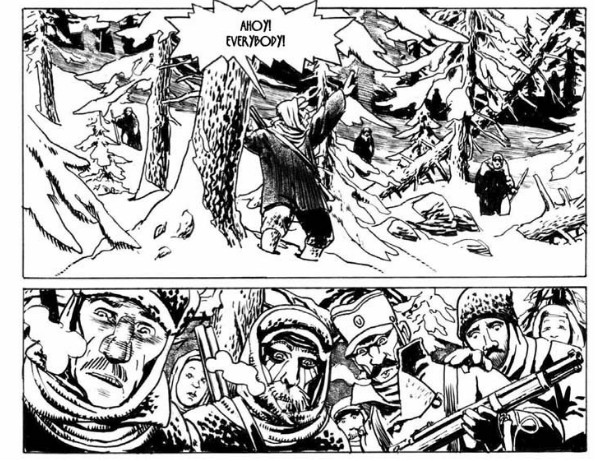 Panels from Igor Kordey's Texas Kid
The comics industry was modest, because the country didn't have the market capacity or economic power of the countries on the West. However, for example, before the Second World War in Yugoslavia, 1935-1941, there were about 15,000 pages of comics published with one third by domestic creators. Currently, there are about 60 artists in Serbia and Croatia who permanently work for, mainly, foreign publishers.
BF: Are there be any creator names that readers in the UK and US may be already aware of from work in British or American comics involved on Modesty Comics?
TIJANA: We have a few already well-established names who have kindly let us showcase their works. Hannah Berry, Bryan Talbot and Igor Kordey should ring a few bells to true comics fans.
BF: If you each had to pick just one graphic novel from the Modesty Comics "catalogue" of books which one would it be and why?
TIJANA: That is a very tough question! Having translated most of them I feel a connection with each one. As a graphic novel I love Igor Kordey's Texas Kid (how could you not!), and from the comic strips I find Pavlic's Bookeaters (below) hilarious, and I could just stare at the halcyonic beauty of Gajic's short stories.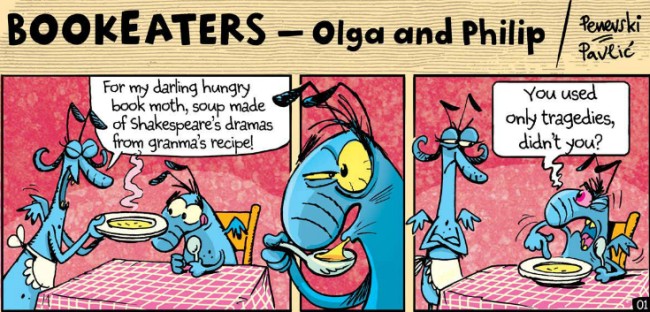 ZIKA: Difficult to choose, because I believe that they all deserve the world's attention. Lunacek is hilariously funny, Sitar is rough and direct, Nikolic's fairy tale is unique, Wostok is thoughtful and Oljaca is very talented.
BF: What can we expect to see from Modesty Comics in the future? Are there any specific creators you would like to feature or publish?
TIJANA: We are completely open-minded. We wish to offer an invitation to anyone, anywhere in the world, to send us their comic strips, collection of short stories or graphic novels.
We hope for the 'interactive' aspect of our site to pick up, and get more people leaving comments, becoming contributors to the blog and getting involved with us on Facebook, Twitter and Instagram.
ZIKA: I agree and would like our books to be recognized as quality comics books, innovative and equal to the best works in other arts, such as literature and movies.
For more on Modesty Comics and their catalogue of available publications in print, digital and online visit the site here