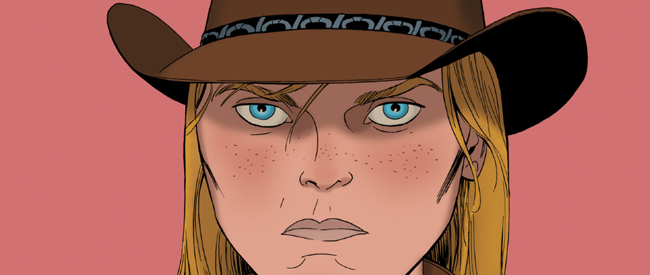 In their follow-up series to The Private Eye, digital comics pioneers Brian K Vaughan and Marcos Martín weave a taut and enthralling tale of migration and border tension that doesn't go where you expect it to.
A few eyebrows were raised back when Brian K Vaughan and Marcos Martín hurdled the regular approach to creator-owned comics and launched Panel Syndicate – a pay-what-you-want outlet for DRM-free digital comics. Their first title, near-future thriller The Private Eye, became a smash hit, winning Eisner and Harvey awards for online work and now appearing in a deluxe print edition from Image.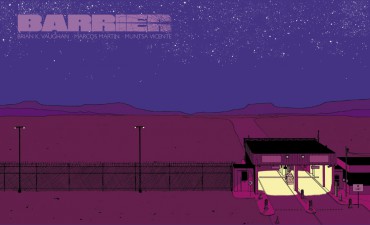 Buoyed by that success, Vaughan and Martín have now launched the first issue of their five-part follow-up series, Barrier.
This pacey 53-page opener gradually brings together the book's two protagonists: Liddy, a hard-bitten land-owner on the Texan-Mexican border; and Oscar, a mysterious Honduran migrant making his perilous journey through Central America towards the US.
While Liddy faces a violent threat to her livelihood and maybe even her life, possibly from a drug cartel that wants to use her land as a transit route, Oscar has to face the dangers of illicit migration, putting himself in the hands of traffickers and remaining vulnerable to any number of threats and dangers along the way.
And when Liddy and Oscar finally encounter each other, on a starry Texas night, things take a most unexpected turn…
There are a few things to note about Barrier #1. The first is that it's resolutely bilingual: the 'Oscar' pages are delivered as solidly in Spanish as the 'Liddy' pages are in English. It's a brave and interesting choice that instantly gives the action a ring of authenticity. Even if you think you don't speak Spanish, go through the dialogue anyway: you'll probably pick up more than you expect. (And that's coming from a victim of the British education system.)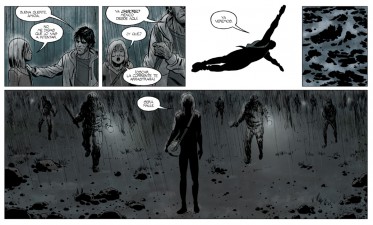 And what you don't get from the dialogue, you'll pick up from the clear, atmospheric artwork of Martín and colourist Muntsa Vicente (another collaborator from The Private Eye, whose work is particularly effective in depicting the crepuscular world of the migrants, often making their way under cover of rain or darkness).
The next point of interest is how well the creators utilise the digital format, using the phenomenon of 'the persistence of vision' (which makes cinema work) to create interesting effects and punchlines through 'jump cuts' from page to page.
It's probably also worth noting the strength of the widescreen 'landscape' format – something still only used in a tiny fraction of comics. Given the spaces in which the story largely takes place, it enables Martín to create dramatic widescreen panoramas, enhancing the book's strong sense of place. It also works very effectively in an inventive 'montage' sequence, as the gap between our two protagonists narrows (a sequence that is also knitted together very nicely by Vicente's colours).
As seen in The Private Eye, Marcos Martín is second to none when it comes to drawing 'stuff', and his character work is generally pretty solid as well. However, the sparse environments that dominate Barrier leave his figurework slightly exposed in a way the densely realised sci-fi world of The Private Eye hardly did. As a result, one or two slightly wonky panels in particular suggest work done in a hurry or without a firm hand on the editorial tiller.
And then there's the climax of the issue, which takes it from a taut tale of migration, survival and border tensions – particularly relevant given the unprecedented refugee flows in Europe and some of the blood-curdling rhetoric being emitted during the current US presidential campaign – to, um, something else altogether.
Obviously BKV and Martín have earned the benefit of the doubt at this stage, and will probably use the generic switch to shed fresh light on precise contemporary concerns (something the best sci-fi has always done). However, given the meticulously established verisimilitude of the preceding 50 pages, it feels like a bit of a three-card trick, swiping away the Queen we've kept our eyes on throughout.
Despite those small caveats, Barrier is a classy, grown-up bit of work from a creative team in tight harmony. And with its pay-what-you-want model, you literally have nothing to lose by giving it a try.
Brian K Vaughan (W), Marcos Martín (A), Muntsa Vicente (C) • Panel Syndicate, digital/pay what you want