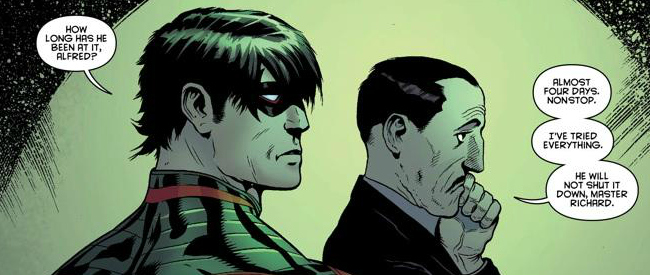 Batman and Nightwing #23 is the single best issue of Peter Tomasi and Patrick Gleason's run on the Batman and Robin series.
Issue #23 is the emotional capstone of not only this arc, but the previous 22 issues, as well as the duo's pre-New 52 run and all of Morrison's Batman work.  The preceding four issues chronicled Batman as he traveled through four of the five stages of grief, with Nightwing now stepping in to push Batman towards the final stage of acceptance.  Though many of Batman's extended cast have tried to help Bruce come to terms with the death of his son, it's the relationship between he and Dick that proves to be what helps the Dark Knight leave the dark and move on in a powerful way that does justice to all characters involved.
As a particular fan of Damian Wayne, Morrison's choice to kill the character has been a sad consequence of the writer leaving the Batman universe, despite it being an understandable thematic choice.  Tomasi and Gleason have taken on the task of showing how Damian's father and other characters have reacted to the death the brash sidekick, but none of these issues have been as powerful as issue #23. Tomasi perfectly captures the ferocity of Bruce's pain as the grieving father relives Damian's final fight in search of any possible way he could have saved his son.
Watching Bruce relive these final moments hundreds of times is heartbreaking and adds a new level of emotional weight to the events that led to Damian's death in Batman, Inc. that Morrison never fully developed.  The emotional pains of Damian's death were not solely carried by Bruce, however, as the tension between Bruce and Alfred is finally resolved in a simply beautiful sequence that shows how devastating the past few months have been for the elder caretaker of the Wayne family.
Gleason adds just as much power to the pages of Batman and Nightwing #23, where he captures the desperation of Batman's final fight against the Heretic and the physical pain Damian's death has exacted on Bruce and Alfred.  Despite this issue focusing on Bruce and his journey towards acceptance, much of its interiors recaptures the final defiant moments of Damian's life, which does the character incredible justice and reinforced why he deserved to carry the mantle of Robin.
Batman and Nightwing #23 is a love-letter to Damian Wayne and his impact on the Bat-Family since he arrived so many years ago in the pages of Morrison's run.  The emotional weight of Damian's death has weighed heavy on Bruce, but even more so on Alfred, a fact thankfully developed and explored beautifully by Peter Tomasi and Patrick Gleason.  Batman and Nightwing #23 brings to a close over seven years of character development that occurred across multiple books, and provides Damian Wayne the final chapter he deserves.
Peter Tomasi (W), Patrick Gleason (A) • DC Comics, $2.99, August 21, 2013.