Lost, found, and still throwing punches, Greg Pak's enchanting version of Batman/Superman turns the origin of their team-up on its ear in the best way possible.
His alternate reality underscores the elements of love and loss that make these characters compelling in our reality while offering an enticing glimpse into the heroes they could become under different circumstances.
In issue #2 Kaiyo the Trickster has removed Batman and Superman from this plane and placed them in an alternate reality where their counterparts are older and happier. Gotham is cleaned up, Ma and Pa Kent are alive, and the heroes of this world married the women of their dreams.
After arriving mid-fight, Batman and Superman are separated. Batman is sent to the Batcave where he immediately encounters Catwoman and attacks. Not one to pass up an opportunity to play with Batman, Catwoman practically purrs through their sparring session. Meanwhile, Superman has been sent to the Kent farm where his parents are alive and disappointed to see him hitting his best friend. The fun starts when the Kents' son does come on the scene and deals with his youthful counterpart. Thankfully, Martha plays peacemaker. "Now that's enough. Both of you boys should know better."
Kaiyo returns the bloodied Batman to his cave to discover Catwoman tied up and enjoying herself. Two Batmen prove better than one as they piece together the alternate reality story and the strange intruder in the Batcave. Superman and his younger counterpart then travel to Metropolis where Lois Lane is waiting and willing to keep the story off the record as a favor to her husband. And just when it looks like everyone is getting along, there's a god to deal with.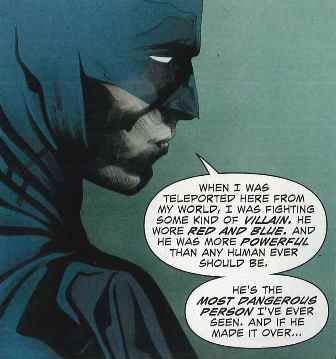 Greg Pak hits all of the vital characterizations that make Batman and Superman DC's two favorite sons, and where loss compels the younger heroes in this reality, love moves their more mature alternate reality doppelgangers. It's a fantastic juxtaposition that propels the story so fast that you might miss the subtle awesomeness of Jae Lee's art. Lee includes small details that add juicy layers to the story. Slow down and appreciate the ease with which Catwoman severs her bindings, Martha's heartbreaking sympathy achieved entirely in silhouette, and the Arkham Asylum Amusement Park (no kidding).
Greg Pak (W), Jae Lee (A), • DC Comics, $3.99, July 24, 2013.