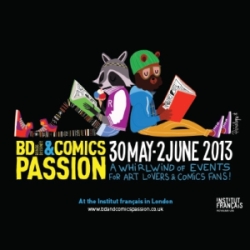 Between May 30th and June 2nd the BD & Comics Passion festival reaches its third year at the Institut francais in Kensington, London with a host of comics-related events. Presenting a packed timetable of talks, workshops, film showings and live drawings, BD & Comics Passion is a remarkable celebration of the medium with a distinctly European flavour.
Last year's festival garnered this very enthusiastic report at Broken Frontier: BD Comics Passion 2012: A True Celebration of European Comics. The 2013 edition sees another round of amazing guests including the likes of Jaime Hernandez (Love & Rockets), Studio Peyo's Pascal Garray (The Smurfs), GiedRé, Edika, Posy Simmonds (Tamara Drewe), Etienne Davodeau (Les Ignorants), Hunt Emerson, Francois Boucq, Régis Loisel (Peter Pan), I.N.J. Culbard (At the Mountains of Madness) and many, many more. You can see the full line-up here.
In collaboration with the Institut francais and BD & Comics Passion, Broken Frontier is offering you a chance to win two tickets to a festival event of your choice (excluding workshops and film screenings). You can enter this competition by either…
… visiting our Facebook page and adding a comment to the competition thread here
…or retweeting our competition tweet on Twitter here
Update: Thanks to all our entrants. The competition is now closed.
For more on BD & Comics Passion visit the official site and check out the video below.