In our fourth of our 2023 Broken Frontier 'Six to Watch' interviews, and ahead of their appearance at Travelling Man Manchester for Small Press Day, we chat today with comics creator Beck Kubrick (Coby, Alone, Meat 4 Burgers, Dead Girls: Beach Day). In a bumper interview they tell us about their work, collaboration, and the realities of publishing…
ANDY OLIVER: Our Broken Fronter 'Six to Watch' interviews each year are very much about bringing emerging voices to new audiences so let's start by asking you to introduce yourself and your wider artistic background to the BF readership?
BECK KUBRICK: I'm a Manchester-based writer and cartoonist. I love horror-comedy and post-apocalyptic stories. My favourite films are One Flew Over the Cuckoo's Nest and Juno. I never went to art school, and I'm a full-time comics artist. It is my dream to live in a cabin in the forest and I love any story with an angsty teenage protagonist, bonus points if they're a teenage girl and end up covered in blood at some point.
I started art by drawing hyperrealistic pencil portraits and moody oil paintings. Now I'm drawing weird, horror YA comics (yes, there is at least one girl covered in blood…but it's not hers, don't worry).
My debut, Coby, Alone (2021) was crowdfunded through Kickstarter and was just shy of 1000% funded. I have since released Dead Girls: Beach Day (2022), Don't Worry I Die at the End (2023) and am currently working on Meat4Burgers (2022-present), an indie, YA series about the existential horror of minimum wage jobs. I've also worked with Oni Press, Mad Cave studios and Cartoon Network Studios. and am currently working on three secret (but super cool, I promise) projects.
AO: What was your entry point into comics as a form? Who do you consider your influences and inspirations in the medium?
KUBRICK: When I was eleven, I started reading (and watching) The Walking Dead, and it might have changed the course of my life and my brain chemistry. It's still number one in my heart, too. That's also my dream comics job, anything Walking Dead. The way Charlie Adlard drew the inner corner of eyes and freckles! He's the reason I love to give everyone freckles. I had a bunch of vintage Beanos too and even had all these Golden and Silver age DC and Marvel posters as a kid because I think I knew I thought comics were cool but hadn't figured out that they weren't all superheroes and Dennis the Menace yet. Nothing ever hit me like The Walking Dead comics, though. It was mind-blowing that you could make a full soap-opera drama WITH ZOMBIES with just some ink.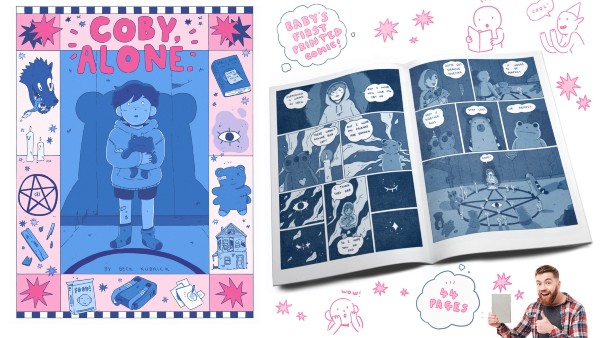 I didn't really get into comics as a medium until I was nineteen. I'd started reading Heartstopper as a webcomic and a webcomic called Detached and was again, realising what comics could be. Then I discovered auto-bio and queer comics, comics like DeadEndia and Catboy and it all just made sense. It sounds really stupid but I just hadn't realised you could do…anything with comics.
I'm inspired a lot by rougher indie comics like anything by Charles Forsman, Noah Van Sciver and Max De Radigues. Anything by Jeff Lemire, Tillie Walden. I'm also really getting into Manga right now, I've just finished reading Dorohedoro; Q Hayashida might be my favourite artist at the moment. I'm totally stealing how she draws noses. Her unwavering weirdness and action scenes are unparalleled. I'm also watching this great show called Manben, it's hosted by Naoki Urasawa, it has the best theme song. It's an all-access look into how manga artists work, it's so fascinating. I especially like it because they all work traditionally like me.
AO: We first covered your comics when we reviewed your debut, the dark fantasy Coby, Alone (above and below) at BF. You've been prolific in your output since then. How do you feel your style and storytelling have evolved in the time you have been self-publishing?
KUBRICK: I think it's really funny when people call me things like 'prolific'. I don't feel like I'm doing that much at all. Like, I'm working hard and drawing a lot; but there's artists like Higashimura Akiko, who's been drawing a hundred pages a month for the past decade. She has a bunch of assistants, so it's a little easier for her but I want to get to a point where I can do that, or at least something close to it (without hurting myself, obviously). My record right now is 24 full colour pages in a day but I couldn't do that everyday.
My style and storytelling has evolved SO MUCH in other ways. If you look at Coby and the art I'm drawing now there's a lot more lines, like a lot more, ha. I think you can tell they both come from the same artist, though. I'm still drawing a lot 'simpler' than realism and I'm still trying to communicate things with a lot less lines than you'd think was necessary, but there's a lot more detail. I love wonky, hand-drawn art. I never want my art to be too clean or perfect but I want it to look 'good' too; so I'm forever trying to find the balance between polished art and 'wonk'. Like, I want the anatomy and the perspective to be a little off, but in a way that feels intentional, a way that emphasises whatever I'm trying to show. I always want my drawings to look like drawings.
I do think Coby gave people the wrong idea about me and my art which has added to what seems like a massive change, everyone seemingly boxed me in to making middle-grade stuff. I even had agents reach out, they would tell me for marketability I could only make middle-grade stories, when I told them that wasn't all I wanted to do, they didn't know what to do with me. (I eventually found my wonderful agent though, ily Jess <3). There was a time post-Coby where I felt like I'd trapped myself in making middle grade and I think my art suffered for it, I felt if I changed my style then I was basically starting from scratch. Obviously I don't care about that now. If you think my art is cute, whatever, art belongs to the perceiver, I guess. I think there's a weird gender thing rooted in it, like people perceive me/my characters as femme so they're like 'wow cute!' and it's literally a drawing of cannibalism or something. I'm sort of poking fun at this with my new book Don't Worry I Die at the End, people keep calling the art 'cute' but it's literally mostly about me killing myself.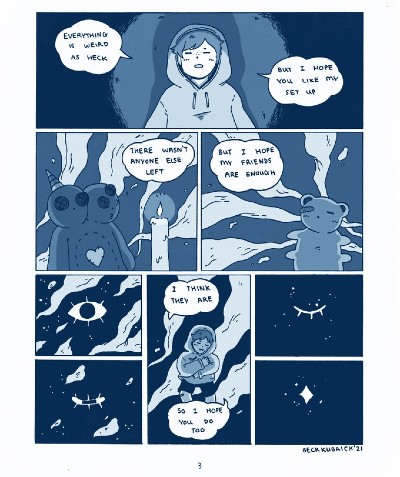 I take a lot of inspiration from artists like Charles Forsman for this stuff, he's always improving on the page. I Am Not Okay with This literally looks like Peanuts, but no one boxed him into being 'cute' and now he's drawing these old-school kung-fu comics. I don't want to box myself in and just want to do what feels right, I'm currently drawing a middle grade book, so that Coby-ish style will return. I'm also drawing a very different book with a totally different style. I just want to do what feels right at the time and not worry about boring things like if it'll be marketable enough/consistent/whatever.
Overall, I think my art style is just the classic concept of improving over time and finding your style. I feel like I've actually just recently had one of those art level-ups where you suddenly get so much better, but you won't get to see the results of that for a minute. Also, no one's allowed to comment on how much I've 'improved', we all just have to pretend I've always been at the same level, okay? I sometimes find it kind of embarrassing that I've had to improve so much and that my art will likely keep improving, when there's all these other artists, who knew they wanted to do comics since they were born and came out kicking with a fully developed style. Maybe it makes me an underdog, or at the very least is a little bit endearing.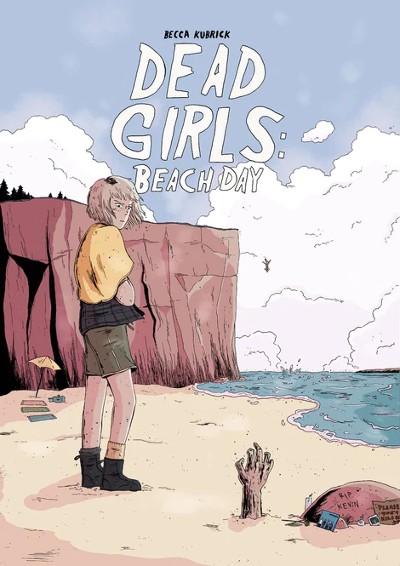 As for storytelling, it's at the core of what I want to do, I'm not the best artist, I don't think I'd ever thrive as a work-for-hire artist. I'm at my best when I'm writing and drawing the story. I think I'm always just improving by doing and letting go of more and more inhibitions of what I 'think' a story needs to be. Storytelling has always just been intuitive for me, I was always a weird kid and I have a tragic backstory that I think makes me cool and interesting (that's a joke, mostly) so I think I'm just weaponizing that. I used to write plays, then I went to film school and wrote screenplays, now I'm making comics and also writing novels. I think that's what people like about my work, too. Have you seen the original pages for One Punch Man, drawn by the writer? They were rough, but people liked the story enough to keep reading and now it's getting redrawn by one of the best Mangakas. I always think of that when I feel like my art isn't good enough.
Sorry, that was a really long answer. I'm a chronic over-thinker.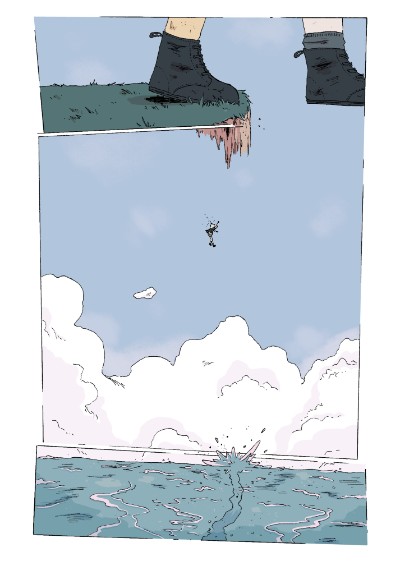 AO: Last year you self-published Dead Girls: Beach Day (above), an atmospheric horror comic with a distinctive voice. How would you describe the premise of that comic and when can we hope to revisit the characters' world?
KUBRICK: It's a teen horror-comedy, it's sort of a slice of life too. Honestly, it was a total back-door pilot for Dead Girls proper (below). I didn't hide it, I put a call-out in the back like 'are you an editor and want more? Email me!'. The story is these angsty teens going on a little beach trip and stumbling upon some old ghost (or zombie) story. I marketed it as an AU to the main story, because I'm not sure if zombies exist in the main universe, they're not in the main story because I wanted that to be a true, honest-to-god slasher. The whole Dead Girls story is about messing with these tropes and Beach Day definitely has those Jason backstory vibes, except (spoilers!) he loves his little lake beach and doesn't want anyone bothering him. Also, Ash bites the zombie to defeat him, because she's feral. As for revisiting these characters… I don't think I'm allowed to talk about it too much, but please keep space in your heart for my terrible, terrible girls.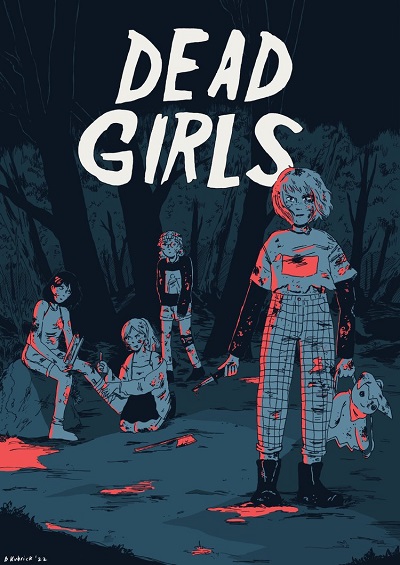 AO: You've also been working on the genre-busting weirdness of Meat4Burgers (below) with Christof Bogacs. How does the collaborative process on that comic work behind the scenes, particularly given the story's very off-centre set-up?
KUBRICK: Christof and I were commiserating with one another about how long mainstream publishing takes, it was about a month before Small Press Day 2022 and I was just like 'let's make something for Small Press Day'. We just wanted to make something right then and there that wasn't bound to any outside influence. I wanted to focus on my art, but I didn't want to work within a conventional writer-artist dynamic. Instead, we just chatted like we usually would, there were ideas going back and forth, we'd worked together on some pitches that never got picked up so we knew each other's working style. I'm a little bit anti-writer sometimes, not in any sincere way, but I find they don't always write like they're writing a comic/are too rigid with their ideas. We totally avoided this by Christof sending me 'scripts' that basically just said what happened on each page, without panels or specificity, and I was totally free to edit it too. We just sort of trusted each other and knew it was so low stakes, it didn't matter. One of my favourite parts of the story that captures how we work (slight spoilers!) is the character 'Big Sexy Karen'. This name came about because I found out one of my neighbours has that nickname and I thought that was hilarious, so we decided to name one of the bizarre-o characters in M4B after her. (No one tell her, please)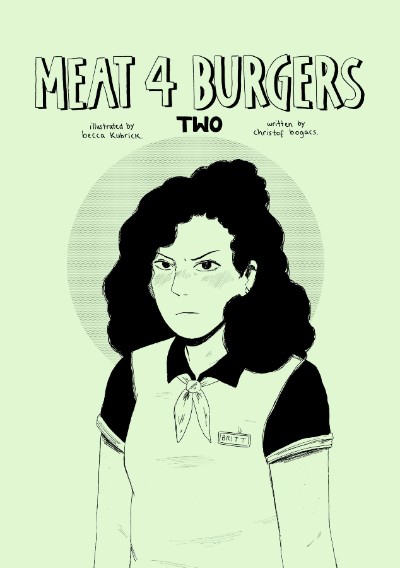 We're going to be launching a kickstarter for a compiled edition of all the issues with a bunch of cool guest comics and some extra art from me soon. It feels a bit surreal that people have liked it enough that this even seemed worth doing, like, I've had Marvel creators chatting to me about this weird comic I draw in week-long fugue states, that's hilarious.
AO: One of the reasons I picked you for this year's 'Six to Watch' was your intuitive understanding of the unique language of comics. What is it about the storytelling opportunities and possibilities of comics as a form that most excites you?
KUBRICK: It sounds really dumb but I just like that they're comics. I'm really interested in the anthropological evolution of comics, like the stuff Scott McCloud touches on in Understanding Comics; stuff like simplification and the way illustrations became letters, which became language. All you need to make an epic sci-fi or a romance or something totally new, is a pen and paper. You don't even need to be good at drawing, you just need a reader to get what you're going for. I always force my non-artist friends to draw comics for me, because I like to see how they approach it. You get all the best parts of other mediums, too, without any of the drawbacks, you don't need a budget or a studio or even co-workers. At risk of sounding like a terrible person, I love not being beholden to other people. It can be isolating and sometimes you can get too in your own head but 99.9% I just love zoning out and zoning in on my silly little stories.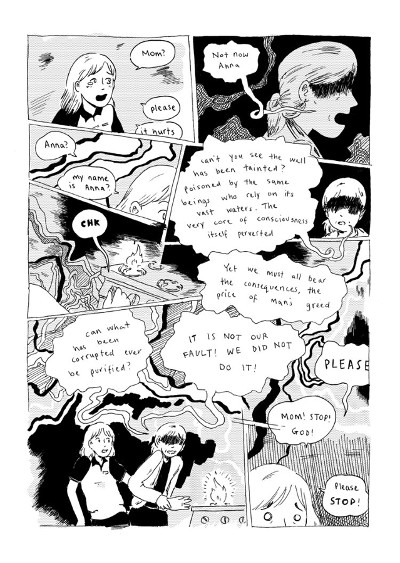 I'm excited about people making more weird stuff, I want to make more weird stuff too, @Grayson_Bear on Instagram made a comic called 'Pokey' which was so meta and wonderful. I'm learning to tattoo right now, maybe I'll tattoo a comic one panel at a time on a bunch of people or something fun like that.
AO: As a rising voice on the indie scene would you have any advice for aspiring creators on how to build their profiles and audiences?
KUBRICK: I was fortunate in some weird, sick way. I made my Twitter account in May 2020, just after I graduated, so everyone was online because of Covid, which made things easier. Social media is unfortunately the only way for a lot of us, unless you've got some sweet, sweet nepotism. I'd say post stuff, don't overthink it. Be clear about your goal, too. Don't be afraid to ask, no matter how unrealistic it sounds. I posted a Summer Island fan comic and said I'd love to work on the show. I had like three hundred followers and live on the other side of the world to Cartoon Network Studios, but a few months later I got to work on the show! It was my second ever paying, art job. Social media is ever changing, don't worry about that stuff, the algorithm will just get you down; just treat it like a digital sketchbook. Then have a more curated portfolio somewhere linked to it – a website or even a tumblr. Find and befriend people like you, at your size, in your locale. Get in good with your local comic shop (love you Travelling Man mcr).
Above all else, never ever compromise, accept feedback and be polite, but if something feels antithetical to what you initially wanted to create, trust yourself enough to stick to your vision. You'll never get to make the weird book if you don't pitch the weird book, ignore marketing and expectations. I pitched something to a publisher and I was 1000% confident I would have to go indie for it because it was too XYZ and they picked it up.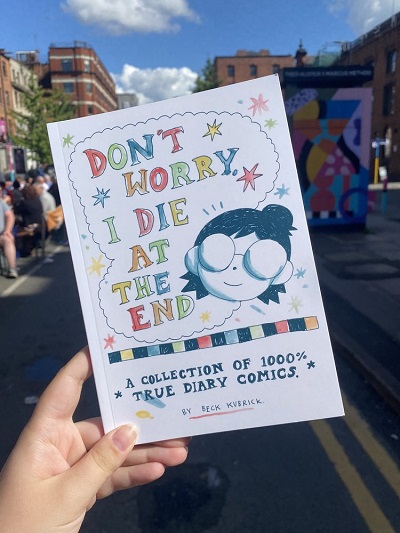 AO: Can you give us some insights into your creative process and the mediums you work in?
KUBRICK: I try to work as traditionally as possible, a lot of editors don't like that because they want to be able to change things later and move things around, but the simple answer to that dilemma is just 'don't change it'. Lean into the mistakes that traditional mediums allow. I always ink totally traditionally. If it's my story with no writer involved I'll go straight into loose pencils. I might have some notes a loose outline in my head but I like to just get it on the page. If it's with a writer I'll do thumbs for them to check over. I work at a little bigger than printing size. I'm not precious about redrawing if it's all wrong, too. I like to pencil as loosely as possible, sometimes I don't even pencil. It keeps the energy in the final inks, but it also depends on the project/scene. I use a billion types of pens, just whatever I've got – usually faber castell, micron or uni pens. I fill in heavy blacks with thick, cheap markers. I love knowing what size pens someone uses so for anyone curious it's gotten smaller over time. Coby was mostly a 0.3 and 0.2, Beach Day and M4B was mostly 0.1 and a 0.05 and for current secret projects I'm breaking out the 0.03 a lot. I'll then go in with some white gouache/ a white pen for white highlights.
I like the look of dip pens but I haven't been able to make them work for me yet. I'm not sure I'm patient enough for them. Sometimes working traditionally stops there and I scan in, edit the levels and colour in CSP or Procreate. I am terrible at colouring so I don't have a method for this, I just try until it looks okay enough. If I keep working traditionally, it's usually watercolour or markers, I want to paint a whole comic in gouache or something soon but this is as far as I've got right now. I very much subscribe to Jeff Lemire's strategy of minimal, loose tones for shadows. My upcoming book, Don't Worry, I Die at the End has a total mix of every medium there is; watercolour, ink, gouache, coloured pencil, my tears etc. I recently saw that Takahashi Tutomu uses a lightbox to do an ink wash without compromising the original lines so I'm going to try that next because I can never figure out how to scan watercolours right.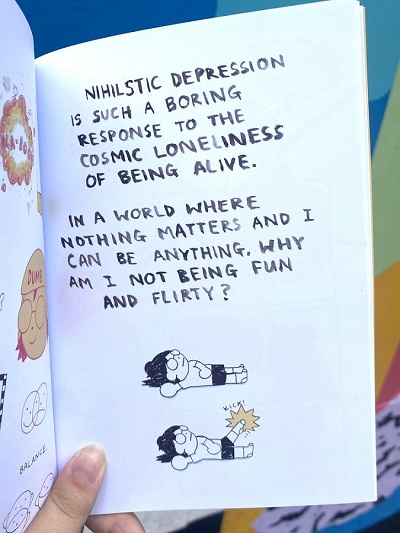 AO: And, finally, what's next for Beck Kubrick? Any upcoming projects you can talk to us about?
KUBRICK: I'm working on three secret, super cool projects right now. I have no idea when they'll be announced, hopefully soon. One is sort of where my art has been and the other two are more where I want my art/work to move in the direction of. They're big projects, so they won't be out for a minute, anyway.
In the abstract, I'm working on going to more US cons, I went to C2E2 this year and it was great. I've also already got ideas for my next projects already. I'm considering seeing if I can squeeze them in, even though I've got to draw, like, 500 pages in the next year. Not so much 'what is next' but 'what I'd like to be next'; I really want to make a book with Avery Hill, just because I think they're so cool and I want to make an autobio! I just want to keep making weird things really and if I can do that, I think I'll be satisfied.
You can visit Beck's website here. Follow Beck on Twitter here and Instagram here. 
Interview by Andy Oliver
Beck Kubrick will be at Travelling Man Manchester on Small Press Day