Over the course of the summer I had the pleasure of meeting BHP Comics' Sha Nazir when we were both speaking at the 'Sustaining Comics: What the Future Holds' event at London's Cartoon Museum. Sha spoke at the event about their Full Colour anthology showcasing young artists of colour. Supporting this in September is an exhibition of work from creators involved in the project. If you're in Glasgow over September 14th-17th make sure you visit it. The press release via BHP with further details is below.
Comics Exhibition Triumphs Over Fire
After facing cancellation due to the Glasgow School of Art fire, BHP Comics' Full Colour mentorship programme will launch the People of Comics Exhibition at the Lighthouse in Glasgow's City Centre on September 14th. The exhibition, originally planned to take place in June at the CCA, will display the comics creations of young people of colour made as part of the Full Colour mentorship programme. Launching at 6pm on Friday 14th the exhibition will be open for Doors Open Day, showing the talent of Scotland's young people to the Lighthouse's many visitors in celebration of Scotland's Year of Young People 2018.
The Full Colour project, originally conceived by Sha Nazir, Publisher at BHP Comics, and supported by the Year of Young People 2018 Event Fund, is the first of its kind in the world and has already succeeded in its aim to encourage more people of colour to join the comics scene in Scotland:
'The Scottish comics landscape is a friendly and warm environment which welcomes difference but it is far from representative. It's hard for young people of colour to imagine themselves in a position or community when they can barely see anyone like themselves already there. We set out to change that.'
Paul Bush OBE, VisitScotland's Director of Events, said:
"We are delighted to be supporting the Full Colour project as part of the celebrations for Scotland's Year of Young People 2018. Through the project, young people were able to find their creative voices and express their views on topics which are important to them. It is fantastic to see BHP Comics providing a supportive space for them to develop their art and showcasing their impressive work."
People of Comics will display the wide variety of stories created by the young people as well as their many different art and storytelling styles. Nyla Ahmad, Full Colour's Project Co-Lead notes:
'The young people have made incredible strides in creating this work and haven't let their determination be dampened for a second by the GSA fire. We're thrilled to have this new platform for them to show off their work to a wide audience, like it deserves.'
Left – Dee Dee and Me by Arusa Qureshi (writer) and Nicole Munogee (artist). Right – Something is Going to Happen by Areej Al Musalhi.
About the Project
The project, supported by the Year of the Young People 2018 Event Fund, managed by EventScotland, part of VisitScotland's Events and Creative Scotland's Open Project Fund, encouraged young people aged 14 to 26 from BAME backgrounds to create comics for the very first time or to advance their own art of writing practice. The result was an outstanding standard of work in many genres and covering a vast number of topics. From a superhero who suffers diarrhoea whenever she fights crime to an exploration of family traditions contrasting with social dynamics, Full Colour bridges fun and meaningful.
About the Anthology
The Full Colour Anthology brings together the freshest voices in Scottish comics and collects their short-form work in one stunning volume. The Full Colour Project, created to foster diversity in comics and mentor young people from Black, Asian and Minority Ethnic backgrounds, came to fruition with this collection of bold new comics. The Anthology is available to buy in bookshops or directly at www.bhpcomics.com
About the Creators
BHP Comics' Full Colour project brought together a team of young Scottish people from Black, Asian and Minority Ethnic backgrounds to be mentored in creating comics. The group, who come from all over Scotland and from many backgrounds, were brought together to create comics with outstanding results. While some of these young people had never made comics before, their work proves that the future of Scottish comics is in good hands.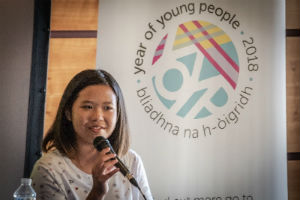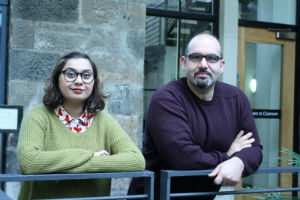 Left – Laeticia Eve Danica discusses her work at Glasgow Comic Con. Right – Project Co-Leads Nyla Ahmad and Sha Nazir
Follow BHP Comics on Twitter here.