Glasgow's BHP Comics imprint provides the means for critically-acclaimed British TV writer Jack Lothian and up-and-coming artist Garry Mac to deliver a strange and moving tale about an "Everygran."
Let's be honest… Growing old can be a drag.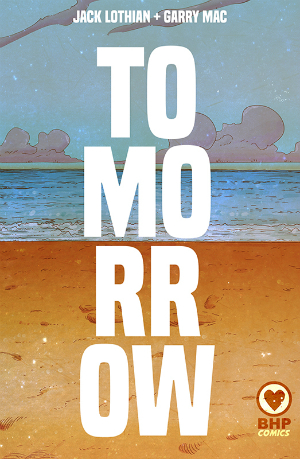 Most of our lives are spent feeling relatively invincible. We survive schoolyard bullies and falls from tree-tops during childhood. We get through the rigors of college (and its nightlife) as young adults. During middle-age, we become the masters of our own destinies as we settle into careers and family life. Then, one day, we catch a glimpse of ourselves in the bathroom mirror and it hits home how far down the river of Time we've floated.
What's worse is when you realize that the ever-accelerating current of that temporal river has pushed you to the margins, leaving you to drift in slow circles like a fallen leaf in a lonely existential backwater while the rest of the world speeds by in all of its invincible glory.
TV-script-writing wunderkind Jack Lothian explores these late-life themes through the elderly protagonist of his graphic novel Tomorrow. The tale starts out normally enough, appearing to be a moving narrative about an older woman whom Time has forgotten. However, things eventually get quite weird as the plot unfolds, culminating in some interesting ruminations on Life and what comes after.
Katherine Briggs is a lovely little old lady – an "Everygran" if you will – who lives alone in a well-kempt flat. Her husband is dead and she has no other children or relatives to speak of. Nevertheless, she goes about her daily routines of shopping, doing the washing up, and getting to bed at a reasonable hour, all the while exuding outwardly the social politeness and superficial contentedness common to folks raised during the bygone age of the "stiff upper lip."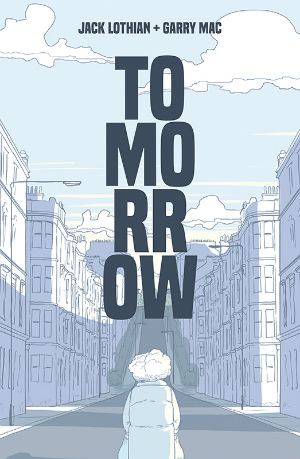 As we delve deeper into her life over the course of the story, however, this veneer breaks down to reveal a person who is actually full of regret and sadness. It seems that she has actually allowed much of her life slip through her fingers, waiting for a tomorrow that never arrived.
Her mundane routines, thus, are revealed to be a means for her to cope with her loneliness – by staying busy, she can distract herself from the crippling emptiness of her twilight years.
However, things start to get weird when she wakes up one morning to find that the entire population of her town has mysteriously disappeared. She seems to be the last person on Earth.
And, as if this weren't odd enough, Lothian pushes the story in an unexpected sci-fi direction when Katherine discovers that she's not, in fact, alone after all. She encounters a strange alien race comprised of little pink beings and tall blue beings who appear to be dismantling the town.
To say anything more about what happens from here would be to spoil the whole point of reading Tomorrow, so you'll just have to check it out for yourself..!
Tomorrow is a powerfully touching story – by turns, lighthearted and stirring – and it is made more so by the fact that Lothian chooses to tell it using a minimum of words. He opts instead to allow more room for subtext and scene-setting to deliver the emotional poignancy to the reader.
This unique effect could not be achieved without the outstanding art of Garry Mac. The clean line style with which he renders everything creates an inviting openness to the story – there is no ambiguity to the unfolding of events. Moreover, each panel serves a purpose, in much the same way as Lothian's spots of dialogue do. The upshot of this approach is that, by the end of the first page, you can't help but to be drawn in to the book and become emotionally invested in Katherine Everygran's story.
While some might argue that Tomorrow's pace is a bit slow, one need only realize that the creators didn't set out to tell a wild sci-fi thrill-ride of a tale. Rather, Lothian and Mac are clearly after something more substantial. They obviously want readers to come away with an important lesson about life: never take for granted how fast tomorrow can become today.
Jack Lothian (W), Garry Mac (A) • BHP Comics, $10.99
You can order Tomorrow online here.