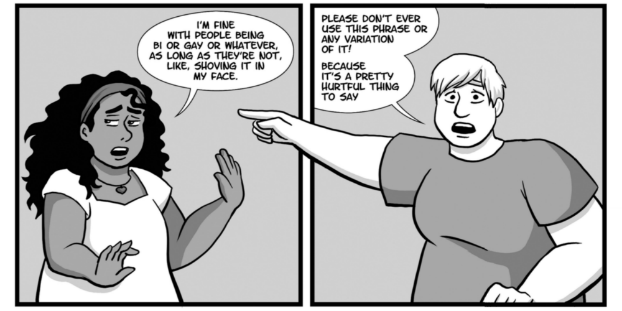 Bi the Way explores creator M.J. Wallace's journey of self-discovery regarding her sexuality and how this affected her relationships, sometimes as a result of her own construction. It's an upbeat story that views the world in a humorous manner, including the portrayal of her boyfriend as an anthropomorphic bear which provides instant visual characterisation and sets the tone for the rest of the comic.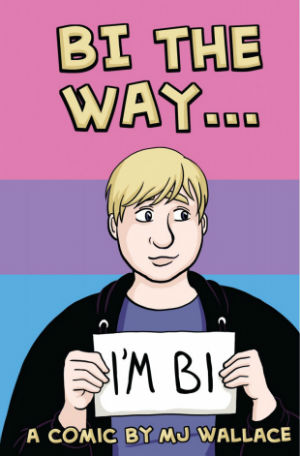 Personal LGBT+ stories are always rewarding. Not everyone is confident in sharing parts of their personal lives. However, when somebody feels comfortable enough to do so in public it creates a certain kind of positive energy. The layout of this comic is especially noticeable in the way it's used to engender empathy with the story. For example, an entire page is dedicated to the author's realisation of their own sexuality to great effect.
Throughout its pages Wallace plays with traditional panel layouts in numerous ways by either breaking out of the panel entirely, sometimes portraying miniscule moments to create humour, or at other times to ramp up the intensity of a moment. The flow between the panels remains natural though and therefore, despite that inventive panel use, pages remain accessibly readable. Complementing this, the absence of colour often helps to emphasise the emotional aspects of the story as it unfolds.
With narrative comics there is a naturally bigger focus on the text and that balance between art and text can be difficult to get right. Wallace's varied art style throughout Bi the Way makes use of a form of visual metaphor to match the themes of the story. Detailed backdrops in some scenes don't detract from the narrative, they are often in areas which they are required to portray a particular aspect of the story itself rather than simply existing to portray the artist's skill. This is a comic that exhibits positivity as well as kind of vulnerability through its account of coming out. It really allows the reader to feel inspired upon completion of the story; especially important when considering the possible vulnerability of some this work's target audience.
The expression of the everyday is prevalent here, creating personality through the reader being able to casually relate to somebody's life whilst also ensuring the main focus of the narrative shines throughout the work. Overall, Bi the Way expresses an enthusiastic approach to its subject matter which is realised in both its welcoming nature and the pure happiness exuded by Wallace's journey of self-discovery.
M.J. Wallace (W/A) • Self-published, £7.00 (print), £3.00 (digital) 
Available to buy online here