Collecting Melanie Gillman's continuing and multiple award-nominated webcomic in a first volume, As the Crow Flies was successfully crowdfunded earlier this year and brought to print by Iron Circus comics. The book follows a week in the life of queer 13-year-old Charlie Lamonte at Camp Three Peaks – a rural Christian retreat where teenage girls follow in the footsteps of a group of 19th century pioneering women by retracing their annual all-woman pilgrimage.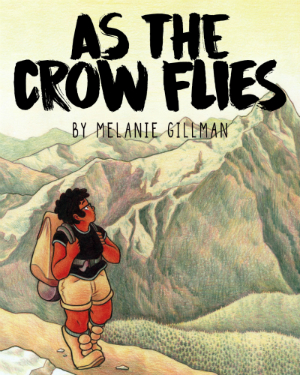 The only black member of the trip, Charlie's already faltering religious convictions are put to the test as the week progresses. While the rigid traditions and spiritual dogma of the hike become more and more questionable Charlie finds a supportive presence in fellow camper Sydney and they both begin to challenge the ideals of the camp that the others take for granted.
Gillman's greatest strength as a storyteller is their ability to bring us so fully into Charlie's perspective, underlining the unconscious bias and exclusionary behaviour she is forced to deal with throughout her backpacking trip. That sense of marginalisation is sometimes overt – an early sequence where a hike leader obliviously talks about "whitening our souls" for example – while on other occasions it's depicted more subtly but no less effectively in visual terms, with Charlie often portrayed on-panel as spatially isolated even within her peer group.
In Sydney, Charlie finds a confidante who allows her to more directly examine the doubts she has about her place at the camp. An event that was supposed to be a celebration of liberation and inclusivity slowly begins to reveal itself as one steeped rather in privilege and exclusivity, and the pair find themselves united in a common cause. Characterisation is delicately observed – both visually and through the book's employment of naturalistic dialogue (particularly in a latter scene where the girls discuss the assignation of a gender to God) – ensuring audience investment in the characters as we too react to events through their eyes.
Gillman's panel-to-panel storytelling emphasises a sense of place through the frequent intermittent multi-page scenes of the group traipsing through the stunningly beautiful countryside. There's a pacing here that asks the reader to slow down their reading speed and immerse themselves in each single, evocatively coloured panel, creating a sense of lingering time as each day of the hike passes. Frequent changes in perspective remind us of the majesty of the sprawling terrain the group are traversing.
Gillman's command of the pure language of comics, though, adds so many extra thematic layers to the book. The recurring and significant motif of a floating feather falling through individual images in an early sequence, for example, or their use of speech balloons and panels to zoom in and out and highlight Charlie's feelings of detachment even when she's in the company of others.
There's a particularly effective run of pages towards the end of this volume that place smaller panels within panels to signify the bustle of activity from the rest of the hikers while ensuring our focus remains on Charlie. It leads into a number of pages of varying panel sizes that play with our conceptions of time passing and between-the-panels comprehension to powerful effect.
Most importantly, though, this is a book that, as the Kickstarter promotional material pointed out, can now be found in print by the "real Charlies and Sydneys of the world" and one that, in microcosm, speaks to us all about the unconscious biases and entrenched inequalities that permeate every strata of our societal structures. Gillman's story continues here online but this first print collection will hopefully ensure the story reaches the even wider readership it deserves.
For regular updates on all things small press follow Andy Oliver on Twitter here.