In 1974, David Bowie created 3 songs inspired by Orwell's novel 1984, as a proposal towards crafting an entire musical theater piece based on the iconic dystopian book. Orwell's widow declined to give permission for the larger work, but allowed Bowie to use the 3 songs on his own. One of these songs is 'Big Brother', an anti-fascism anthem told from the perspective of those elevating Big Brother to power. During the Trump administration in America, it struck me how staggeringly well the Bowie lyrics lined up with the Republican party's continual, enthusiastic enabling of the vile, dangerous, and vapid Donald J. Trump – so I had the idea to illustrate the lyrics in this new comic.
TV and film editor Jonathan Baylis (also a comics creator himself, with his ongoing So Buttons autobio series) edited a video version of this comic for me, set to the audio of the Bowie song itself, which you can see below the comic strip.
This piece was colored by my frequent collaborator, SirGryphon.  At the time I created this comic, the COVID-19 deaths in the USA had reached 200,000 – – tragically now, as we know, the coronavirus deaths in the United States have now reached 1 million.
Don't forget that you can read all previous Wolf and SirGryphon collaborations at Broken Frontier in one place here.
(Click on the individual images below to open 'Big Brother' into a larger view. Alternatively click on the first image and then use the side left and right arrows to navigate backwards and forwards.)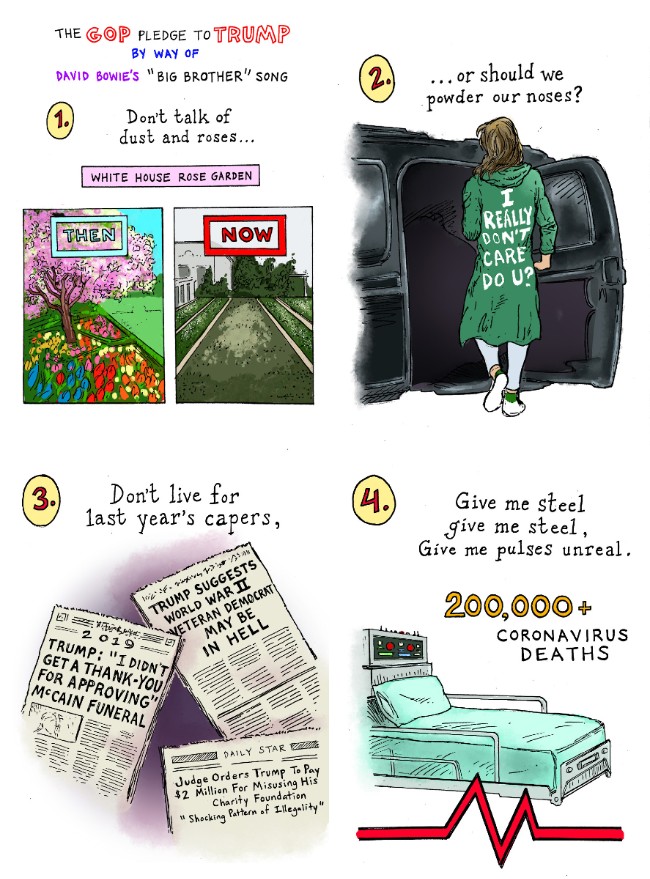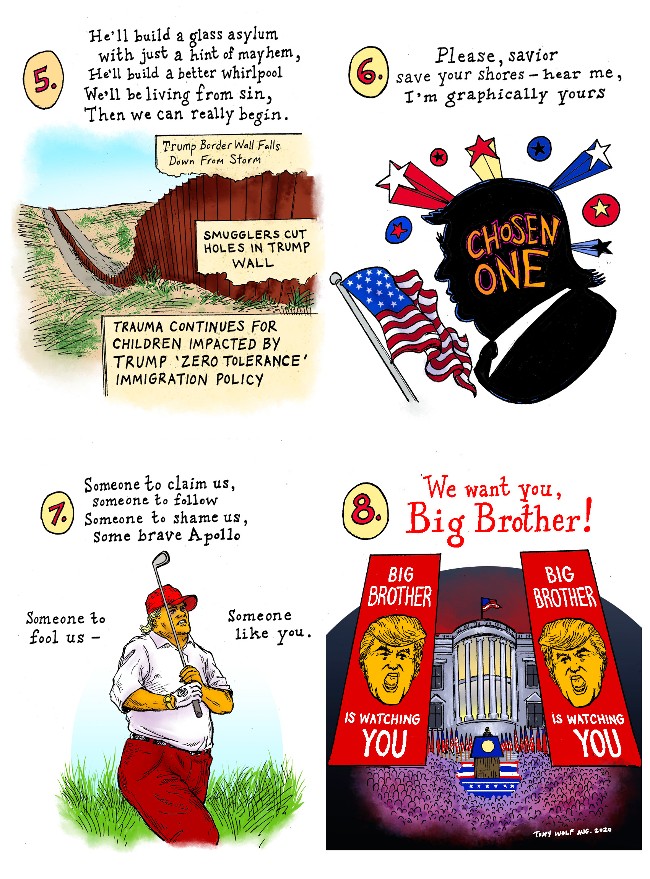 Tony Wolf is a comics creator and actor in NYC. He has written & drawn 4 comics for The New York Times, and had comics featured in New York Magazine's Vulture and The New Statesman. He can be seen in Season 4 of "The Marvelous Mrs. Maisel". Find him on Twitter & Instagram at @tonywolfness. www.tonywolfactor.com
SirGryphon is an artist, colorist, and graphic designer in NYC. He has colored & formatted many comics with Tony, including 3 New York Times pieces and "Greenpoint of View." He co-owns a comics shop, Anyone Comics, with Dimitrios Fragiskatos in Brooklyn, NY. Find him on Twitter & Instagram at @sirgryphon and his store's site: www.anyonecomics.com
Jonathan Baylis is a writer & audio-video producer / editor in New York City. You can find him at:  https://twitter.com/JonathanBaylis  and his So Buttons comic is available at:  http://sobuttons.com/