Do we really need another book on David Bowie? That depends upon the quality of the work in question. If it doesn't contribute to a better understanding of that iconic musician's life, one could argue that another book is just an attempt at separating fans from their money. If, on the other hand, one gets artists to interpret Bowie's story through the prism of their own experience with his music, one ends up with something like David Bowie in Comics. The answer to that question, then, is yes.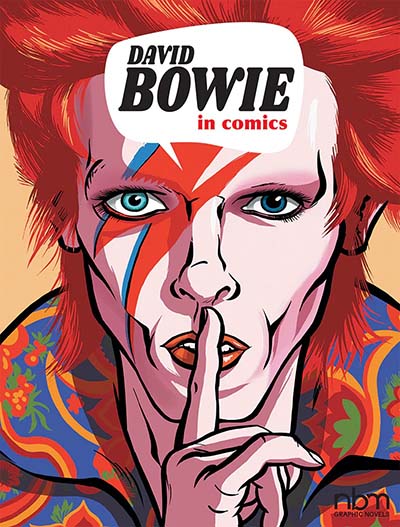 Cover by Bast, pages below by Christopher
This isn't the first such effort from NBM, for those who remember a similar endeavour dedicated to Michael Jackson. The premise remains the same: invite artists to illustrate different facets of a celebrated life; allow them free rein to mix styles, dialogue, and images; then sit back and watch as a collage comes together, creating a whole far more compelling than the sum of its parts. This approach works particularly well with a chameleon like Bowie, who sometimes appeared to live several lives at once, adopting and dropping characters and personas the way most of us choose seasonal clothing.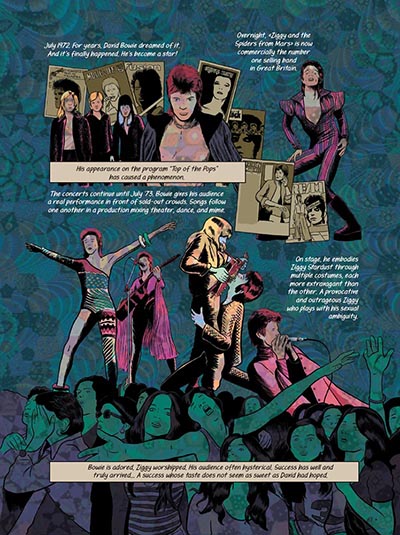 There are 20 chapters here, each highlighting an episode, relationship, or period from Bowie's undeniably interesting life. It makes for a visual document not unlike the oral one adopted by writer Dylan Jones, whose biography was built upon anecdotes from people who knew and worked alongside Bowie. Their combined testimonies created a far more nuanced picture than a more traditional, linear chronology of events possibly could.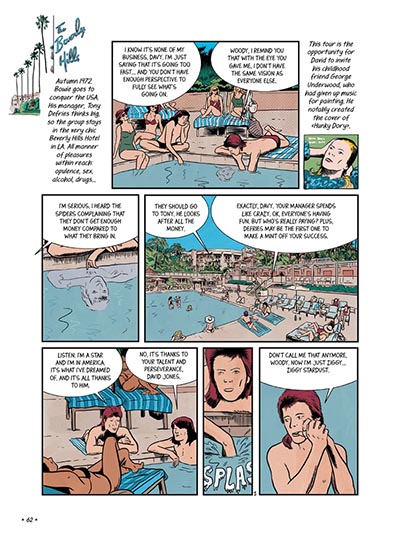 Running through this book is a thread created by scriptwriter Thierry Lamy, with biographical inputs from Nicolas Finet. The episodes themselves begin in the 1950s and continue to Bowie's death, from his early days and tentative bands to the rise of Major Tom and creation of Ziggy Stardust, the influence of Lou Reed and Iggy Pop, his Berlin years, experiments with new media, and, poignantly, his final years that ended with the critically acclaimed Blackstar. Bringing these tales to life are artists like Martin Trystram (Pacific), Thomas Gilbert (The Daughters of Salem), Brazilian artist Marcello Quintanilha (Listen, Beautiful Márcia), Christelle Pécout (who worked on a biography of another iconic musician, Björk), Jérémie Royer (Darwin: An Exceptional Voyage), Claire Fauvel (who wrote and illustrated Catherine's War), Léonie Bischoff (Anais Nin: A Sea of Lies), and watercolourist Joël Alessandra.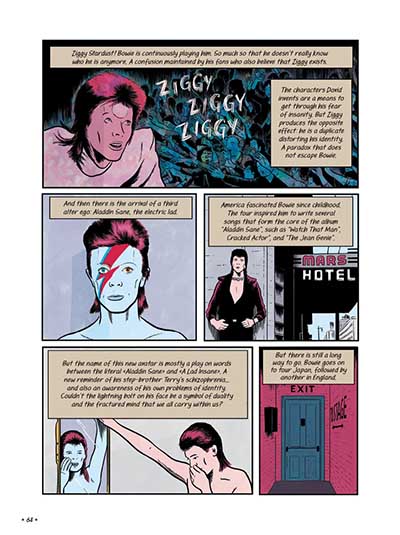 If there is one thing this collection cannot do, it is to overcome the biggest challenge that besets any anthology: consistency. There are definite hits and misses, mostly with representations of Bowie. This is compounded by a surfeit of Bowie iconography in popular culture, which makes a rendition of his more famous looks — the Aladdin Sane cover, for instance — easily open to criticism. Luckily, the inclusion of photographs and memorabilia helps gloss over that unavoidable irritant.
It will soon be a decade since Bowie left us. That he continues to inspire artists to look at his legacy is testament to the endurance of his art. This is a great gift not just for fans, but for anyone curious about why we may always need more books about David Bowie.
Thierry Lamy & Nicolas Finet (W), Martin Trystram, Thomas Gilbert, Marcello Quintanilha, Christelle Pécout, Jérémie Royer, Nicolas Pitz, Monsieur lou, Christopher, Claire Fauvel, Léonie Bischoff, Joel Alessandro, Samuel Figuière (A), Bast (CA), Romain Nélis (D) • NBM Publishing, $27.99
Review by Lindsay Pereira