The handle '@birdsofmainecomic' on Instagram has over 450 posts and a little over 7,400 followers. Each panel gets hundreds of likes, and Michael DeForge's bio for the comic promises a daily new strip 'Monday to Friday.' The likes for Birds of Maine are easy to explain when one looks at these posts on a smartphone. The eponymous birds crowd one's screen like bright, tiny jewels, with dialogue between them often restricted to one speech balloon per panel. It makes for a short, delightful pitstop on that picture-heavy social media superhighway.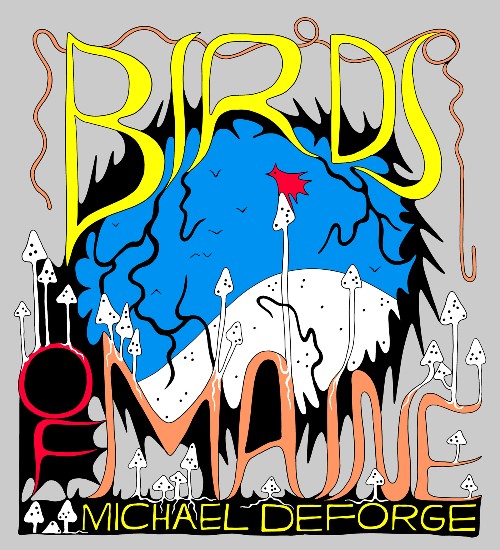 There is irony here though, when one considers the content being offered for inspection. The people liking these posts represent a species that has gone extinct in DeForge's post-apocalyptic world. His birds live on a new, rejuvenated planet where none of the evils that beset humankind exist. They are free to do as they please, but the results aren't always as pleasant as one might imagine them to be, because the emotions on display are still very human in their frailty. "Regulars have no clue," says one good-looking bird struggling with the "biological disadvantages of being super hot," and one can almost picture DeForge puncturing the very platform he is exploiting for attention.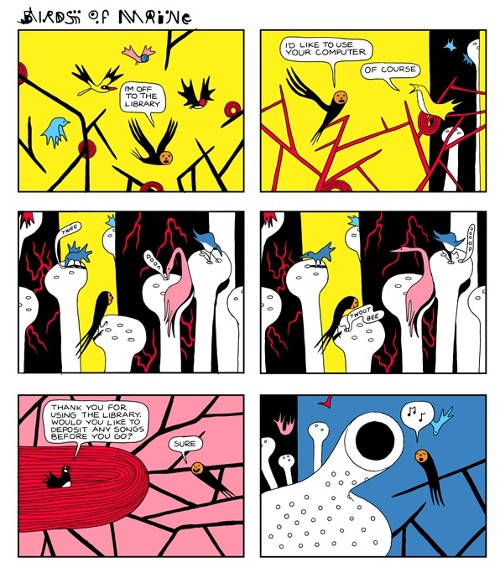 The art, as always, is imaginative and impossible to describe. When we last asked DeForge about this a little over a year ago, he explained how he liked "paring down, blowing up, squashing, pulling or pushing figures to their limits" when able to, and it's obvious that those interests haven't waned in the slightest. It's why these birds, like so many of his fluid, genderless creations, squeeze themselves into every imaginable shape, size, and hue, compelling us to take massive leaps of faith as we try and identify with what they're saying to us. It's a simple trick, but one that can cause any work of fiction to crumble in less steady hands.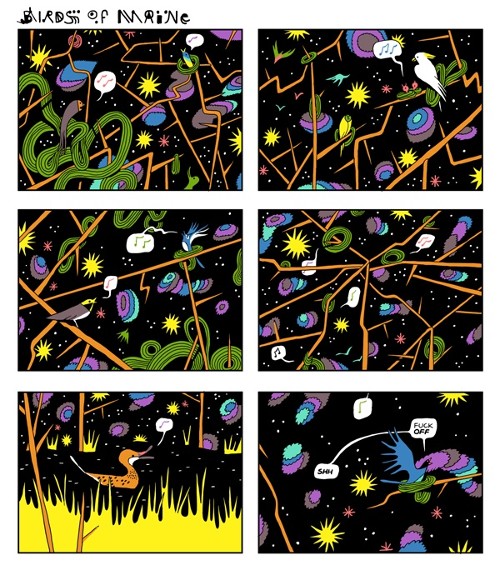 DeForge's work is now easy to spot from a distance, and ghosts of his current work can be traced as far back as the first issue of Lose, a 24-page comic that launched his artistic career in 2009. There are common themes that start to emerge too, when one looks at the impressive body of work he has put out since. From Ant Colony in 2014 to MallNation, a Cartoon Network pilot he worked on with Ryan Sands before they both abandoned it, there is something of a social scientist in much of what he tries to explain. There are behavioural questions posed throughout, about how anyone — human, plant, animal, or machine — would react under different circumstances, some mundane, others anything but. Those questions were also very much in evidence in his last book, Heaven No Hell.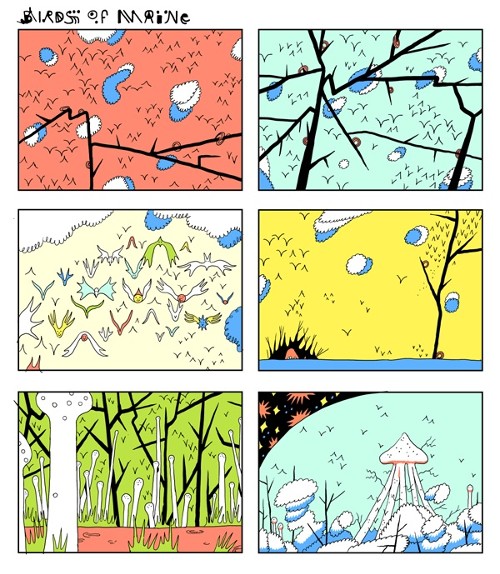 This time around too, the birds flit from situation to situation, their interactions with each other touching upon everything from adolescent angst and harmless infatuations to weightier topics such as technology and the evils of capitalism.
Birds of Maine uses all kinds of ingenious subplots to walk along some of the familiar paths DeForge has taken us down in the past. "What if?", he keeps asking himself, then proceeds to try and find an answer. To sit back and watch him do it, time and again, is what makes his books such a joy to behold.
Michael DeForge (W/A) • Drawn & Quarterly, $39.95
Review by Lindsay Pereira